With Italian style, racecar-influenced manufacturing processes and stunning performance, the 2016 Alfa Romeo 4C is a unique choice for a sports car. But the 4C gives up a lot of comfort to attain its performance. Similarly priced rivals are much better for daily driving.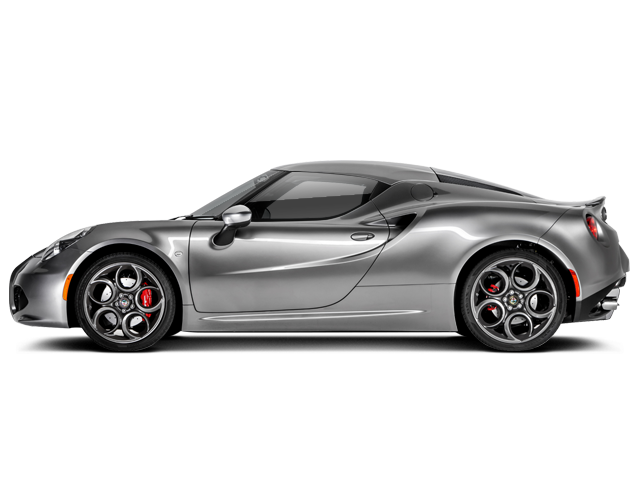 Alfa Romeo has a spotty history in the United States. On the one hand, it was known for building some truly beautiful and fun-to-drive cars over the years. But many of those cars were plagued with reliability issues, hence the company's departure from the U.S. market some 20 years ago. But now, thanks to the merger between Fiat (parent company of Alfa Romeo) and Chrysler, this exciting Italian brand is back on our shores, with the 2016 Alfa Romeo 4C Coupe and 4C Spider.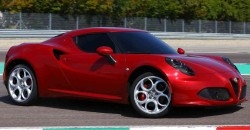 The 4C is hardly living in the past, though. This is a completely modern midengine sports car with a one-piece carbon-fiber monocoque chassis that is extremely light, yet strong. The 4C's turbocharged 1.7-liter four-cylinder engine isn't as special, putting out just 237 horsepower and 258 pound-feet of torque. Ah yes, but remember all that carbon fiber? That helps the 4C weigh in at an extremely light 2,500 pounds. It doesn't need gobs of power to sprint down the road or get your blood pressure up. Although that engine might not be to Ferrari levels of power or style, it's visible through a glass panel and paired to a six-speed, automated-clutch manual transmission with paddle shifters on the steering wheel.
Brembo brakes help the Alfa Romeo 4C stop with amazing confidence and consistency. Those who envision taking their Alfa to track days might want to think about the optional Track package with even firmer suspension settings (some would say too firm for the street), plus a seriously loud sport exhaust system. While people will almost definitely hear you coming the other way, chances are good you won't spot another 4C heading in your direction. These are extremely rare cars on our shores.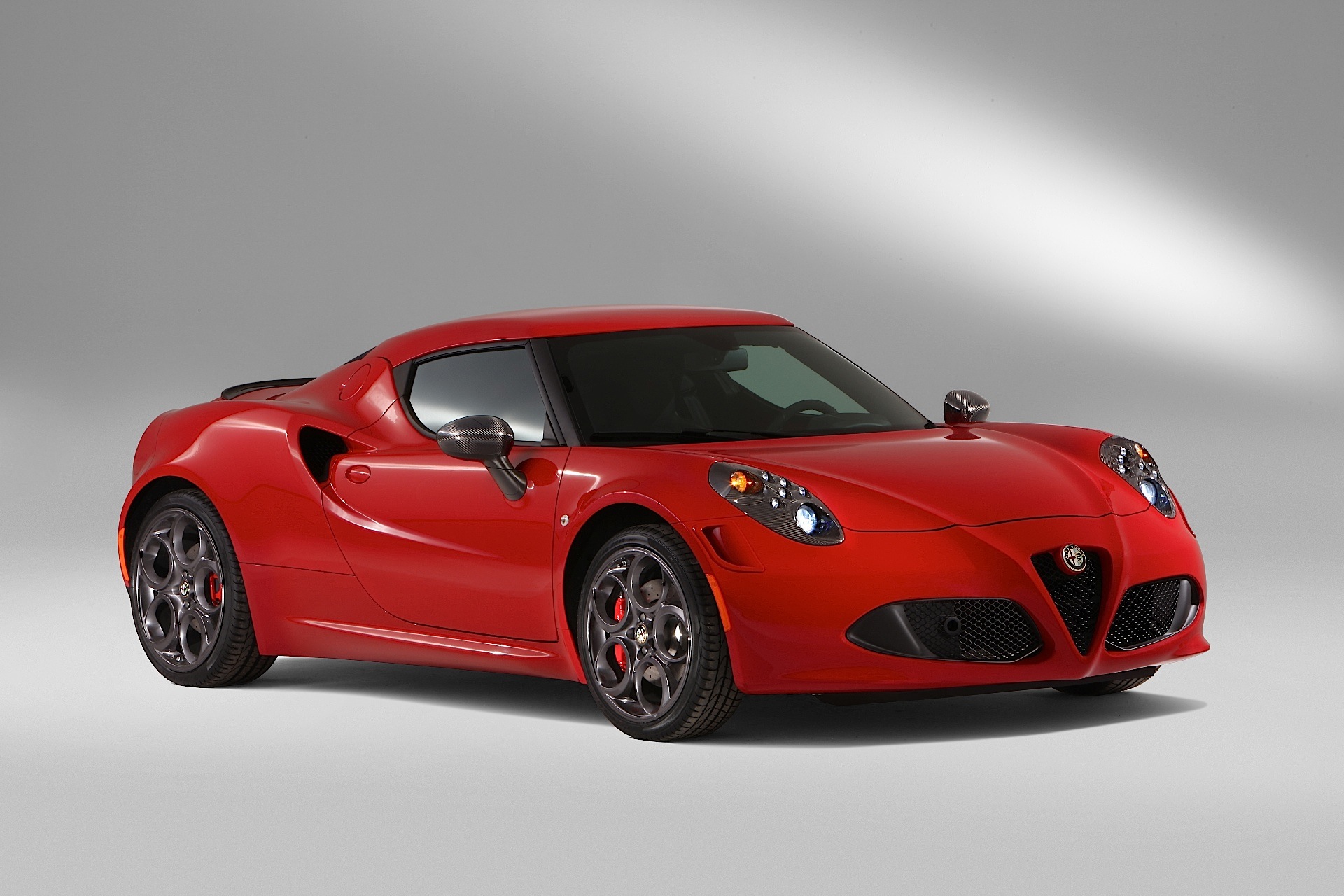 The 2016 Alfa Romeo is not for everyone. In fact, it's not for most people. Alfa tuned this car for all-out driving excitement, and frankly it's at its best on a racetrack, not commuting to the office. The suspension is harsh, the seats have minimal padding, and small-item storage within the cabin is hard to find. Because of that you'll definitely want to check out some rivals offering better real-world usefulness. The BMW M2 feels much more normal than the low-slung Alfa, while still offering fantastic performance. The Chevrolet Corvette is the king of bang-for-the-buck in this segment, while the Porsche Cayman offers levels of driver feedback that are nearly equal to the 4C but without hampered drivability. But if you care less about being coddled and more about track events and exclusivity, the 2016 Alfa Romeo could be just what you're looking for.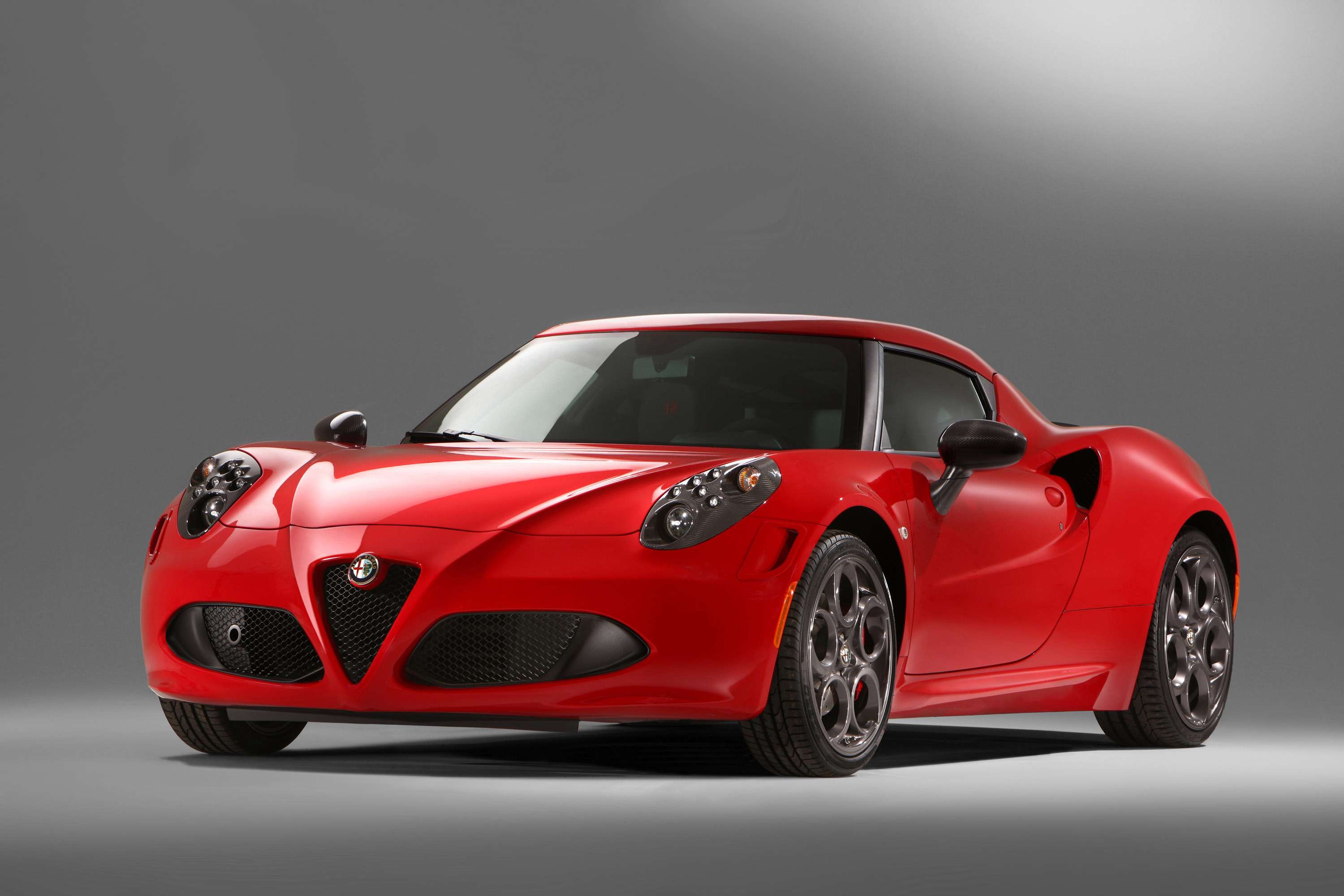 The 2016 Alfa Romeo 4C is offered in coupe and convertible (Spider) body styles and a singular trim level. Standard equipment includes 17-inch (front) and 18-inch (rear) wheels, summer performance tires, LED running lights and taillights, heated mirrors, a manually operated soft top (convertible), air-conditioning, a 7-inch driver information display, Bluetooth phone and audio connectivity and an Alpine sound system with a CD player, a USB interface and satellite and HD radio. The 4C convertible also has leather seats and an alarm system.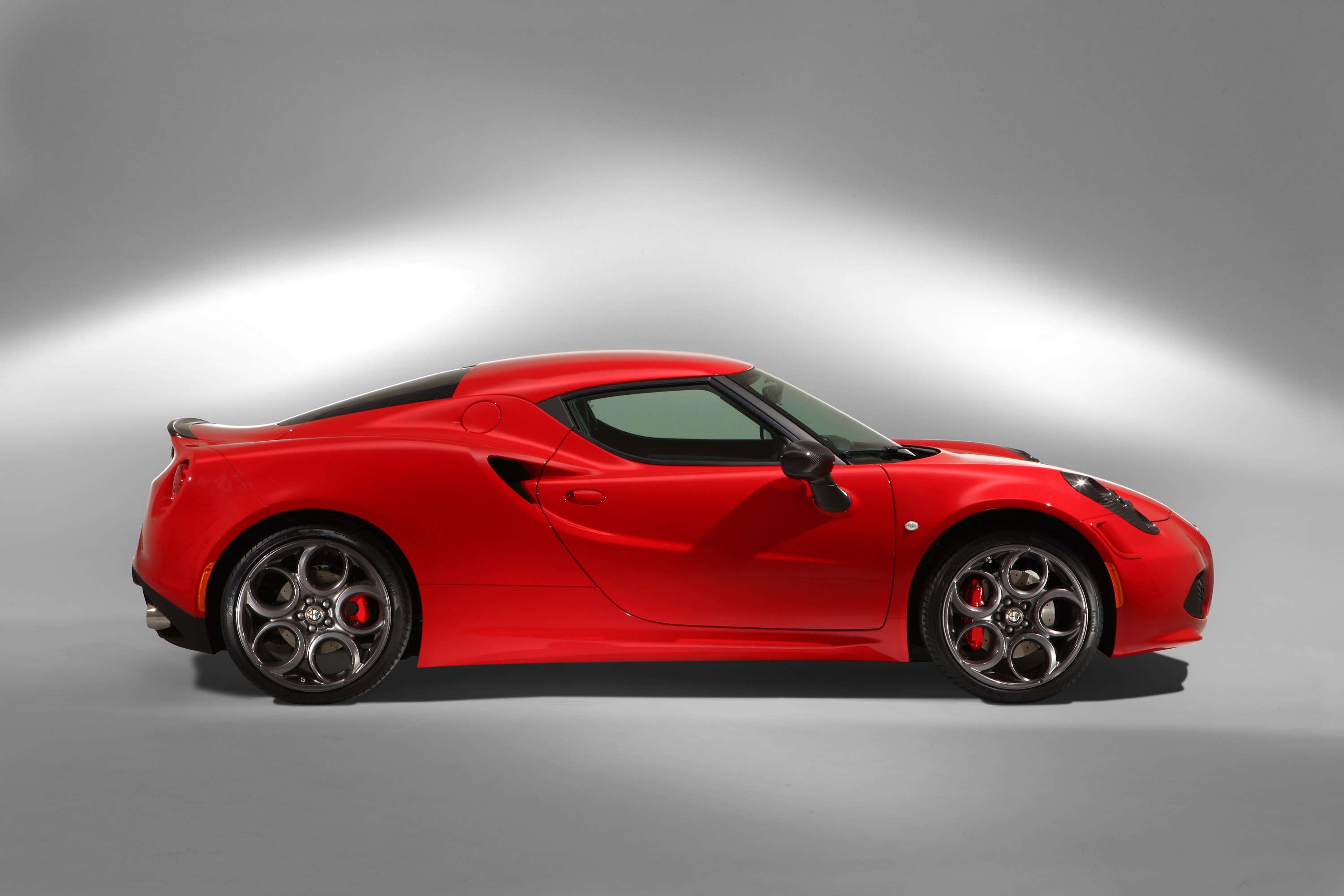 The leather seats are optional on the coupe. For both body styles, an optional Convenience package adds rear parking sensors, cruise control and, for the coupe, the alarm system. There is also a Track package that includes a more stiffly tuned suspension, available 18- (front) and 19-inch (rear) wheels, a flat-bottom steering wheel and additional carbon-fiber trim. Notable stand-alone options include xenon headlights, a sport exhaust and a new Akrapovic dual-mode exhaust (late availability).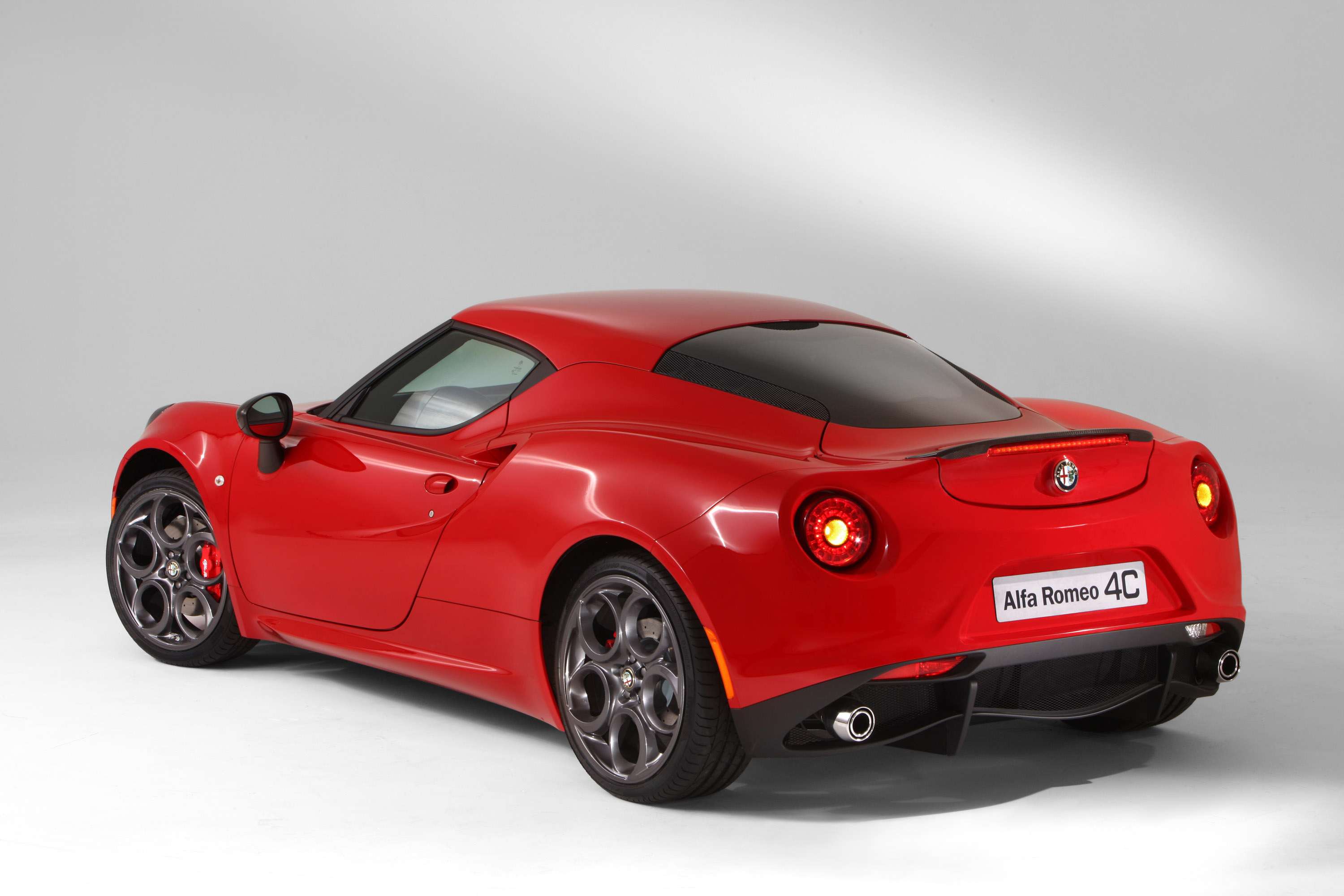 Powering the 4C is a turbocharged 1.7-liter four-cylinder engine that produces 237 hp and 258 lb-ft of torque. Power is routed to the rear wheels through an automated-clutch manual transmission. It has paddle shifters, but you can also let the transmission shift for you, as you would with a regular automatic. A four-mode driving selector and an electronically controlled rear differential are standard.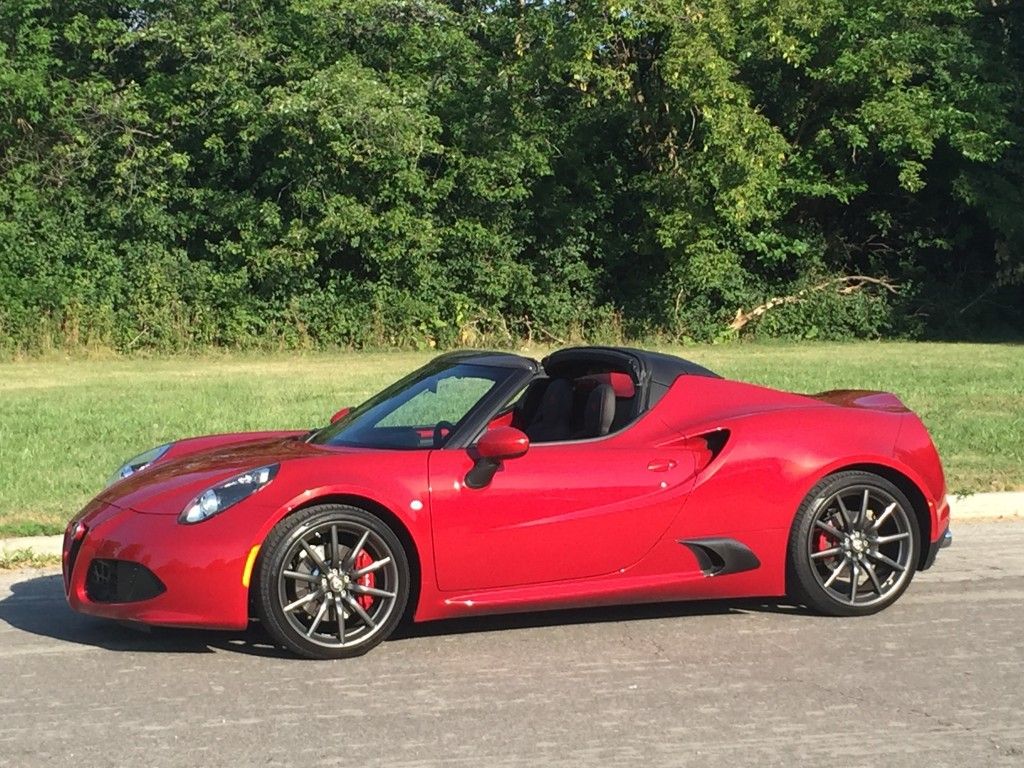 In performance testing, a 4C coupe with the Track pack and sport exhaust blasted to 60 mph from a standstill in just 4.2 seconds utilizing the built-in launch control system. That's about the same time as the Corvette and a few tenths quicker than cars like the Cayman and BMW M4. The standard 4C did it in 4.5 seconds.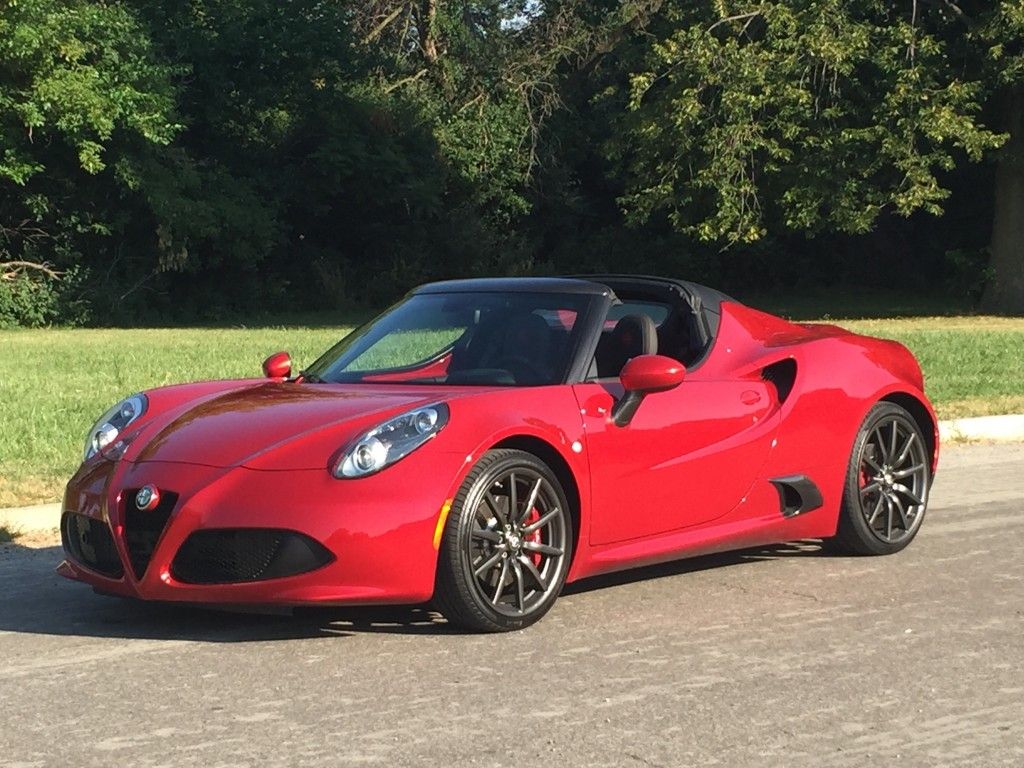 The 2016 Alfa Romeo 4C is estimated by the EPA to earn 28 mpg combined (24 city/34 highway). In our testing of the 4C, we managed 32 mpg on our 120-mile evaluation loop.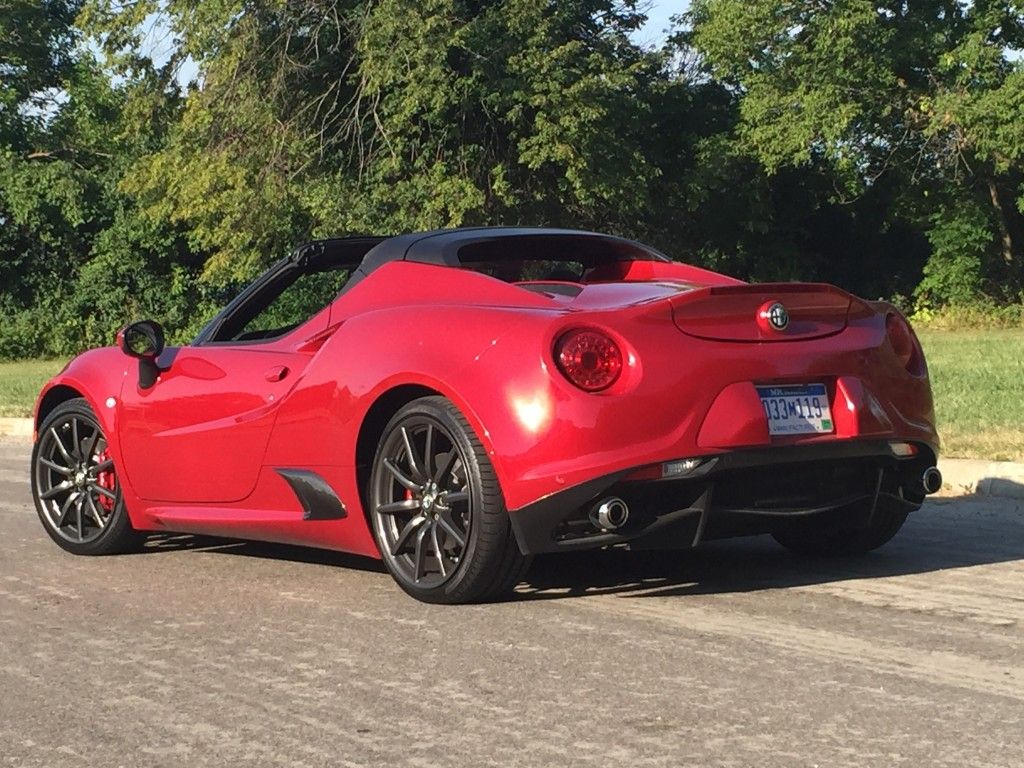 Standard safety features include antilock disc brakes, multimode stability and traction control systems, hill-start assist, front and side airbags and a driver-side knee airbag.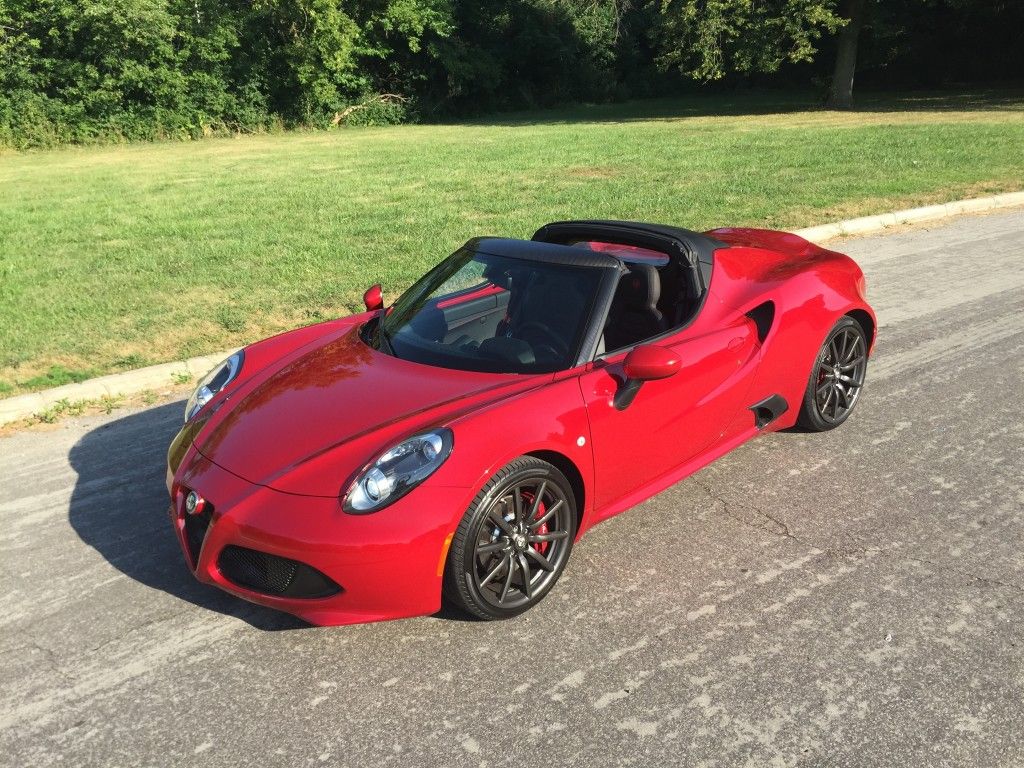 In simulated panic stops from 60 mph, our test driver recorded a 104-foot stop, which is appropriately short for a sports car. Resistance to brake fade was superb, and the car remained perfectly stable.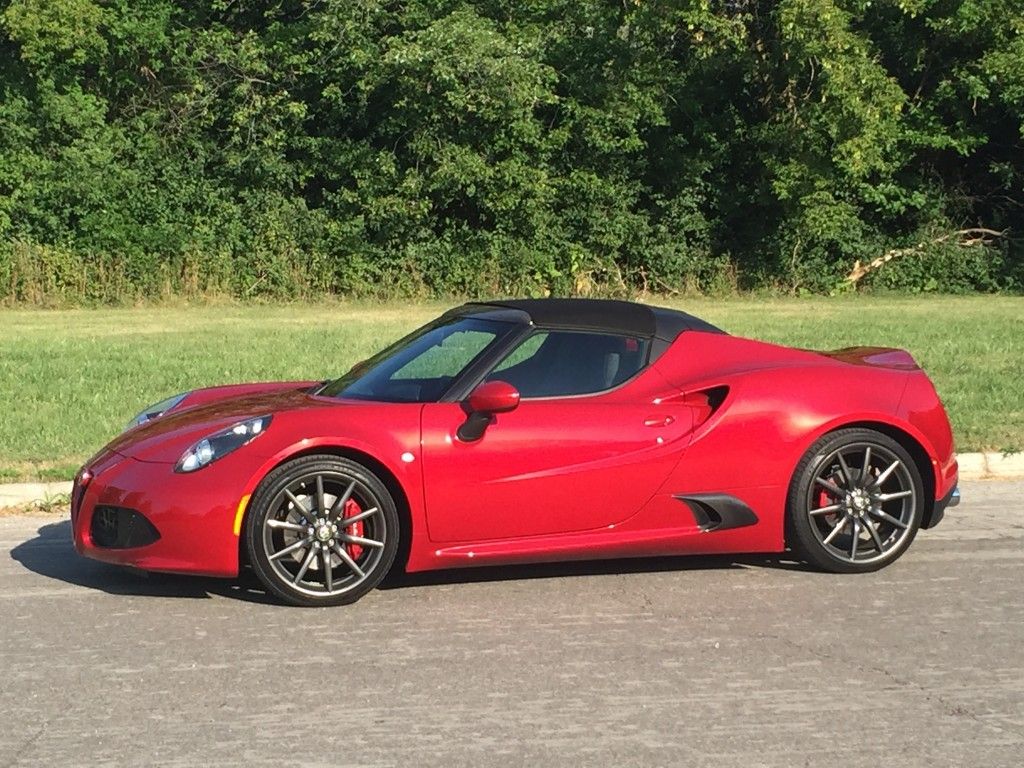 Relatively wide door sills and bolt-upright seats make getting in and out a little tricky. Once inside, the highly contoured, flat-bottom steering wheel feels terrific in a driver's hands; that is, until it's time to parallel park. The steering system is unassisted, so be prepared to wrestle with the wheel at speeds under 10 mph. But at speed it's an absolute treat, with nothing but a mechanical connection between you and the front tires. But the 4C can be a handful at the limit, our test-drivers noting that the car can switch from front-end understeer to tail-out oversteer in an instant, it's that sensitive to inputs. We'd also recommend a thorough test-drive on rough roads before ordering the track-ready suspension, as we found it nearly unlivable for daily driving.
The most prominent aspect when driving the 2016 Alfa Romeo 4C, however, is the engine. At the polar opposite of a growling, bellowing V8 is the unique sound of the Alfa's rev-happy turbocharged inline-4. If you've ever heard a World Rally Car (WRC), or perhaps a four-cylinder drag racecar, you'll recognize the "whoosh PAH-pah-pah" sound as the turbo pressurizes the intake and the blow-off valve releases unused compressed air. The horsepower rating of 237 doesn't seem like much, but what is astounding is the mere 1.7 liters that produces it, and there's a strong rush of power over 3,000 rpm.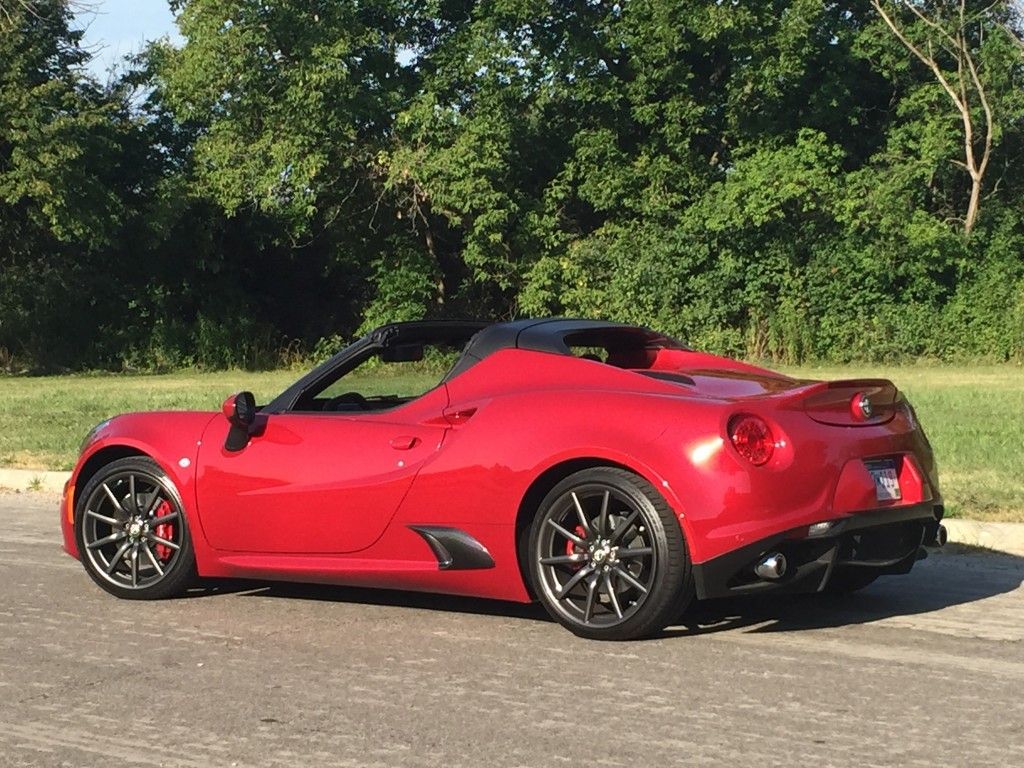 The rapid-fire dual-clutch automated manual transmission is remarkably adept at creeping into a parking spot, shifting smoothly at speed and adapting to the driver's mood. It is perhaps the most normal aspect of this otherwise frenetic car.
In 15-minute doses on the right sort of road (or a racetrack), there are only a handful of cars as thrilling as the Alfa 4C. And those cars cost two or three times as much. But as a daily-driven sports car, the Alfa falls short in many critical ways, specifically lacking the kind of comfort and features many buyers will expect. This is a laser-focused track-day car that happens to be street-legal, which is why it earned only a "B" rating from the testing department.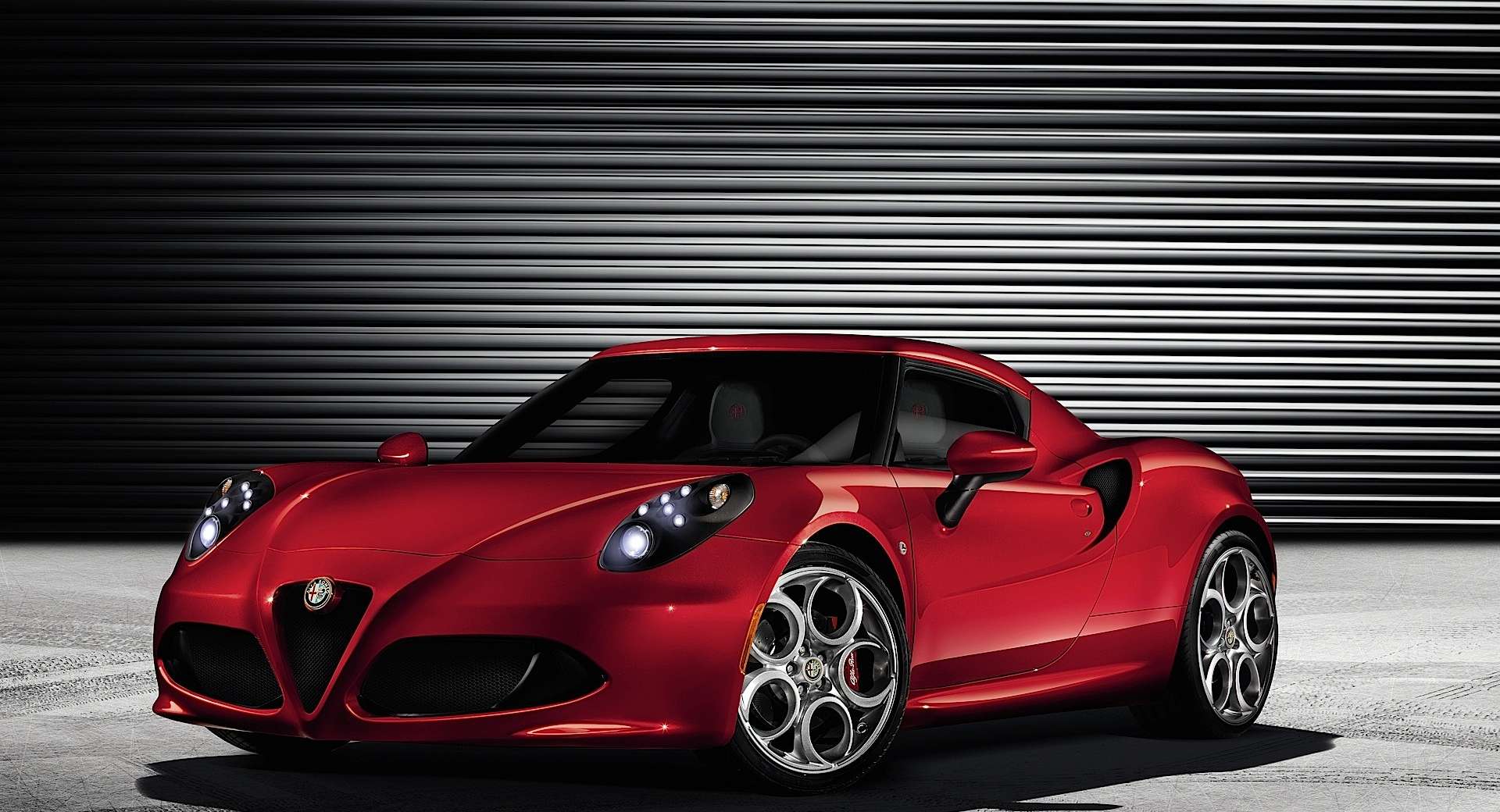 There aren't many cars with interiors as distinctive as the 2016 Alfa Romeo 4C. The passenger compartment reminds us more of a racecar, with much of the carbon-fiber monocoque left visible, purely because it looks fantastic. Other racy elements include minimally padded seats with carbon-fiber frames and bottom-hinged aluminum pedals. Because saving weight was so critical for the 4C, there's little in the way of creature comforts inside. There are no armrests or glovebox; the seatbacks don't recline; the dashboard, instrument panel, door panels and seats are minimally adorned (if at all); the cupholders are useless; and there's essentially no in-car storage. This is one of the least useful daily-driving cars you can buy.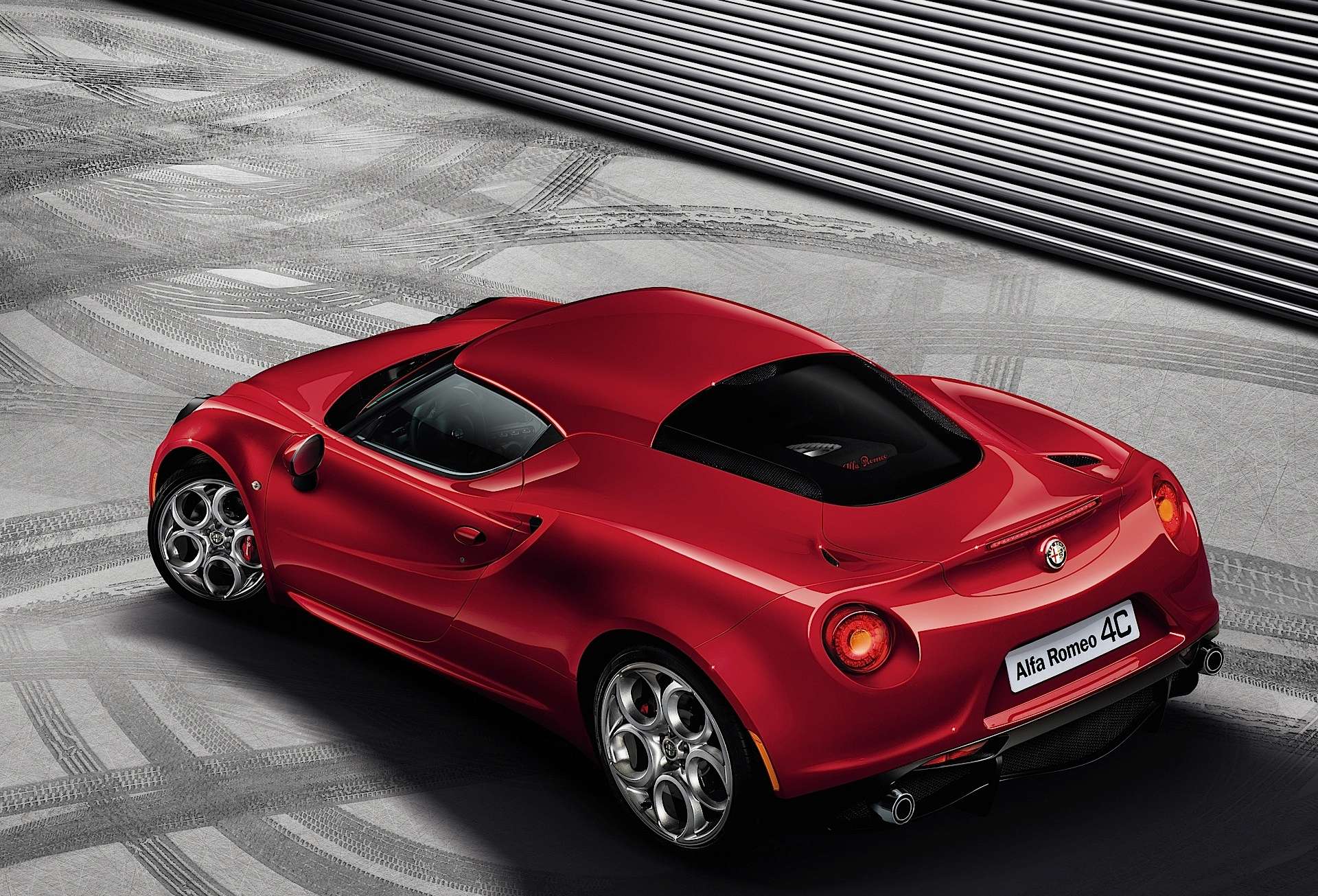 The stereo has Bluetooth and a USB connection, but its operation is hard to master and, well, rather futile since the 4C is so loud (especially with the sport exhaust system). The view through the windshield is excellent, but the small windows, side mirrors, essentially useless rearview mirror and enormous blind spots make it a challenge in the real world. As such, the optional rear parking sensors are a must. Cargo capacity is nearly nonexistent at just 3.7 cubic feet, and you best not pack anything heat-sensitive, as the trunk is adjacent to the hot engine.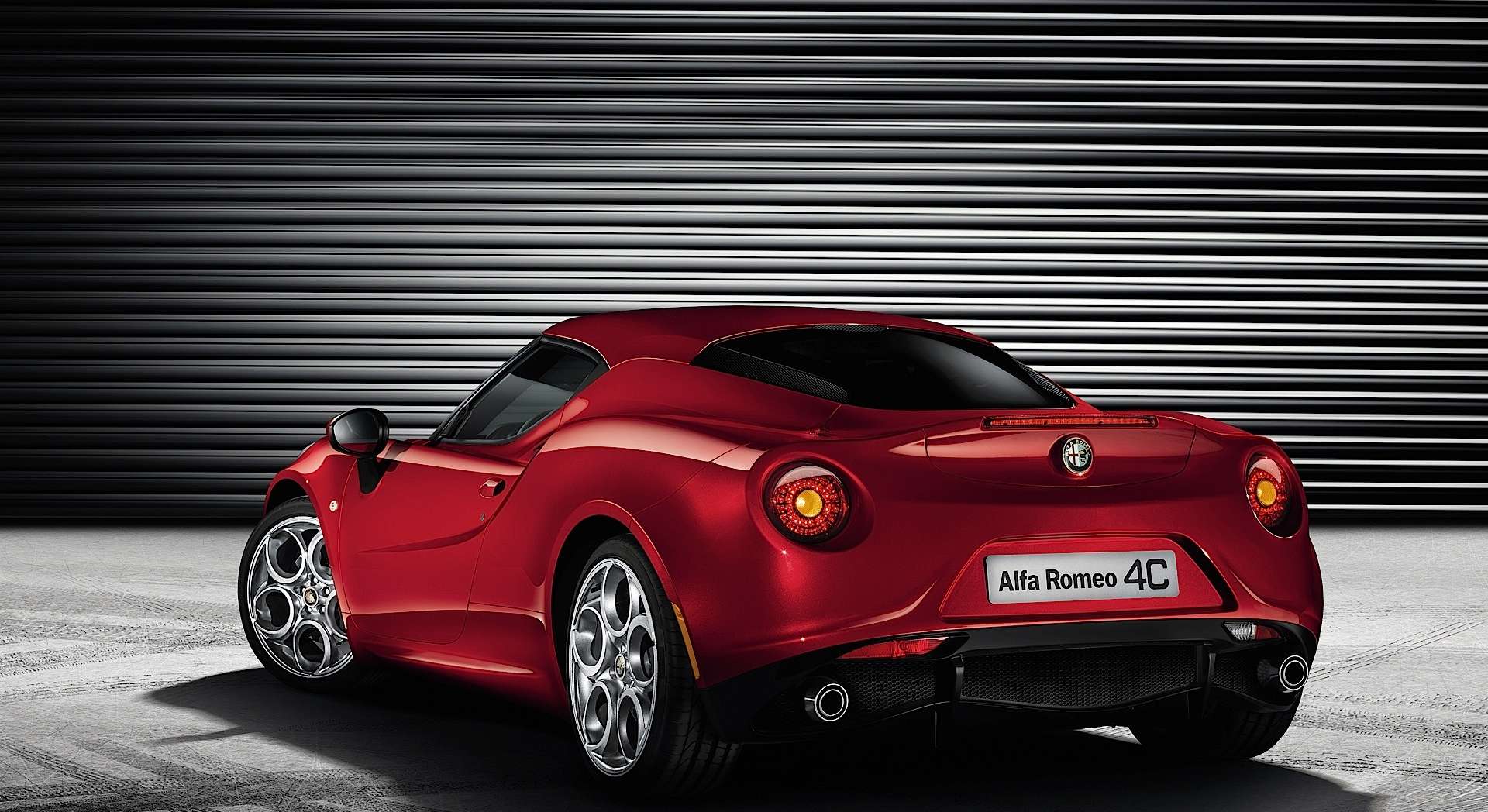 For one of the rawest driving experiences offered in the modern era, look no further than the Alfa Romeo 4C Coupe and 4C Spider. The suspension is firm, the cabin rings with a cacophony of engine sounds, and the steering, which offers no power assistance, is incredibly heavy when the vehicle is stationary or moving slowly. With that on the table, it's no surprise that U-turns, long freeway hauls and casual stints around the city can be taxing. Apply those same traits to a curved road or a racetrack, however, and the 4C makes perfect sense. The steering feels great at speed, handling is balanced and composed, the engine churns with conviction, the gear changes from the dual-clutch automatic transmission happen rapidly when requested, and the powerful and responsive brakes deliver tons of unfiltered, honest fun. The Alfa Romeo 4C Spider offers an open-air variation, but otherwise drives identically to the coupe.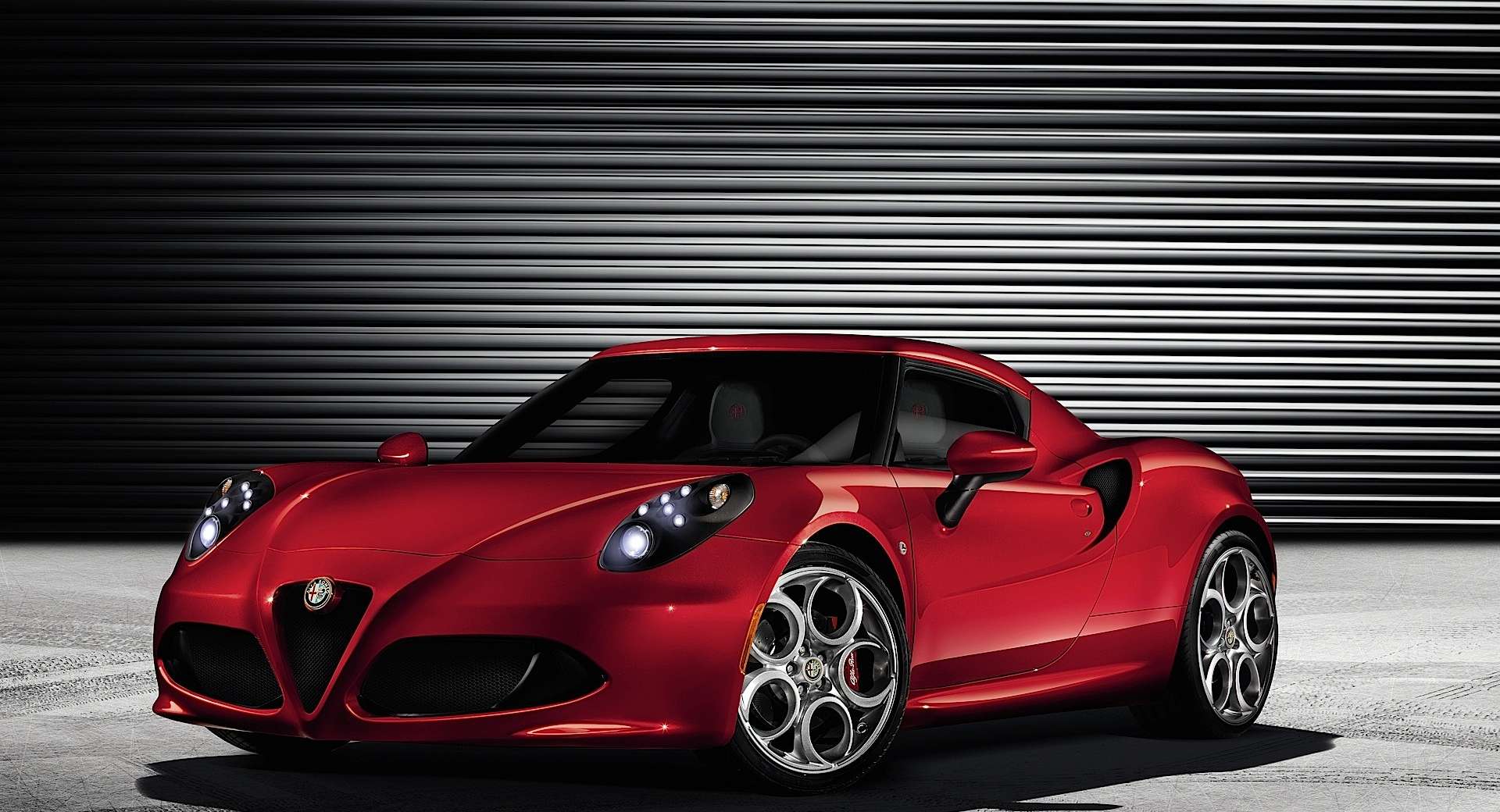 CARBON-FIBER MONOCOQUECarbon fiber is an expensive composite that makes everything from racecars to aircraft both strong and light. Despite a comparatively low $ 56,000 base price, the Alfa Romeo 4C features an exposed carbon-fiber chassis (with aluminum front and rear subframes). Visible from the interior, the carbon tub looks cool.UNASSISTED STEERINGThe 4C's steering lacks any kind of power assistance. The result? An unfiltered link between the steering wheel and those front contact patches, making the 4C feel brilliantly connected on winding roads or racetracks. Be warned, however: At slow speeds, the steering transforms from glorious to impossibly heavy.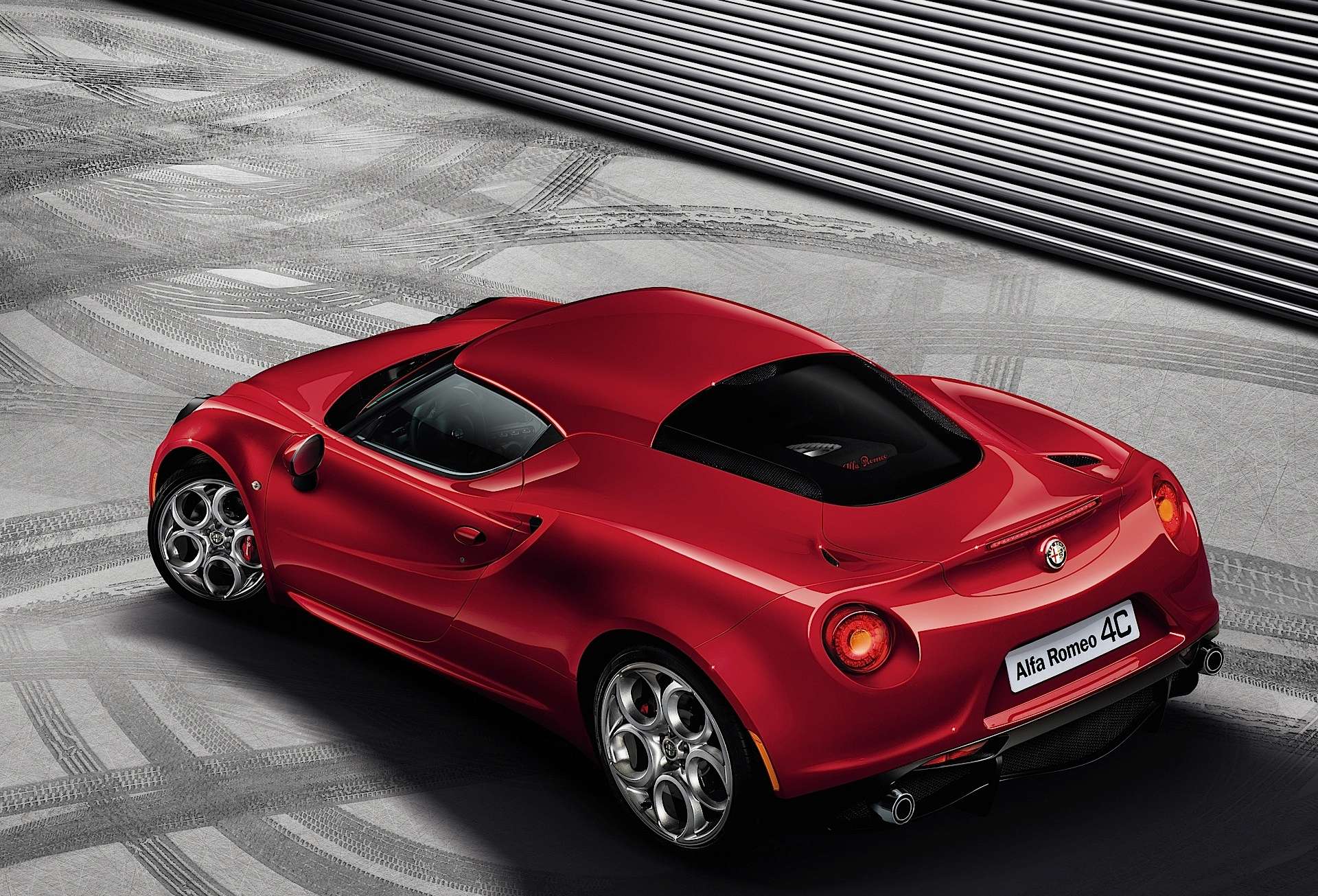 The Alfa Romeo 4C's cabin is sporty and functional, but not exactly luxurious. Material quality is good in places but underwhelming in others. Bolted to the vehicle's beautiful exposed carbon-fiber structure are manually adjustable seats that recline only slightly, resulting in a perpetually upright seating position. Shoulder space is tight, but headroom and legroom are surprisingly good, besting the front seats of a sunroof-equipped 2014 Toyota Camry. There is a trunk, just aft of the engine, but at 3.7 cubic feet it doesn't hold much. Pack accordingly.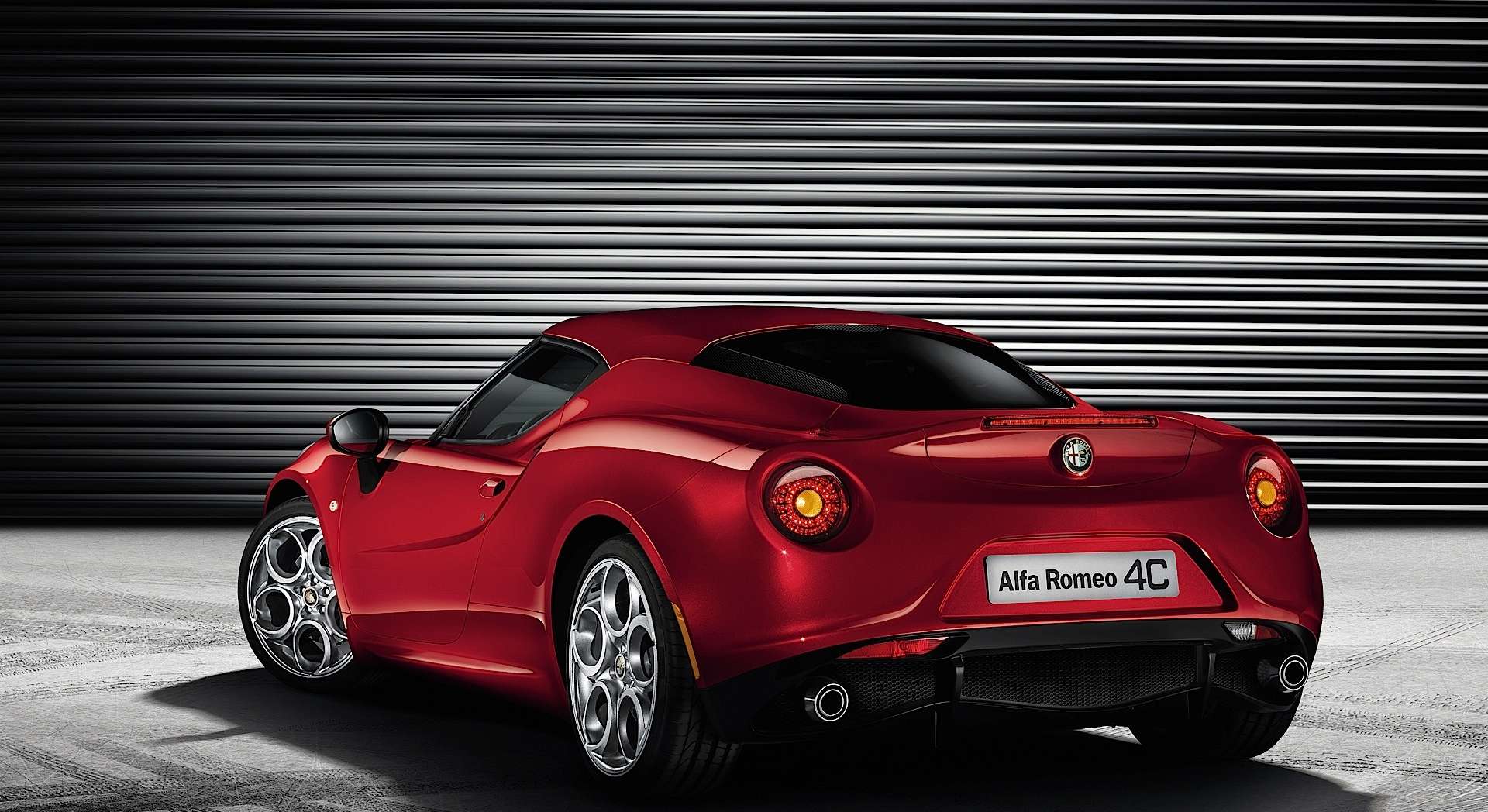 From all angles, the 2016 Alfa Romeo 4C makes a strong statement, looking like a modern interpretation of the Type 33 Stradale from the 1960s. The seductive lines are amplified by the 4C's compact dimensions. That assertive nose sits near the ground, making driveway approaches especially challenging, as does the terrible over-the-shoulder rear view thanks to the car's mid-engine layout. The convertible top is really a canvas targa top that mounts into the windshield header, and stores in the trunk when rolled up. On a positive note, getting in and out of this tiny mid-engine sports car is far easier than expected.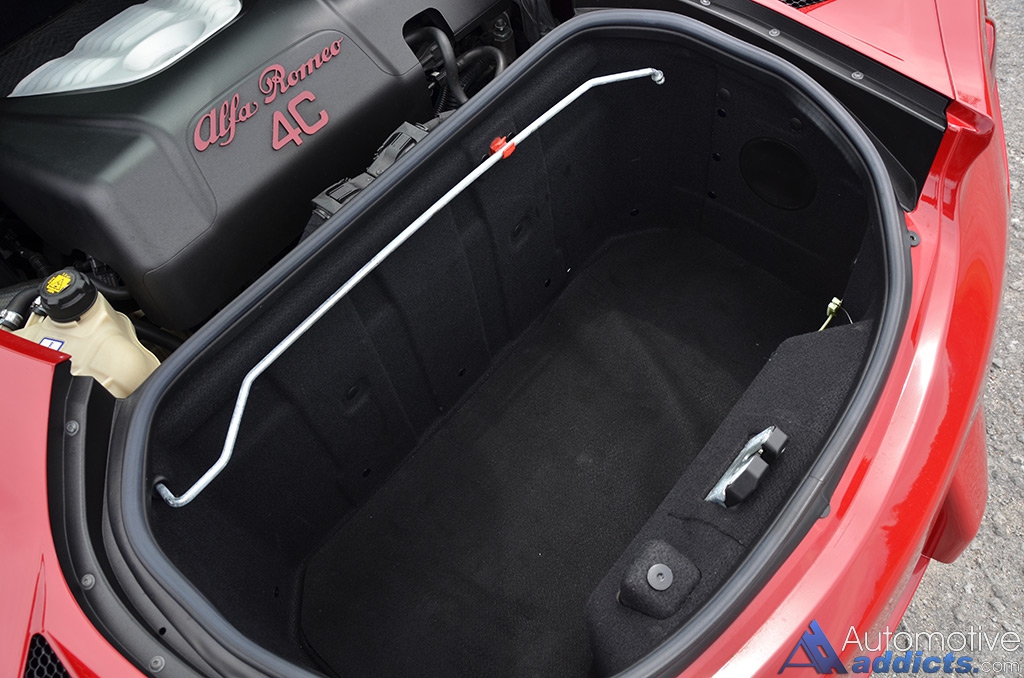 As an elemental sports car, the 2016 Alfa Romeo 4C has the basics and not much more. Notable among standard features are power auto-down windows, air conditioning, a 7-inch color gauge-cluster display and a 4-speaker sound system with USB and audio inputs. The 4C also has a "DNA" selector that lets the driver choose the driving mode. There are four of them, and they vary the aggressiveness of the throttle, transmission and stability control. Filling out the safety roster are front airbags, door-mounted side airbags and a driver's-knee airbag, along with stability control, traction control and hill-start assist.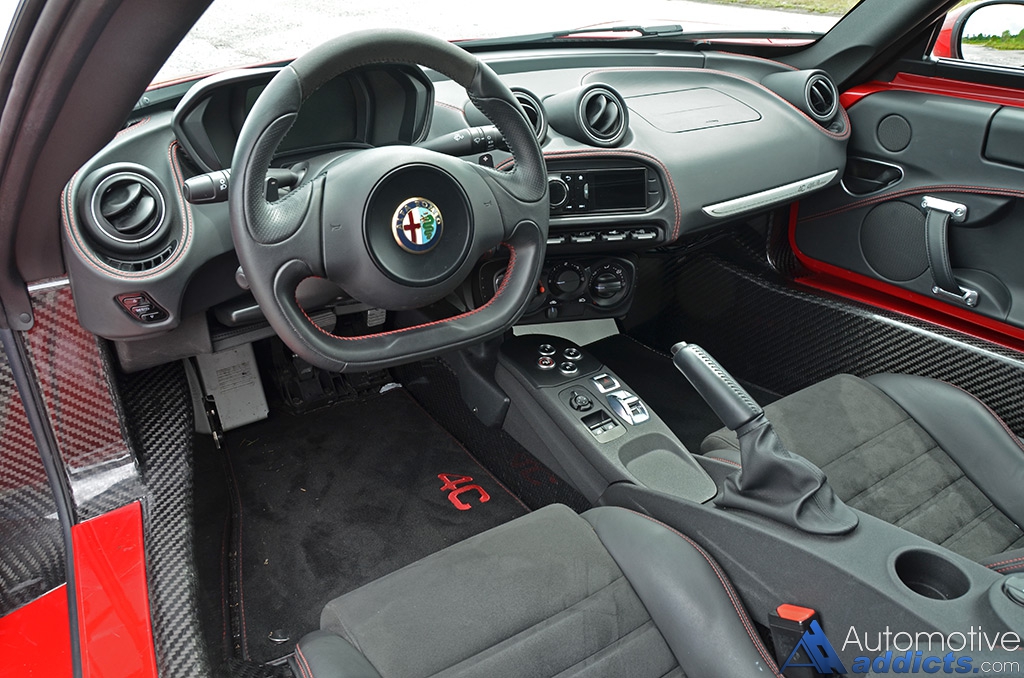 Options offered on the 2016 Alfa Romeo 4C include a new carbon-fiber cover for the Spider's structural roof bar, plus cruise control, bi-xenon headlights and a dual-mode titanium exhaust from Akrapovič. Perhaps most significant for track-day enthusiasts is the optional track package that features firmer shock absorbers and larger anti-roll bars, plus Pirelli P Zero AR Racing tires and a unique steering wheel with red stitching. Rear parking sensors are available, but the 4C really could use a rearview camera because its sightlines to the rear are so poor.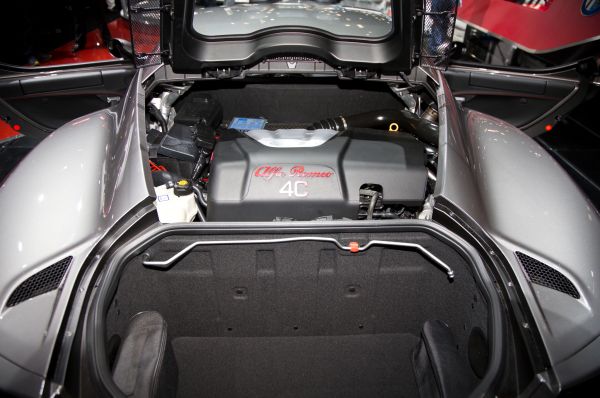 As with the 2015 model, the 2016 Alfa Romeo 4C is powered by a turbocharged 1742cc 4-cylinder engine. This aluminum-block powerplant produces 237 horsepower, but how that power is delivered is significant. Floor the throttle and a whooshing sound fills the cockpit as the turbo spools. After this short bit of turbo lag, the 4C springs forward eagerly. While it's not the most refined way to accelerate, the punch in the back is strong. Power gets to the rear wheels via a dual-clutch transmission that can act like a regular automatic. Shifts can be made manually via paddles, and the engine will automatically blip its throttle to smooth downshifts. It's a fine, fine transmission, but we'd love to see a true manual in the 4C.1.7-liter turbocharged inline-4237 horsepower @ 6,000 rpm258 lb-ft of torque @ 2,200 rpmEPA city/highway fuel economy: 24/34 mpg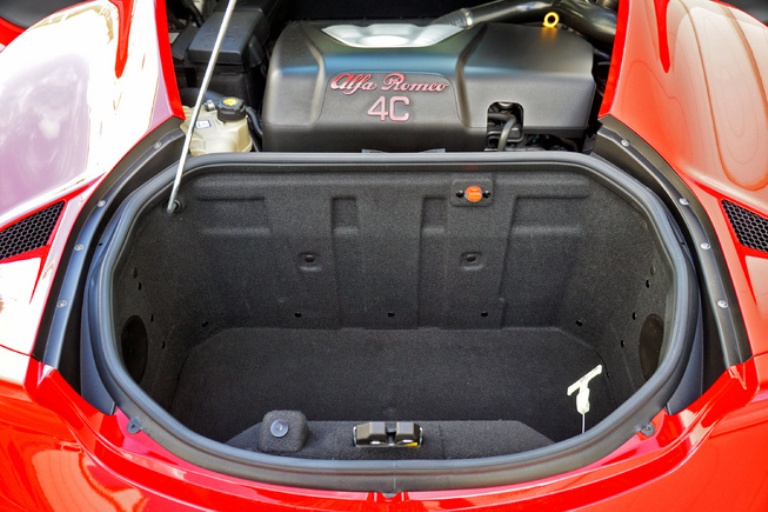 In least expensive form (but including $ 1,595 destination), the 2016 Alfa Romeo 4C Coupe checks in at $ 57,500, while the 4C Spider starts at $ 67,500, both Manufacturer's Suggested Retail Prices (MSRP). Figure an extra 10 grand for fully loaded models of each. The most expensive option is the carbon-fiber roof bar, what Alfa calls the "halo." It's $ 2,750, and if you want a carbon-trimmed interior, tack on another $ 2,000. Bi-xenon headlights fetch an additional $ 1,000, while the Track Package, at $ 1,600, seems fairly priced. But cars such as the Porsche Cayman and Chevrolet Corvette undercut the Alfa in price, while offering better ride comfort and interior refinement. Nevertheless, there's something pleasantly purposeful about this driver-focused Alfa, and you won't see yourself coming and going in this little 2-seater. Nobody ever bought a new Alfa Romeo on the strength of its resale value or low 5-year cost to own, but you know that. Likewise, the 4C Coupe and Spider are purchases based on love.