With a new manual transmission and all-wheel drive both available, the Jaguar F-Type has broadened its appeal in 2016 and continues to be a lust-worthy blend of style, performance and luxury.
Gorgeous styling, a luxurious interior and thrilling performance all combine to make the 2016 Jaguar F-Type one of the most desirable sports cars on the road today. And that would probably be the case even if the F-Type were completely unchanged from last year. Yet Jaguar has decided not to rest on its laurels, instead making some big changes to further the F-Type's appeal.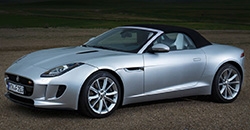 Compared to other established sports cars, the 2016 Jaguar F-Type is still a rare sight on the road.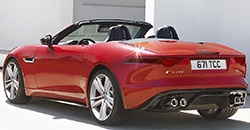 Headlining are the mechanical additions of a new six-speed manual transmission and available all-wheel drive. Though it's only available with the V6 engine, the manual will undoubtedly appeal to driving purists who want a three-pedal setup, although we found it difficult to engage the clutch smoothly, and the rubbery shift action was a disappointment. The availability of all-wheel drive should interest buyers who live in inclement-weather climates and/or appreciate the added security of increased traction in wet or dry conditions. Under normal driving conditions, the new all-wheel-drive system sends all power to the rear wheels. But when hustling the F-Type on a curvy road, a track or in slippery conditions, the system can shift 50 percent of engine power to the front wheels for improved grip and handling.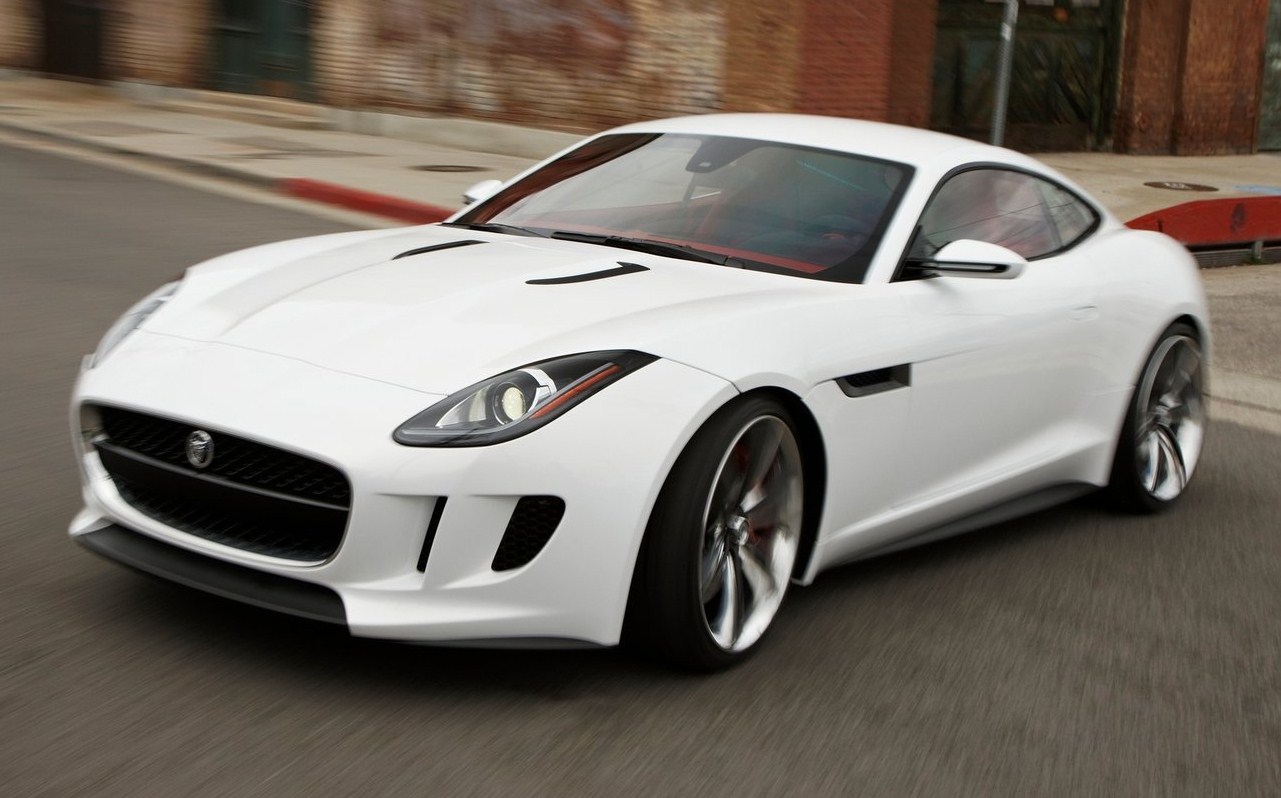 There are some downsides, though. The Jag isn't especially practical, even by sports car standards, with a cramped and noisy cabin and a paltry amount of cargo space -- especially in the convertible. We've also been disappointed by the V6's performance. If such concerns resonate with you, the Porsche 911 is much better suited for daily driving and road trips, while boasting impeccable driving manners and a wide selection of variations. Porsche's less expensive and superior handling Cayman and Boxster are also worth considering. And if you want something a bit less expensive but just as capable, the 2016 Chevrolet Corvette is in many ways the Jag's American spiritual cousin in terms of its brash character and aggressive performance. But when it comes to satisfying the emotional side of driving, the evocative 2016 Jaguar F-Type is one of the best sports cars available today.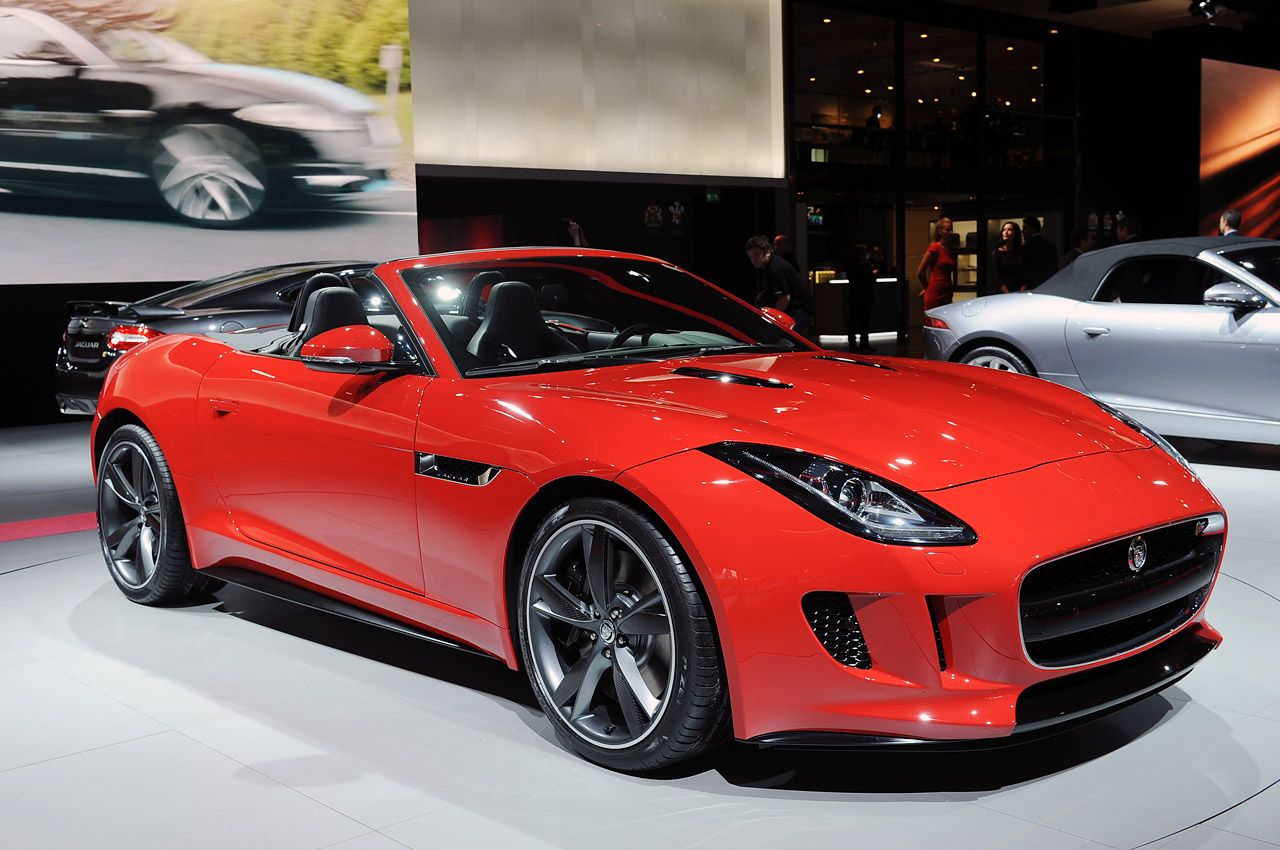 The 2016 Jaguar F-Type is a two-seat sports car available as a fabric-top roadster or a hardtop coupe. Both the coupe and the convertible are available in base, S and R trims.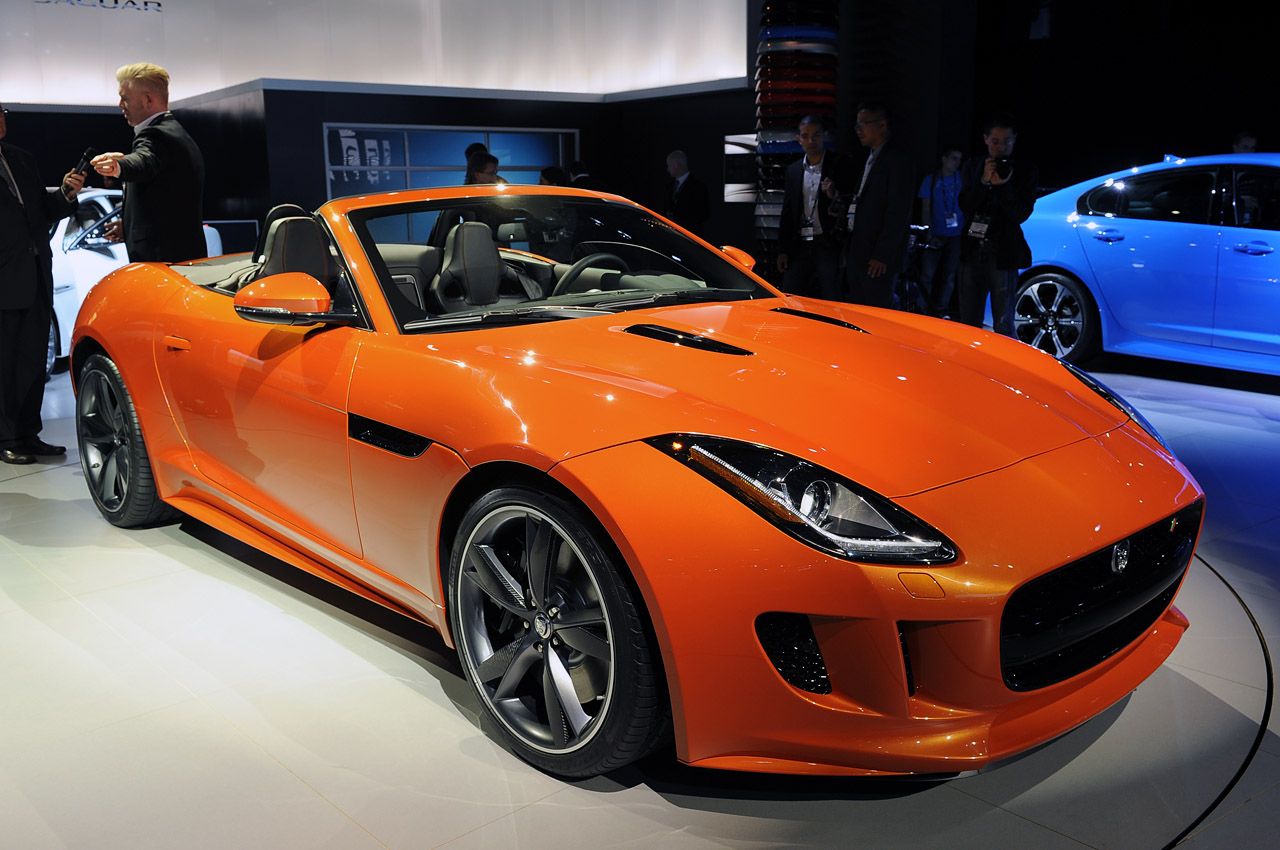 Jaguar offers the F-Type as both a coupe and convertible.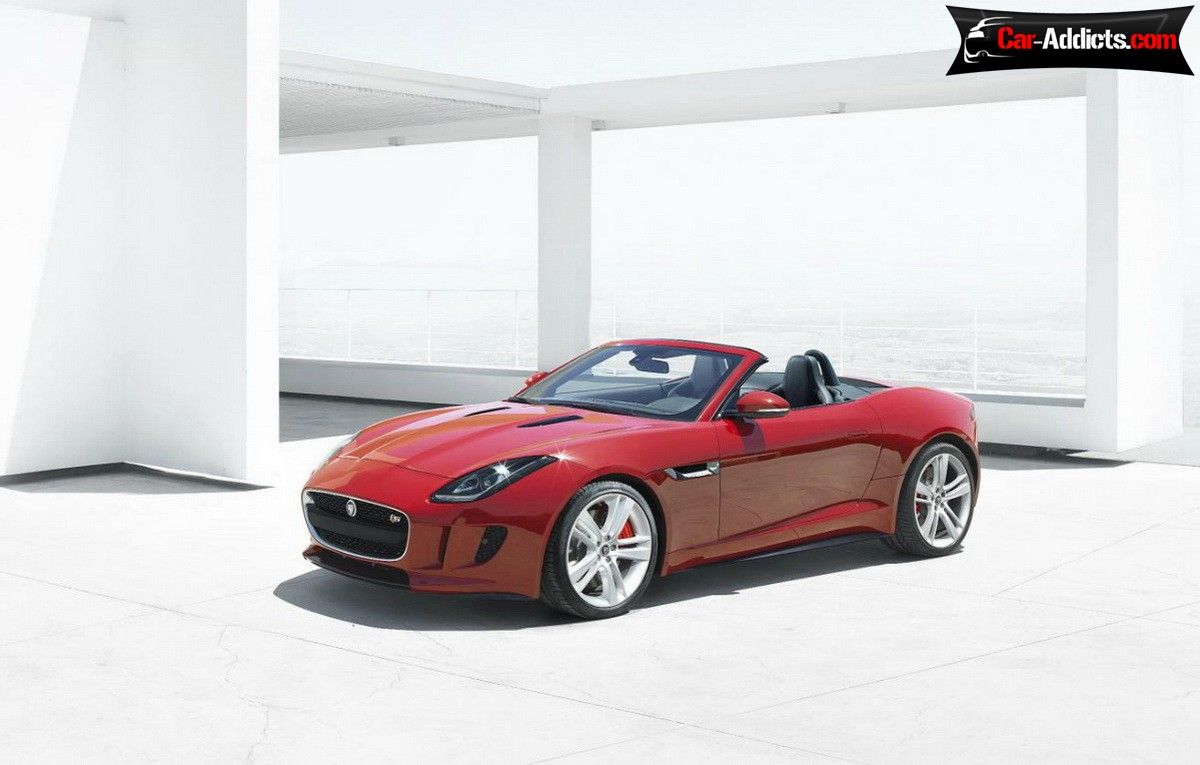 Standard features on the base trims include 18-inch alloy wheels, automatic bi-xenon headlights with washers and LED running lights, automatic wipers, power-folding heated side mirrors, keyless ignition and entry, cruise control, single-zone automatic climate control, leather and simulated suede upholstery, simulated leather interior trim, eight-way power seats (with four-way power lumbar and power side bolsters), driver memory settings, a power tilt-and-telescoping steering column, an auto-dimming rearview mirror, Bluetooth phone and audio connectivity, an 8-inch touchscreen display, navigation and a 12-speaker Meridian audio system with a CD player, auxiliary audio jack, a USB/iPod interface, smartphone app integration, and HD and satellite radios. The convertible has a fully powered retractable soft top, while the coupe has a panoramic glass roof. On the base model, an active sport exhaust is standard on models equipped with the manual transmission, but optional with the automatic transmission.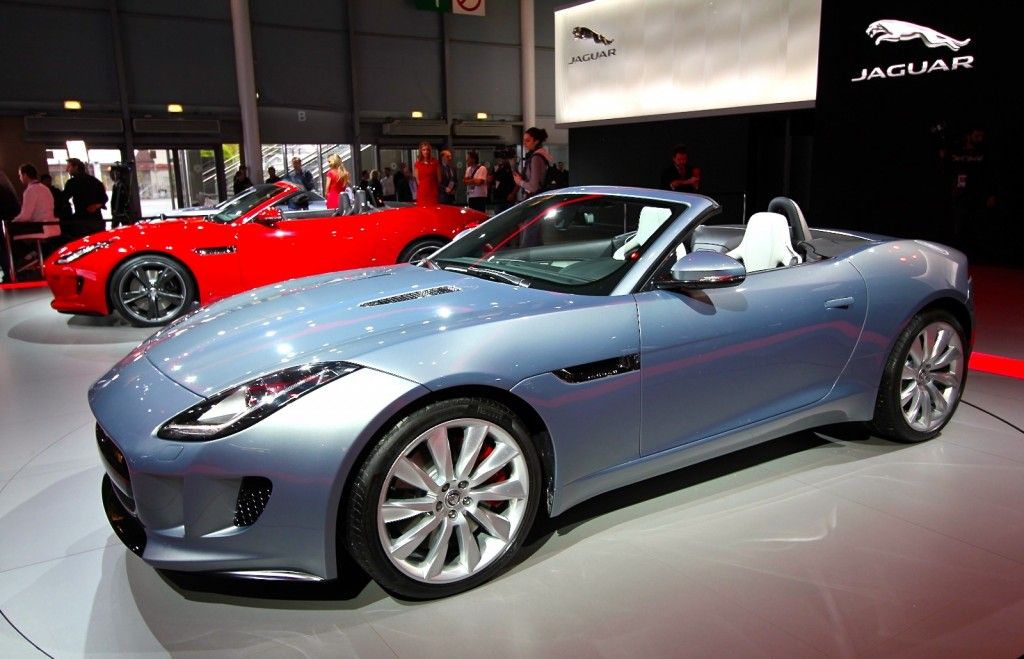 Upgrading to the F-Type S will get you a more powerful engine, 19-inch wheels, an adaptive suspension, larger front brakes, a mechanical limited-slip differential, selectable dynamic driving modes (controls throttle, steering and transmission responses), the active sport exhaust, a flat-bottom heated steering wheel and multicolor ambient lighting.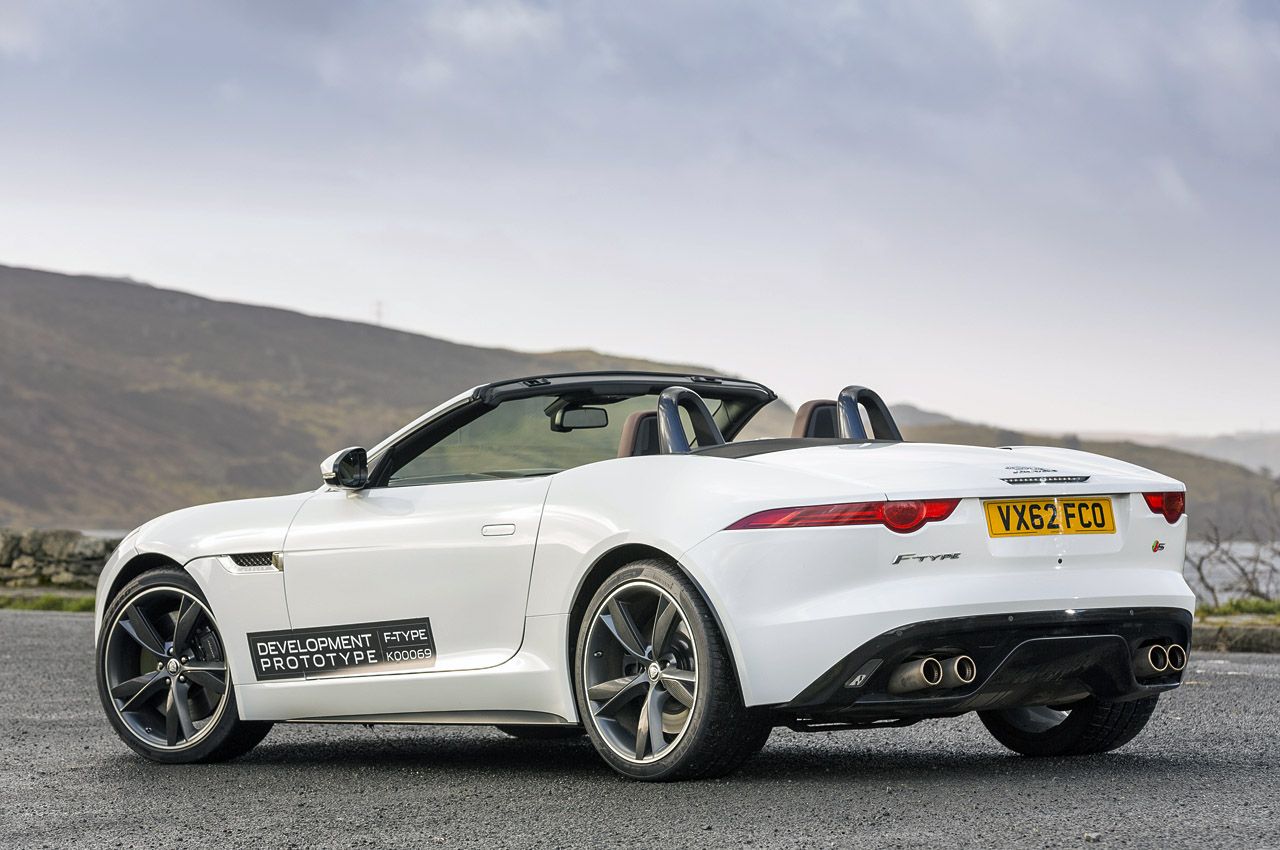 At the top of the range, the F-Type R adds the supercharged V8 engine, 20-inch wheels, red brake calipers and larger rear brakes, an electronic active differential with torque vectoring, quad exhausts, auto-dimming mirrors, rear parking sensors, dual-zone automatic climate control, heated sport seats, full leather upholstery and interior trim, a heated steering wheel and metal pedals. The coupe also includes a power hatch, while the convertible has a wind deflector. Most of the R's standard items are available on lower trim levels in packages or as stand-alone options.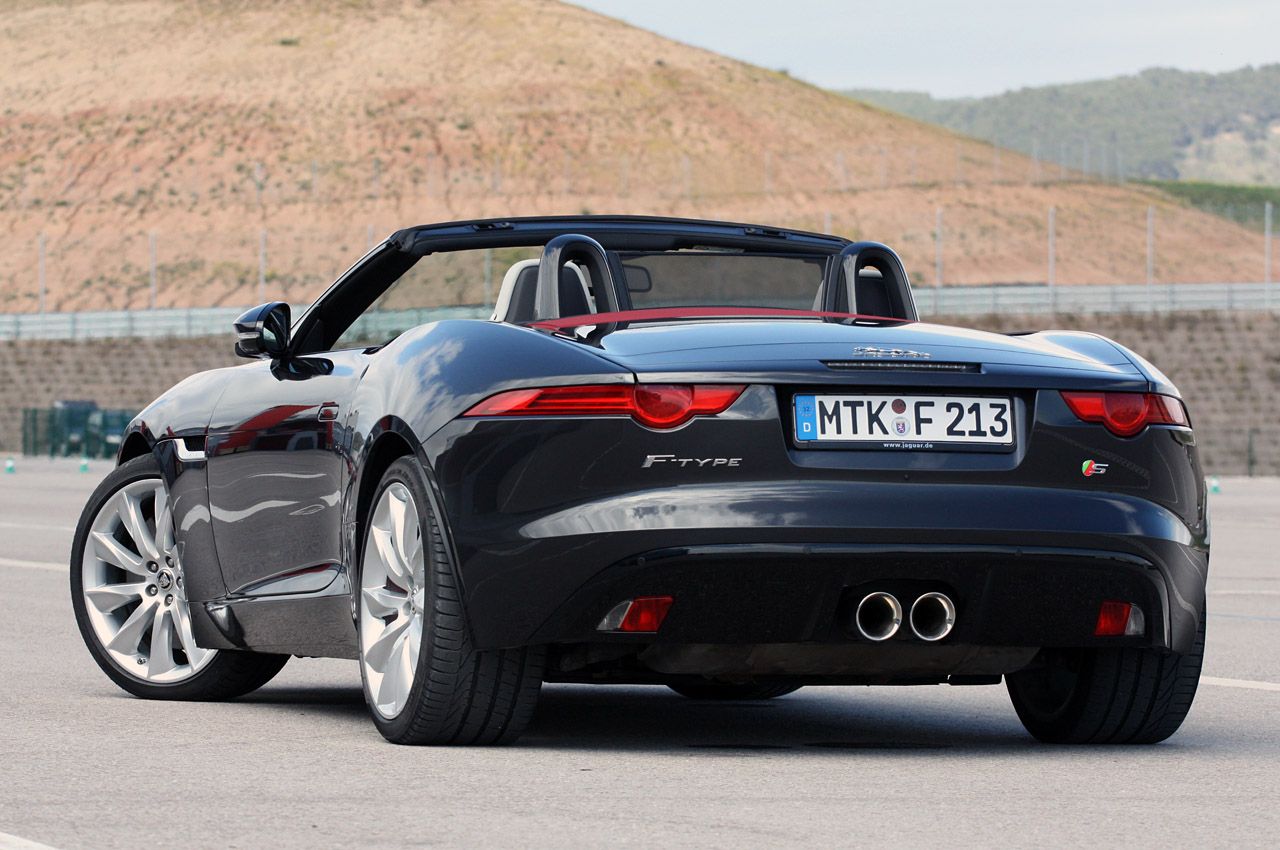 All trims are optional with extended leather interior trim, simulated suede upholstery and interior trim, and a heated windshield. There is also the Vision pack, which includes adaptive headlights, automatic high beams, front and rear parking sensors, a rearview camera, rear cross-traffic detection and a blind-spot warning system. All but the base model can be had with high-performance carbon-ceramic brakes, while a carbon-fiber roof is available on all coupe models.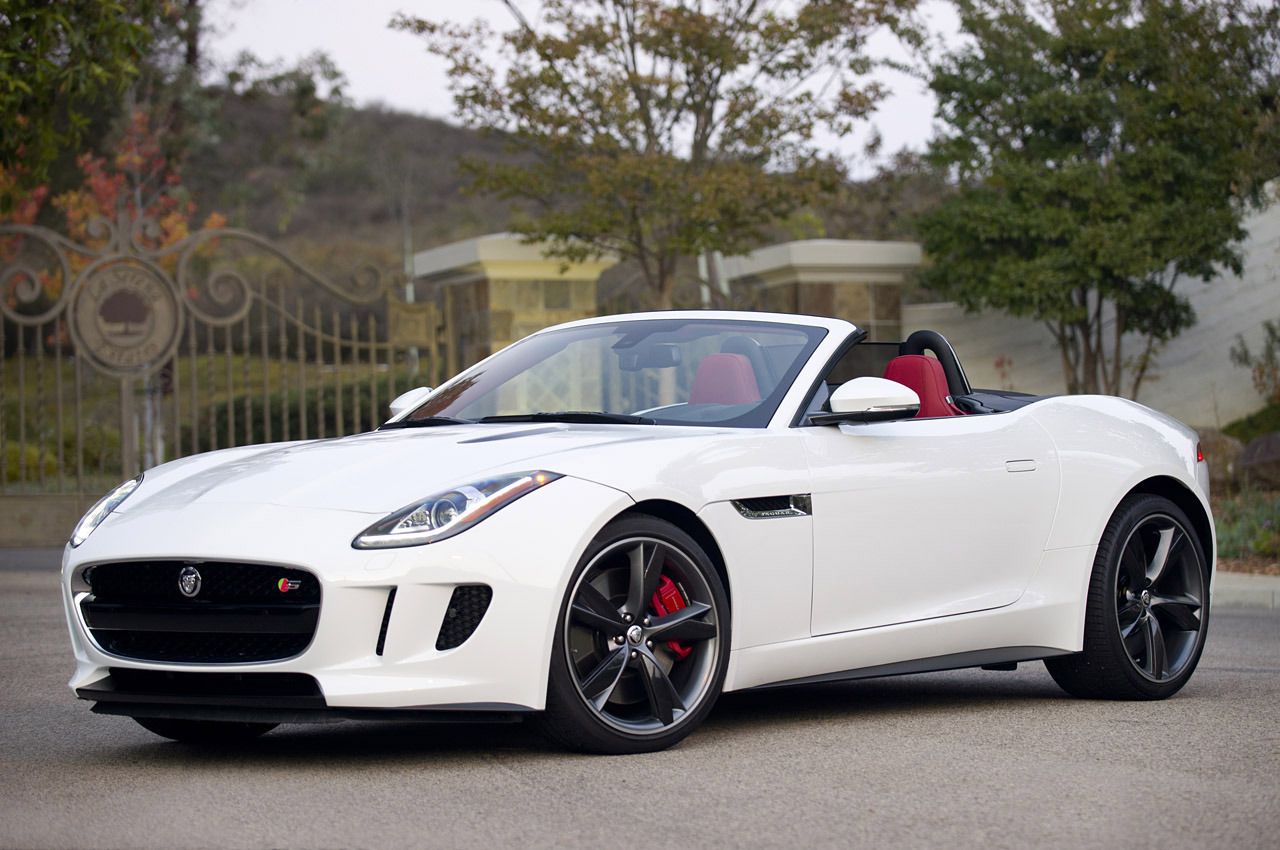 The base 2016 Jaguar F-Type is powered by a supercharged 3.0-liter V6 engine that produces 340 hp and 332 pound-feet of torque. A standard six-speed manual transmission or optional eight-speed automatic send power to the rear wheels. Jaguar estimates the base F-Type will accelerate from zero to 60 mph in 5.5 seconds with the manual and 5.1 seconds with the automatic. For fuel economy, the EPA estimates that the base F-Type will return 22 mpg combined (19 city/28 highway) with the automatic transmission. With the manual, estimates drop to 19 mpg combined (16/24).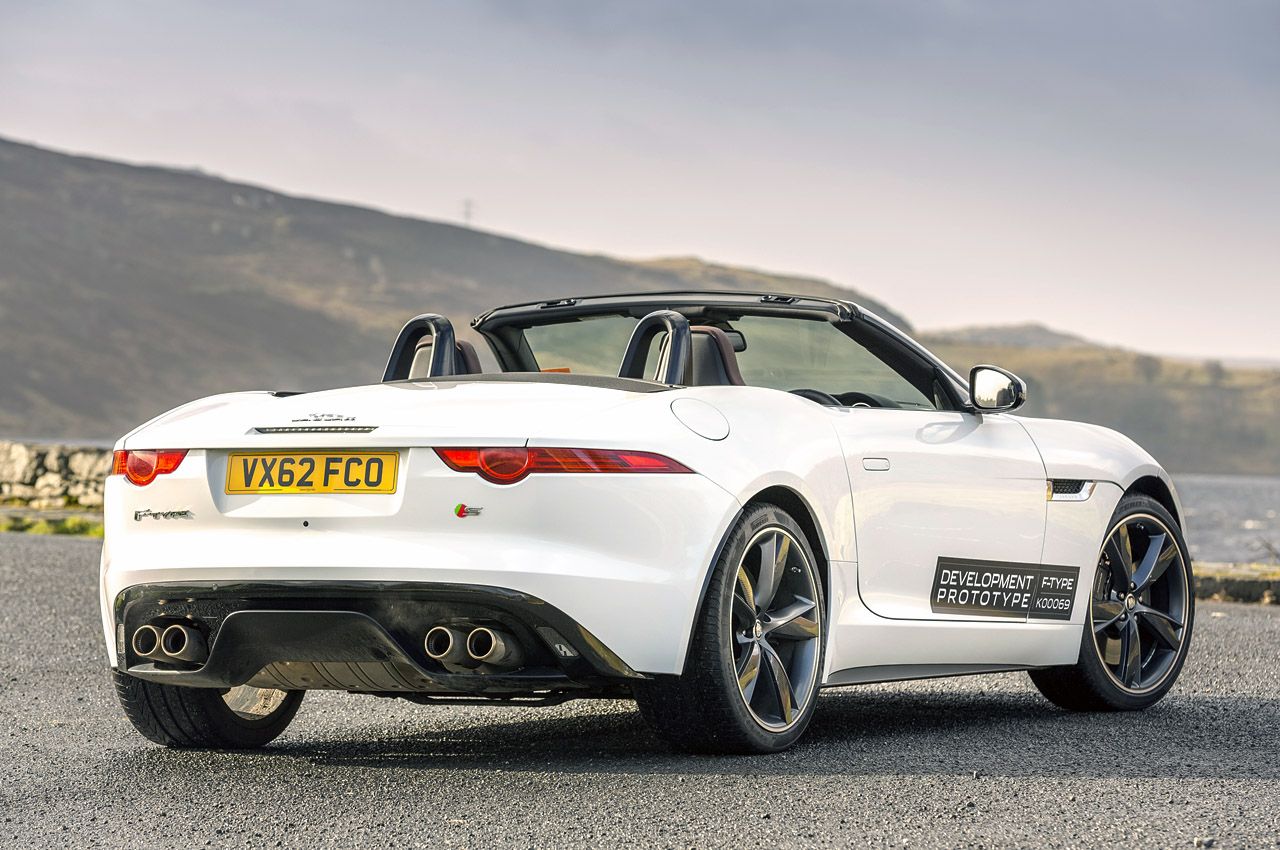 The midrange F-Type S uses the same V6 but increases power output to 380 hp and 339 lb-ft of torque. It has the same transmission choices as the base engine, but is offered with all-wheel drive paired only with the automatic. In testing, a V6 S coupe with the automatic transmission and rear-wheel drive went from zero to 60 mph in 5.0 seconds, while a manual-equipped V6 S coupe made the same run in 5.2 seconds. Both are respectable times but still slower than many rivals. Jaguar estimates that all-wheel drive adds an estimated tenth of a second. The F-Type S with rear-wheel drive and the automatic transmission is rated by the EPA at 22 mpg combined (19/27). These lower by 1 mpg each with the automatic and all-wheel drive. The manual transmission knocks estimated fuel economy down to 18 mpg combined (15/24).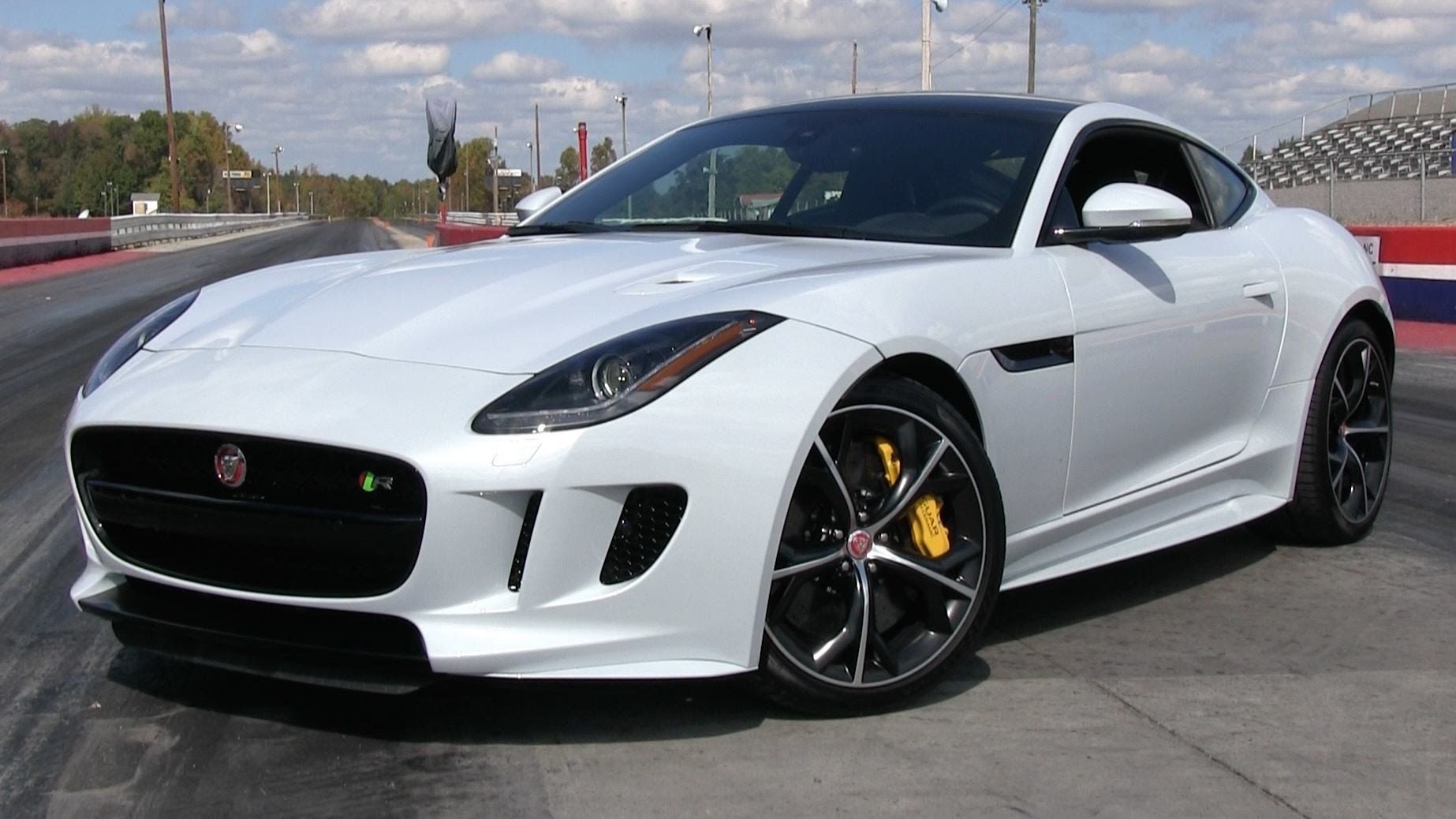 The F-Type R receives a supercharged 5.0-liter V8 that puts out 550 hp and 502 lb-ft of torque. You can only have the R with all-wheel drive and the eight-speed automatic transmission. In testing, an R Coupe accelerated from zero to 60 mph in 3.5 seconds, 0.3 second quicker than the rear-drive 2015 model. The F-Type R coupe is rated by the EPA at 18 mpg combined (15/23), while the convertible's city rating is 1 mpg higher.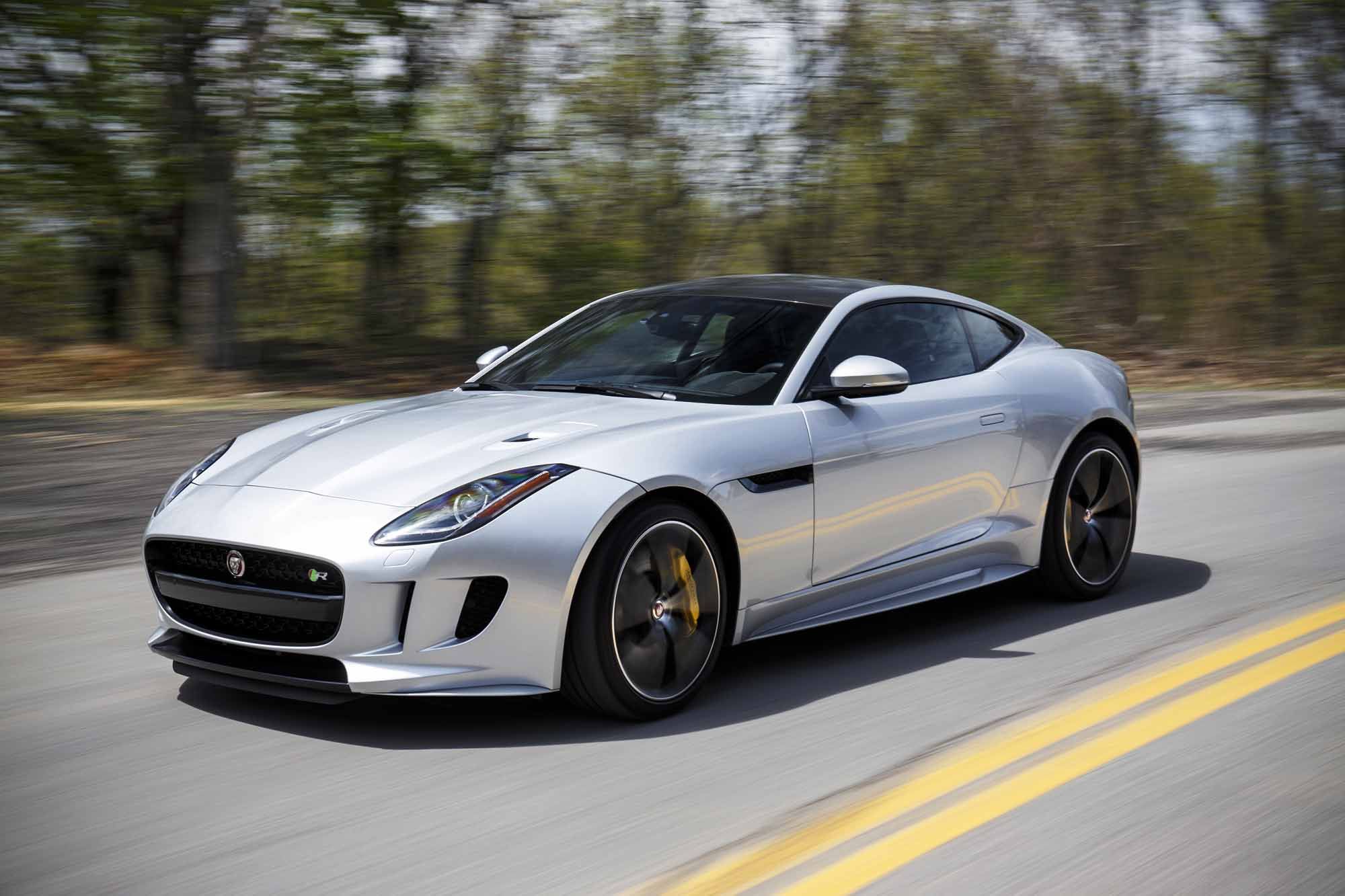 Standard safety features on the 2016 Jaguar F-Type include antilock disc brakes, stability and traction control, seat-mounted side airbags and rollover protection bars (convertible only). Rear parking sensors are standard on the R model and as an option on all other trims. Front parking sensors, a rearview camera, a blind-spot monitor and a rear cross-traffic warning system are optional on all trims.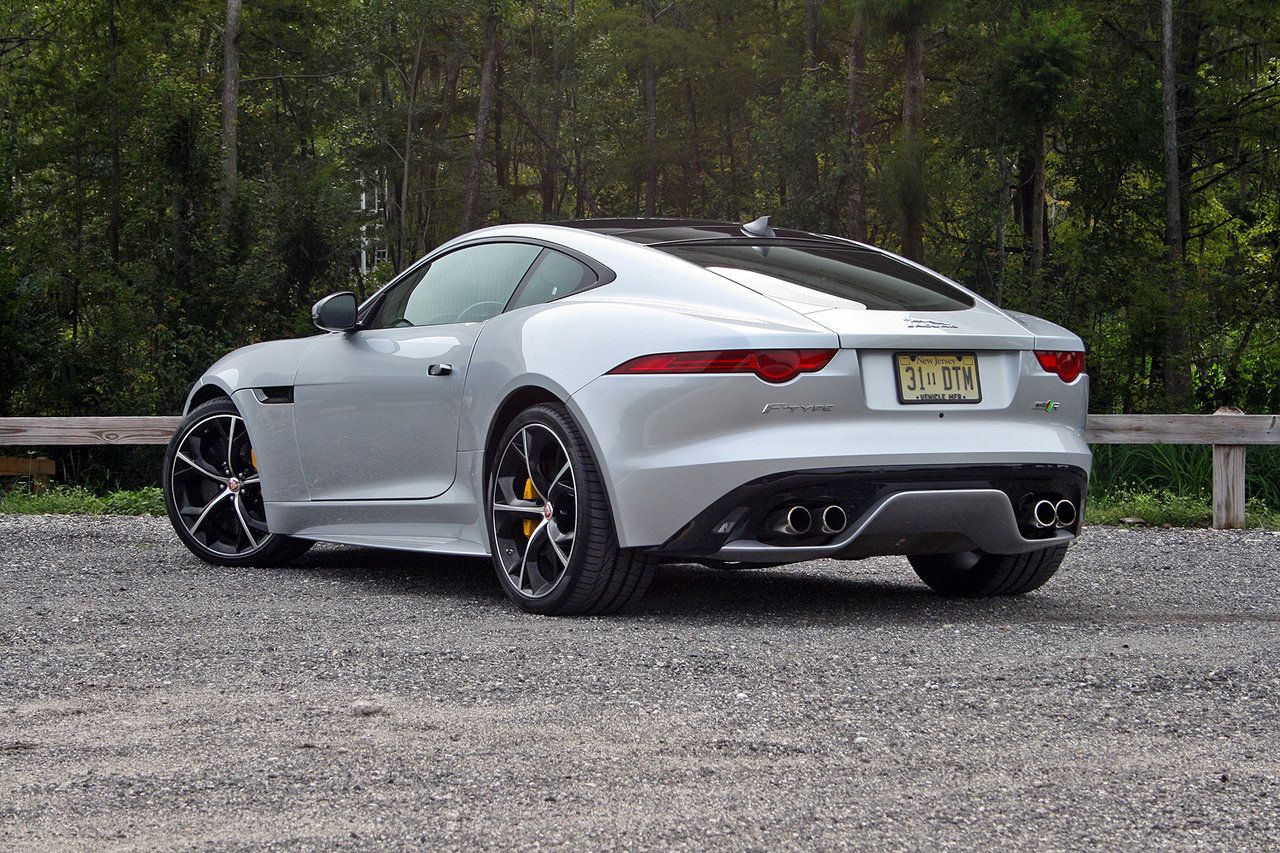 During testing, an F-Type V6 S with rear-wheel drive took 106 feet to come to a stop from 60 mph, an average stopping distance in this class. An all-wheel-drive F-Type R with optional carbon-ceramic brakes fared marginally better, stopping in just 104 feet.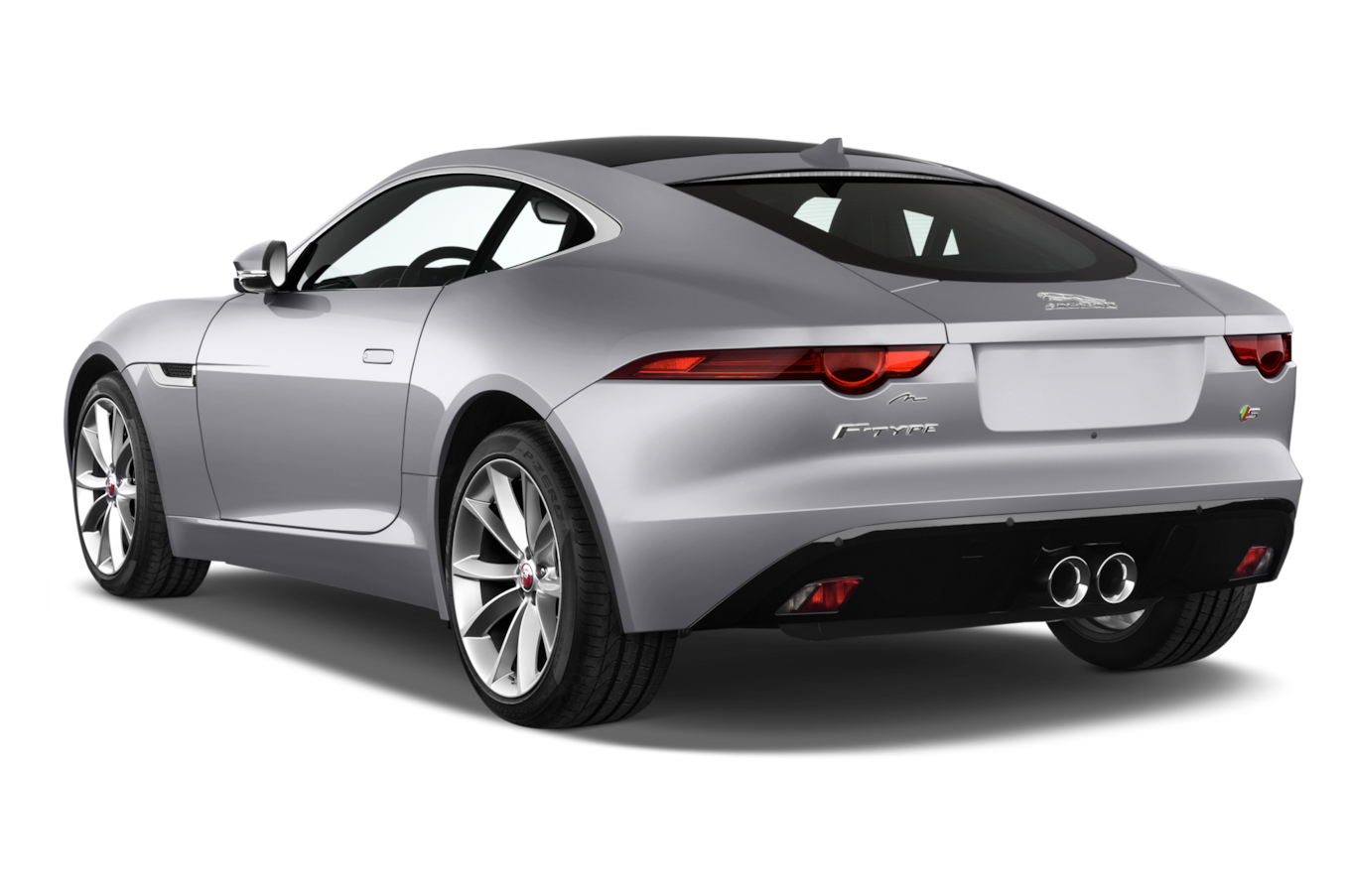 If you're looking for ultimate straight-line performance, the lightning-fast F-Type R is the way to go, especially because now you can utilize all 550 horses from a stop thanks to traction-enhancing all-wheel drive. Just stomp the gas and the F-Type R rockets ahead, with the active exhaust producing one of the most outrageous soundtracks that an internal combustion engine can offer. Some driving enthusiasts will miss being able to light up the rear tires like you used to be able to do on the previous rear-drive F-Type R, but on the whole, the all-wheel-drive R is a more versatile car.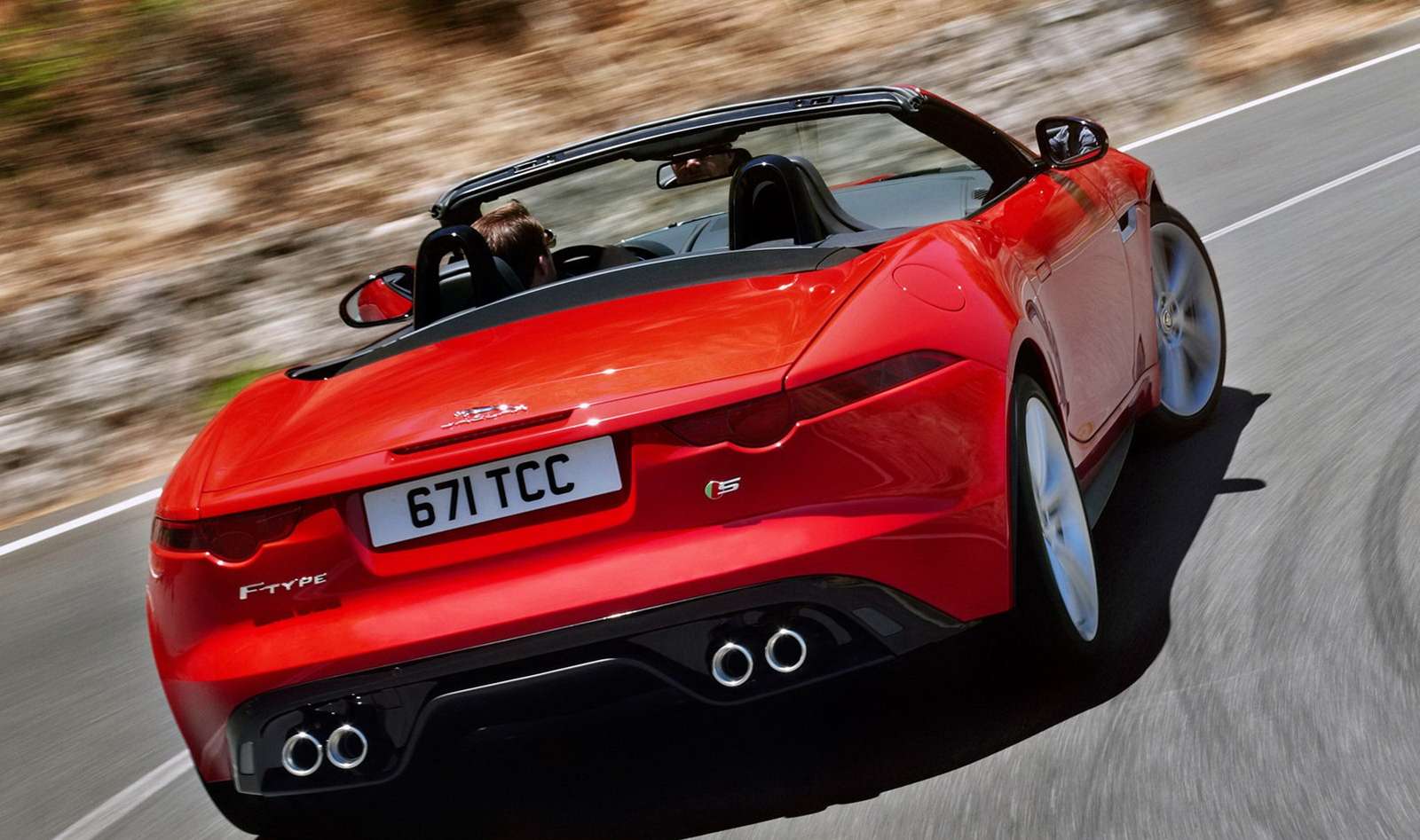 Three words: Get the V8.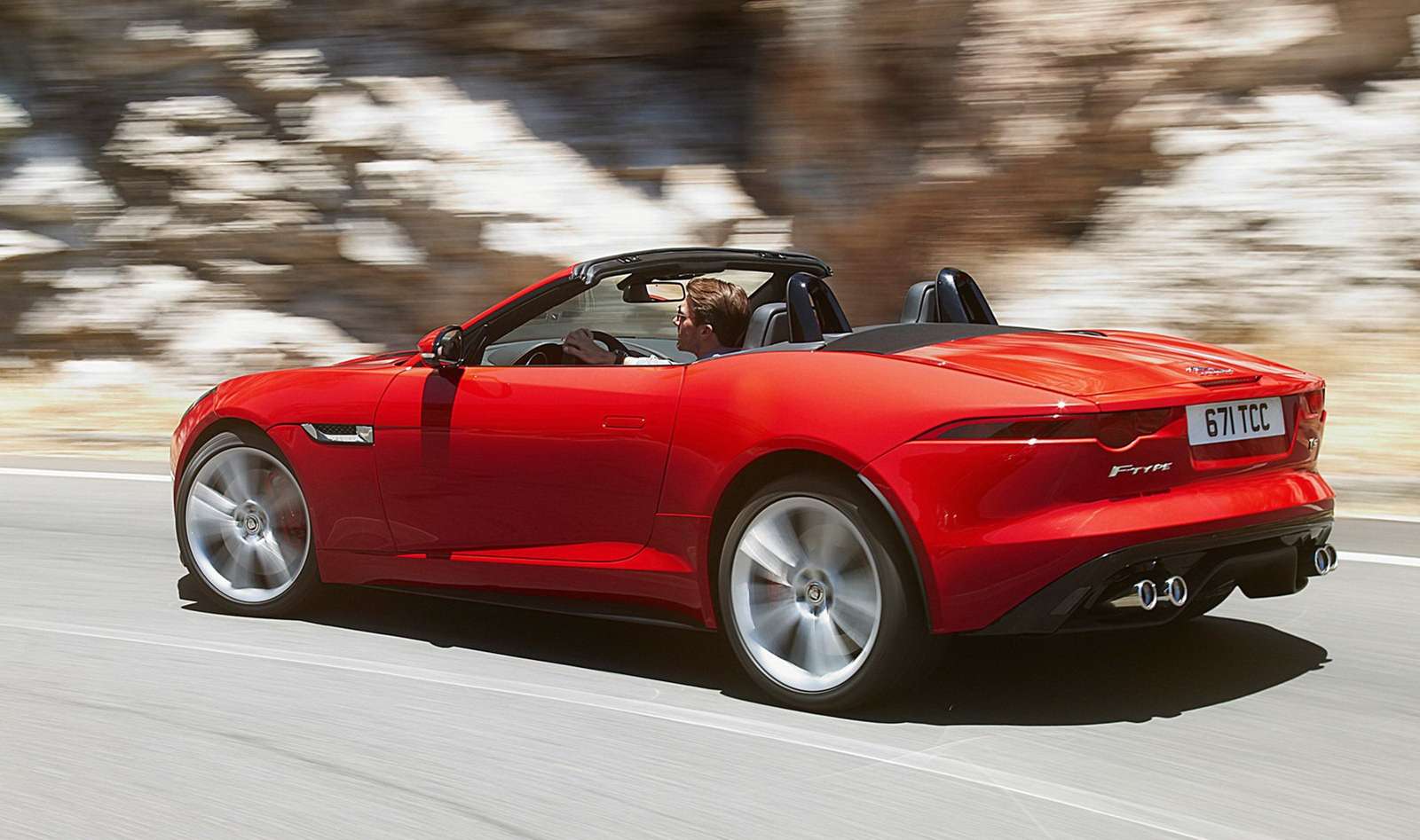 As for the V6, it's underwhelming. It doesn't sound nearly as memorable, and acceleration is below par. It's nice that Jag offers a six-speed manual for it, but it's not a particularly smooth or enjoyable transmission to shift. The eight-speed automatic is the way to go, and it certainly didn't keep us from thoroughly enjoying a year-long test of a 2015 F-Type R coupe. It shifts nearly as quickly as many of the automated manual transmissions in competitors, executing smooth gearchanges in everyday driving situations and quick rev-matching downshifts when you're driving with a bit more enthusiasm.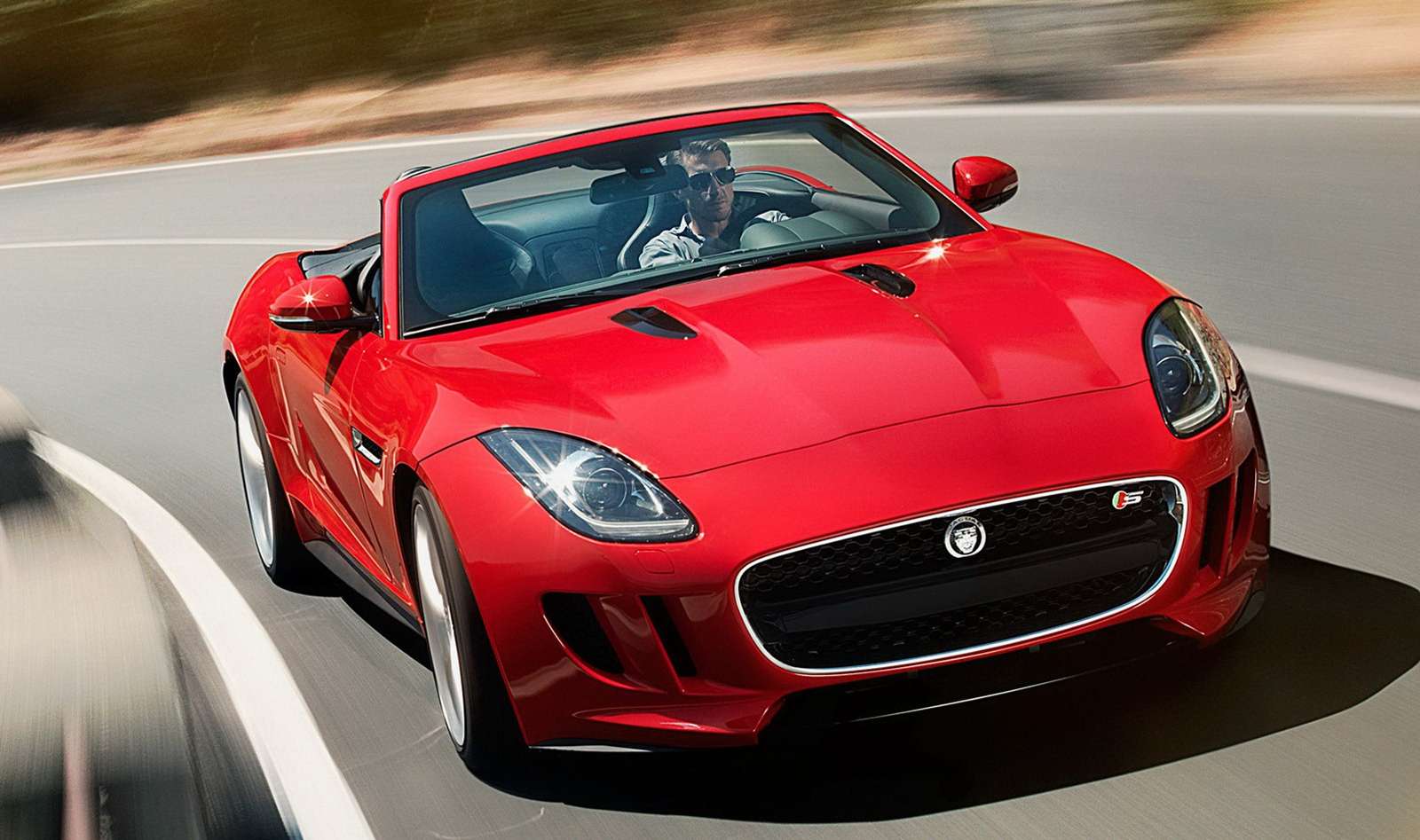 As for handling, the 2016 Jaguar F-Type delivers, big time. All models in the range perform on a very high level, though the V6 models feel marginally more responsive in the handling department than the heavier R. The F-Type's traditionally stiff ride quality has been softened somewhat, especially on the S and R models with adjustable adaptive dampers. At speed on the highway, the F-Type is mostly comfortable, but the cabin can get pretty noisy with wind, engine and road noise. On broken city pavement, the firm suspension has trouble soaking up rougher road imperfections. It's especially noticeable with the 19- or 20-inch wheels.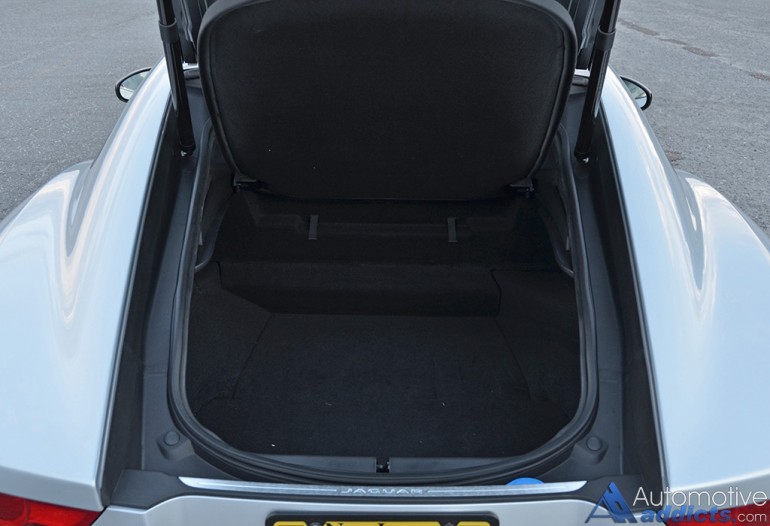 Slide into the F-Type's driver seat and there's no mistaking it for anything but a sports car. Even in base trim, there are plenty of cues telling you that this car means business, with racy stitching, well-bolstered seats and a beefy passenger grab handle on the center console. It's still a Jaguar, though, which means top-notch materials. Such finishing touches as central air vents that rise from the dash and the "Ignis" orange start button and shift paddles (for S and R models) further increase the cool factor.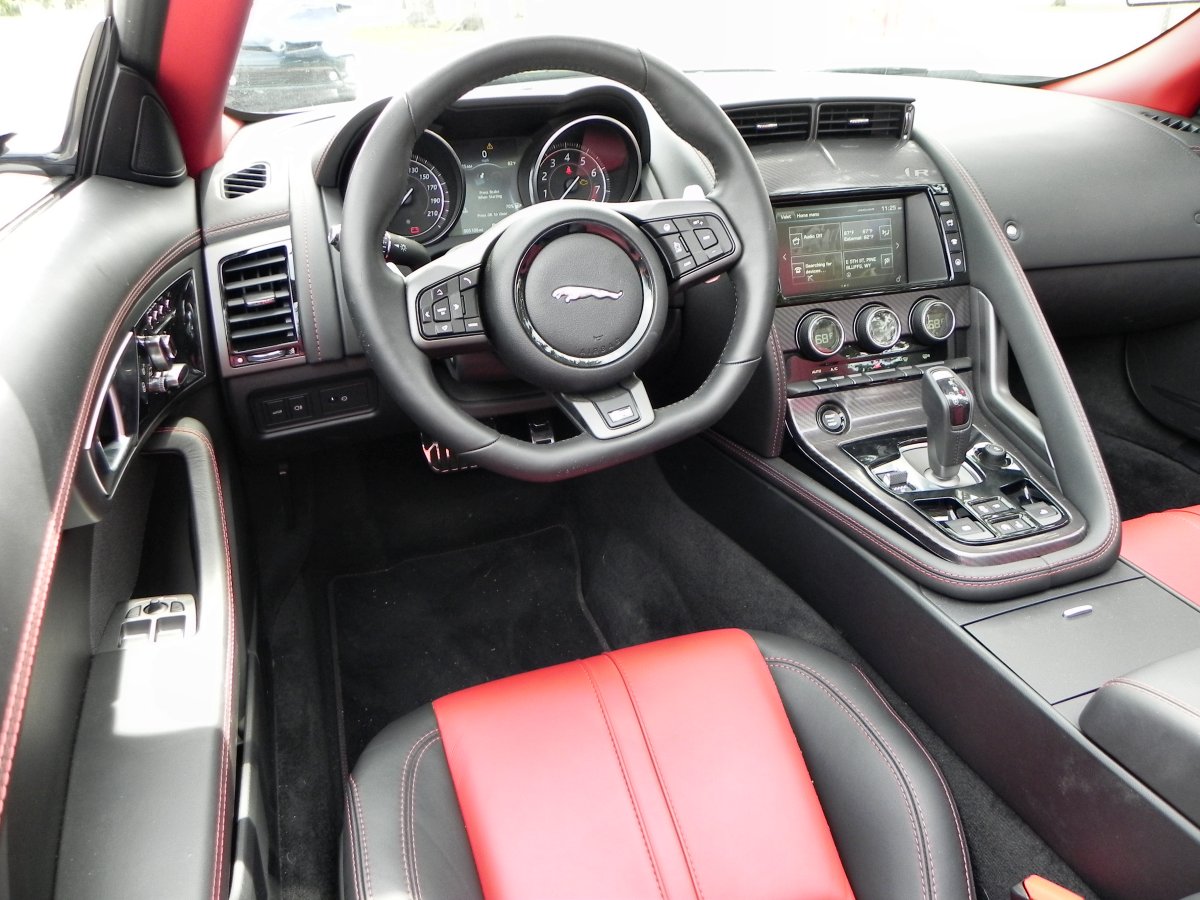 The F-Type's interior looks great and is finished in high-quality materials. The touchscreen interface disappoints, though.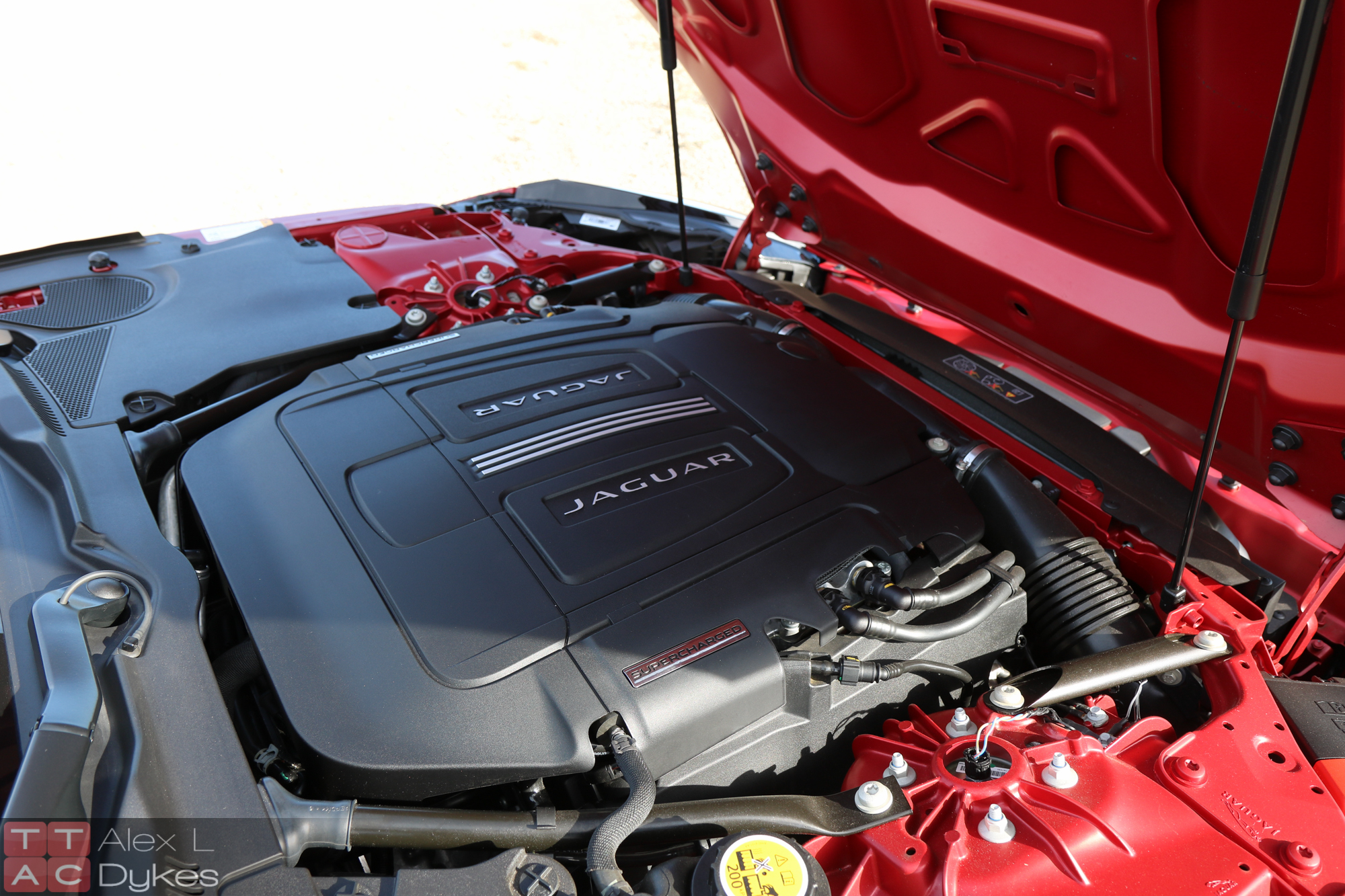 For 2016, some of the F-Type's interior tech has been updated and all trim levels get the 12-speaker Meridian sound system as standard. The system also includes an 8-inch touchscreen and Jaguar's InControl Apps, which allows for expanded smartphone connectivity and use of third-party apps. Unfortunately, these upgrades do not change the touchscreen's slow response times, unintuitive menu structure and unappealing graphics that are extremely outdated compared to most rivals.
At highway speeds in the convertible, top-down motoring is calm, with buffeting kept to acceptable levels. If you suddenly remember you forgot your hat and sunscreen, though, the top goes up in just 12 seconds and it can do so at speeds up to 30 mph. The coupe provides a slightly more confined feeling inside, but there's still plenty of headroom and the now-standard panoramic sunroof offers a much airier feel.
Road trips in the Jag may be a bit of a hassle. The padding in the full-leather seats is stiff and unyielding, so the more forgiving suede upholstery is a very attractive alternative. Those long of leg will find the seat doesn't move far back enough, and trunk space is notably limited whether you're in the coupe or the convertible. The convertible provides just 7 cubic feet of space, while the coupe offers a more usable 11 cubes. Medium-size suitcases will be a tight squeeze (a golf bag is iffy), and the oddly shaped space and awkward liftover make luggage loading even more difficult.
The Jaguar F-Type 2-seat coupe and roadster offer a dizzying array of configurations, all of which promise exhilarating performance and the prolonged stares of envious onlookers. The base 340-horsepower V6 is pretty quick, and even better now that it comes with a 6-speed manual, but it's the supercharged V6 in the S that really makes the F-Type a joy to drive. If you prefer the 8-speed automatic with manual shift control, there is one already in place on the AWD S and the 550-horsepower F-Type R. The R is the hyper child of the F-Type lineup, with a sub-4-second zero-to-60 run. To control this type of power, Jaguar arms the F-Type with all manner of electronic aids including an active rear differential and electronic-assisted power steering. Top speed is limited at 186 mph. Thankfully, stopping won't be a problem with the optional carbon-ceramic brake kit.
5.0-LITER SUPERCHARGED V8 ENGINEWhen it comes to V8-powered goodness, it just doesn't get any better than with the 2016 Jaguar F-Type R coupe and roadster. Under its sultry hood resides a 550-horsepower supercharged 5.0-liter V8 that sings the sweetest song while delivering up gobs of power seemingly without end.ACTIVE EXHAUST SYSTEMThe F-Type's Active Exhaust enhances the exhaust note from elegant British aristocrat to burbling V8 muscle car. The change occurs whenever the F-Type is switched into Dynamic mode, but can also be activated via a dash-mounted button.
The driver-focused cockpit of the 2016 Jaguar F-Type separates the passenger and driver with a wide console, and provides a left-hand grip for the passenger. The coupe's high roof means good headroom even for tall drivers, and there's adequate legroom, too. Drivers get a large, visually sharper TFT display between the two gauges, with orange paddle shifters, a start button, and Dynamic mode selector on some models. The infotainment touch screen's simple interface conveys what you want to know, albeit without much flair. The beautifully assembled interior boasts stitched leather throughout, including the headliner in coupes.
Rather than aping the 50-year-old lines of the E-Type, Jaguar's design team crafted a new, modern shape that's still unique to the brand. The coupe's sloping roof and narrow rear glass give it a wider look from behind, even though it has the same dimensions as the convertible. Both cars feature spoilers that pop up from the rear deck when speeds exceed about 50 mph, but the coupe's is narrower and taller, reducing rear visibility. It's a minor quibble in an otherwise masterful design.
The basic Jaguar F-Type is already comprehensively equipped, with leather seats, premium interior materials, a 770-watt Meridian audio system with the InControl apps suite, and a quick-acting power top on convertibles. Jaguar Smart Key and a 14-way power driver's seat are new this year, as is the panoramic glass roof on the coupes. The S models bring Configurable Dynamic Mode, a flat-bottomed racing-style steering wheel and Active Exhaust, while the R coupe features a power rear tailgate, standard AWD and an 8-speed automatic transmission. A fuel-saving stop/start system shuts off the engine at stops, restarting it quickly once the brake is released.
The 2016 Jaguar F-Type offers a variety of options underlining performance or luxury. Dynamic Mode enhances throttle, steering, suspension and transmission programming to enhance the driving experience. The Configurable Dynamics feature in the touch-screen menu also lets you customize the settings to your liking. On the F-Type coupe, a $ 12,000 carbon-ceramic matrix brake upgrade is overkill for the street, but worth every penny if you plan on taking your Jaguar to the track. Jaguar didn't forget it's a luxury brand, however, and there are numerous interior upgrades including a red leather package, heated steering wheel and a Suedecloth headliner.
Sharing their basic aluminum-alloy structure and stop/start system, the supercharged 3.0-liter V6 and 5.0-liter V8 engines vary significantly in power output, from 340 horsepower for the base V6 to 550 for the F-Type R. Aluminum-alloy construction is used in both engines as is a twin-vortex supercharger and water-cooled intercooler. Another commonality is the use of aluminum cylinder heads that house the independent variable-cam-timing system. The V-6 uses counter-rotating front and rear balancer weights to compensate for the lack of two cylinders, helping to give the engine refinement similar to the V8. A 6-speed manual transmission is standard on all V6 models, while the AWD and V8 R models employ an 8-speed automatic transmission.3.0-liter supercharged V6 (F-Type)340 horsepower @ 6,500 rpm332 lb-ft of torque @ 3,500-5,500 rpmEPA city/highway fuel economy: NA (manual), 19/28 mpg (automatic)3.0-liter supercharged V6 (F-Type S)380 horsepower @ 6,500 rpm339 lb-ft of torque @ 3,500-5,500 rpmEPA city/highway fuel economy: NA (manual), 19/27 mpg (rear-wheel drive, automatic), 18/26 mpg (AWD, automatic)5.0-liter supercharged V8 (F-Type R)550 horsepower @ 6,500 rpm502 lb-ft of torque @ 2,500-5,500 rpmEPA city/highway fuel economy: 16/23 mpg (rear-wheel drive), 15/23 mpg (AWD)
Jaguar executives often mention the Porsche 911 when discussing the 2016 F-Type, and the Jag offers a significant value advantage over its iconic German rival. F-Type Coupes start with a Manufacturer's Suggested Retail Price (MSRP) of about $ 66,000 for the base model, jumping to around $ 78,300 for the F-Type S, and to just under $ 105,000 for the F-Type R. Convertibles start at about $ 70,000 for the base model, stretch to $ 81,500 for the V6 S manual, and about $ 107,500 for the new R. However, the Jaguar F-Type is undercut by the Chevrolet Corvette Stingray, itself a stunning performance car. To find out what others in your area are paying for the Jaguar F-Type, go to Fair Purchase Price. In terms of resale value, Jaguar still has a tough row to hoe in terms of holding its value over time.
2016 Jaguar F-TYPE Consumer Reviews
nervousmute, 05/11/2016
2dr Coupe (3.0L 6cyl S/C 8A)
10+ Months/11k+ Miles Later...
Still in love and yes, extremely fun to drive! Just tinted the windows so it looks bad a** on white. I'll summarize the good and bad I've experienced so far. Pros: According to trip computer averaging a whopping 25.5 mpg in mixed city/hwy driving. Beautiful interior design and aesthetic layout of controls. My first Jag and everything was very intuitive and easy to learn. Very quick and super smooth gear shifts whether in automatic or using manual paddle shifters. Dynamic mode turns this from a civilized luxury sport car to a hilariously fun roaring "beast". Trunk space able to fit all road trip essentials including full size cooler and more. Once you find a good fit the sport seats provide excellent support and fits like a glove. Lovely safety features of the Vision Pack (e.g. blind spot monitor, rear camera, front and rear parking sensors, rear cross-traffic warning, etc.). Security knowing it's covered by Jaguar's "Best in Class" 5 yr./60k mi. warranty, scheduled service, and roadside assist. Exceptional VIP customer service from the dealership. Cons: Technology (e.g. GPS, electronic menu, blue-tooth, etc.) slow and from the stone ages. Experienced one or two minor electronic display glitches. Check engine light at 6k miles from faulty O2 sensor, dealership replaced . Low front plastic air dam annoyingly scrapes bottom all the time. Speakers vibrated on high volume at beginning but problem seems to have gone away now? I get friendly compliments from people all the time. My best experience is driving with the stereo off just listening to the purr of the active exhaust note or rocking it with the stereo on full blast. I actually get an urge and miss driving it if a few days have passed with it sitting in the garage. Worth every penny in joy and happiness imo!
egretpunctured, 09/15/2016
S 2dr Convertible (3.0L 6cyl S/C 6M)
Don't think twice, think three times BEFORE BUYING
This is my third F-Type in two months. The first was a "Certified" 2014 auto "S" with 12k mi., the second was another "Certified" 2014 auto base with 40k mi., the third is a previously unregistered 2016 Jaguar executive car with a manual (an "S") with 5k miles. Good: all three look great. The acceleration with the autos is great...the manual less so. Bad: all three had/have defective fuel fillers, defective stereos, squeaks/chirps/rattles/buzzes. (And the second one had a radiator hose rupture during the test drive...but I still bought it after it was fixed.) The first two were each in the shop for a week just after purchase due to these KNOWN problems. The dealers admitted they knew there were service bulletins out for these problems, but stated that Jag won't pay them to fix these problems pre-delivery. Each was bought back. Jag refuses to fix the defective stereos and told me it would void my warranty if I paid the $ 4k necessary to make it sound good. No joke: the $ 500 Fender stereo in VW's is light years better than the 770W Meridian system, which spews out muffled bass and tinny mids. The bass is distorted in all of them. Try this: compare bass at full with sub at zero and vice versa--not much volume from the one at full. Then, put one at full and add some volume from the other: disproportionate volume increase and muddy distortion. Then, put them both up high and send the sound to the back: not much from the subs in back...except for gurgling distortion. I thought the 2016 models had all of these problems fixed. I was wrong. Shame on me. The present car is a lease and the dealer won't unwind it because the car was never previously registered. I got an amazing lease: a $ 96k sticker reduced by $ 25k, making a first month plus fees drive off with $ 762/mo. for 33 mo. with 15k mi./year thereafter. But, if the stereo is so bad, the gas pumps shut off twenty times during fill-ups, and a buzzing erupts when the exhaust button is on loud and the accelerator is depressed between 2,650 rpm and 3,000 rpm, how good a deal is it?? I could go on and on.... Never again an F-Type. Never again a Jaguar. Just buy a good used 911 and be done with it.
packagerooted, 04/10/2018
2dr Coupe (3.0L 6cyl S/C 8A)
Warning F-Type VIN SAJWA6AT1H8K38814
Warning for potential buyers of black 2017 F-Type VIN SAJWA6AT1H8K38814. I am the original owner of the car which was bought new in Greenville, SC. The car was bought back from me by the dealer because it has a defect that can't be fixed. In hot weather only, the dash makes a horrible creaking noise. In cool weather it is quiet. The dealer tried to fix the problem more than once, they even tried replacing the dash, finally they admitted they could not fix it. At that time, the plan was to replace the car. Long story short after six months of stall tactics and excuses, they would not replace the car without me having to spend in excess of $ 10,000.00. No thanks, I know better than to throw good money after bad. Since I had them dead to rights with a potential lemon law case, they agreed to buy the car back for the entire sales price. After I signed the papers, the sales manager admitted to me that they planned to resell the car as they weren't sure it had a defect. What??? Apparently they are going to claim amnesia when they sell this lemon to an unsuspecting buyer on a cool day when the defect is not evident. Sadly a used car buyer will not have the protection of the lemon law that I had. If you are thinking of buying this car be sure to drive it on a sunny hot day after it has been sitting outside, you will change your mind. If you have bought this car, please contact me (look on Facebook Jaguar F Type fans page for my post). I have the proof you need to get your money back. This dealer is has no integrity whatsoever and Jaguar should be ashamed that they represent them!
radiationhig, 07/02/2017
S 2dr Convertible (3.0L 6cyl S/C 6M)
Extremely disappoited with the vehicle
I've had the car for 10 weeks and it's been in service for half that time. Yes, my new car has been at the service facility for five weeks....and counting! My problems started the first week I had the car; the engine stalled out at a red light and needed to be re-started, the trip odometer has more mileage than the overall vehicle mileage (Strange. Right?) and the vapor lock on the gas tank makes fueling an effort. Then the sbs system was faulty, as the air-bag light was continuously illuminated and the passenger seat became inoperable. Now the exhaust system does not work properly. Parts have been replaced, wiring checked and diagnosing the issues remain a mystery. The car is fun to drive, looks nice and drives well, but owning the vehicle is a hassle, an inconvenience and the worst new car experience of my life. If I could return it, I would. In fact, I want a refund and will gladly go back to my hassle-free Infiniti Q-60S or my Mercedes. Anything.
pedometeraustin, 05/18/2019
2015 Jaguar F-TYPE
"Almost Perfect"
I bought this car in 2016 and, except for the seat being just a little narrow, it is the best car I have owned. It runs exactly the same in hot or cold weather and I have not had any problems with it since I bought it. It is very unique and I have not seen another orange with a black convertible top on the road where I live yet. The body style is perfect and people comment on it nearly every time I park it and get out. Great sound system, great ride (a little noisy) and great gas mileage. I would definitely buy it again
reformatpitch, 07/11/2018
2016 Jaguar F-TYPE
"Best ever"
This is by far the most fun car I have ever owned. Just look at it! It has outstanding performance and sound to match. It has been virtually trouble-free, and service has been courteous and professional. Zero maintenance costs (aside from tires). With the 6-speed manual, the F-Type provides a completely absorbing, rewarding driving experience.
servicesdicing, 05/21/2018
2017 Jaguar F-TYPE
"Gorgeous car that turns heads & sounds great."
I needed a change and I replaced 2 Porsche Caymen S in a row with this vehicle. I wasnt sure it would measure up but while its a very different car - Its a very good and satisfying to drive car. A kittle more comfortable too with the exception of the seats which were better in the top of the line ones in the Porsche. Love it.