The GT-R's biggest drawback lies not so much in what it can or can't do, but in its lower levels of refinement compared to newer high-end sports cars and sport coupes on the market. Alongside these rivals, the GT-R's so-so ride quality doesn't do it any favors, and neither does its intrusive wind noise. Many sports cars in this price range strike a more favorable balance between comfort and performance while the GT-R is laser-focused on attacking challenging roads with tight turns. Nor is the GT-R as affordable as it once was, and the Nismo trim, which costs almost 50 percent more than the regular GT-R, is particularly hard to justify.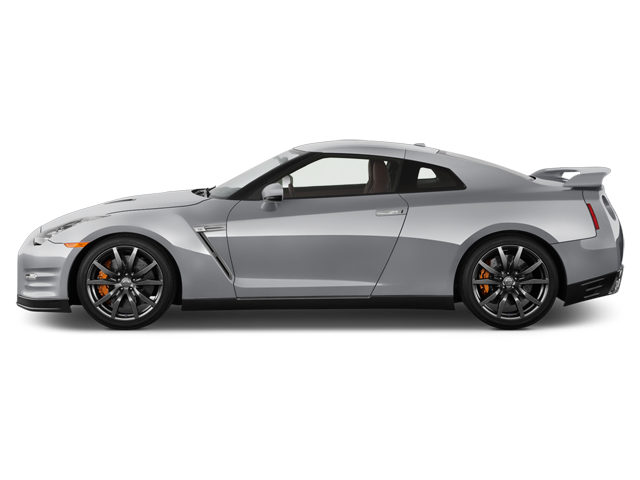 The .com "B"-rated Nissan GT-R now finds itself sandwiched between more powerful and less expensive sports cars such as the Corvette Z06 and Dodge Viper and more refined vehicles like the 2016 Porsche 911 Carrera 4S and 2016 Jaguar F-Type R Coupe. The all-new 2017 Acura NSX should also warrant consideration. Overall, we still love how the GT can dominate the racetrack (or your favorite back road), but its disadvantages in everyday livability should certainly factor into your purchase decision.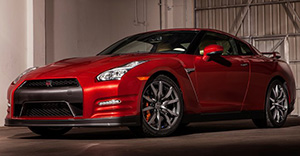 The 2016 Nissan GT-R is a high-performance 2+2 coupe with seating for four. It is offered in three trim levels, including Premium, Black Edition and a 600-hp Nismo version.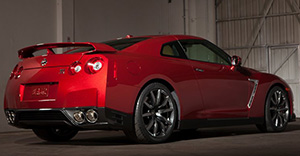 The entry-level Premium model's list of standard equipment includes 20-inch forged alloy wheels, summer-rated tires, an adaptive suspension, Brembo brakes, LED adaptive headlights, LED running lights, a rearview camera and keyless ignition and entry. Inside you'll find dual-zone automatic climate control, leather and simulated-suede upholstery, an eight-way power driver seat and four-way power front passenger seat, heated front seats and an active noise-cancellation system. Information and entertainment comes in the form of a 7-inch touchscreen display with navigation, Bluetooth phone and audio connectivity and an 11-speaker Bose sound system with a CD player, satellite radio and a USB interface.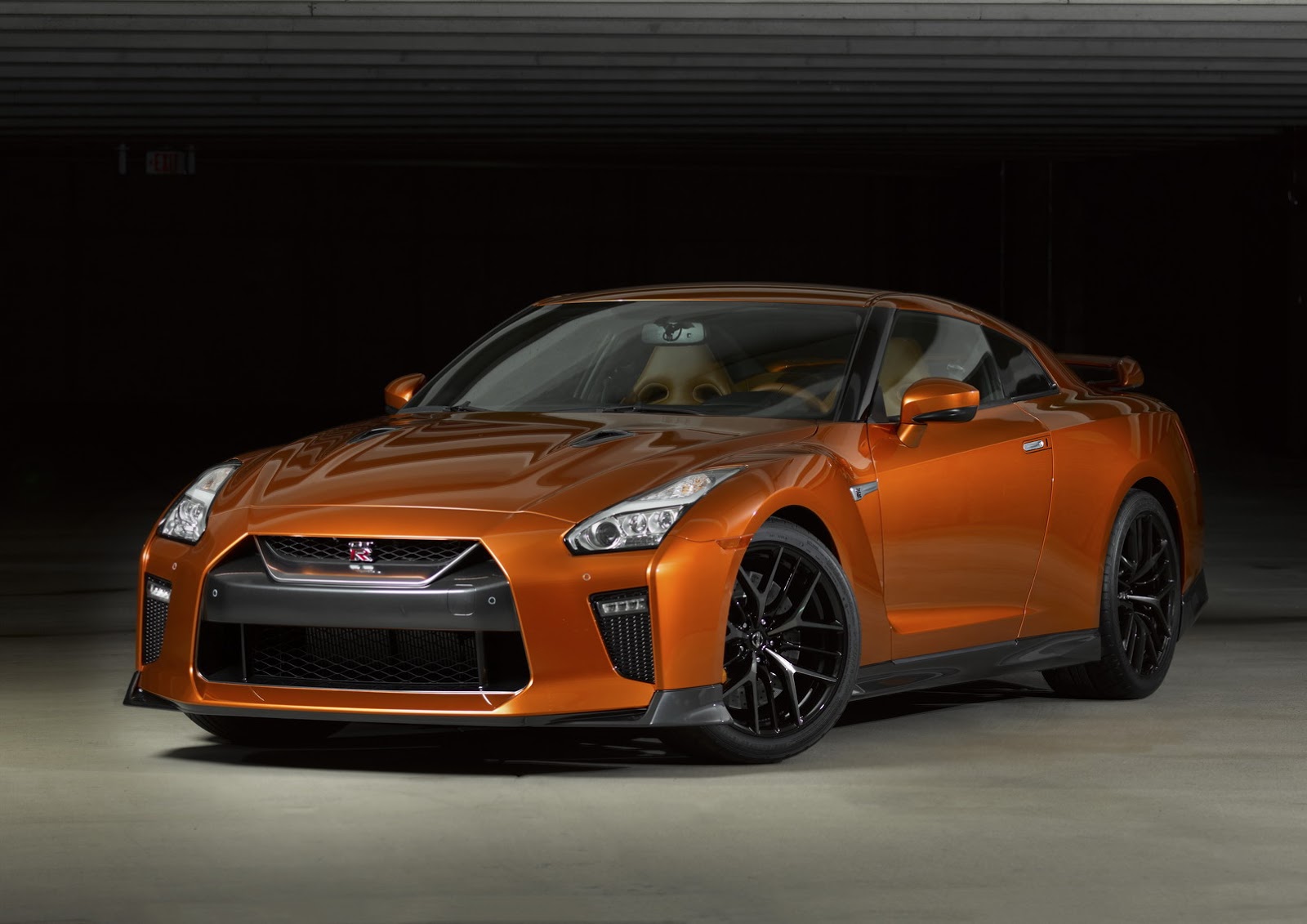 The limited-production 2016 Nissan GT-R 45th Anniversary Gold Edition gets special paint and identification badges.
There are three optional packages for the GT-R Premium. The Premium Interior package adds upgraded leather upholstery, while the Cold Weather package gets you all-season run-flat tires and a special coolant mixture for faster engine warm-up. A 45th Anniversary Gold Edition option is new for 2016 and includes "Silica Brass" paint, a gold VIN plate inside the engine compartment and a special plaque located on the center stack. Nissan says fewer than 30 vehicles will make it stateside. The GT-R Premium's option packages aren't available on the Black Edition or Nismo trims.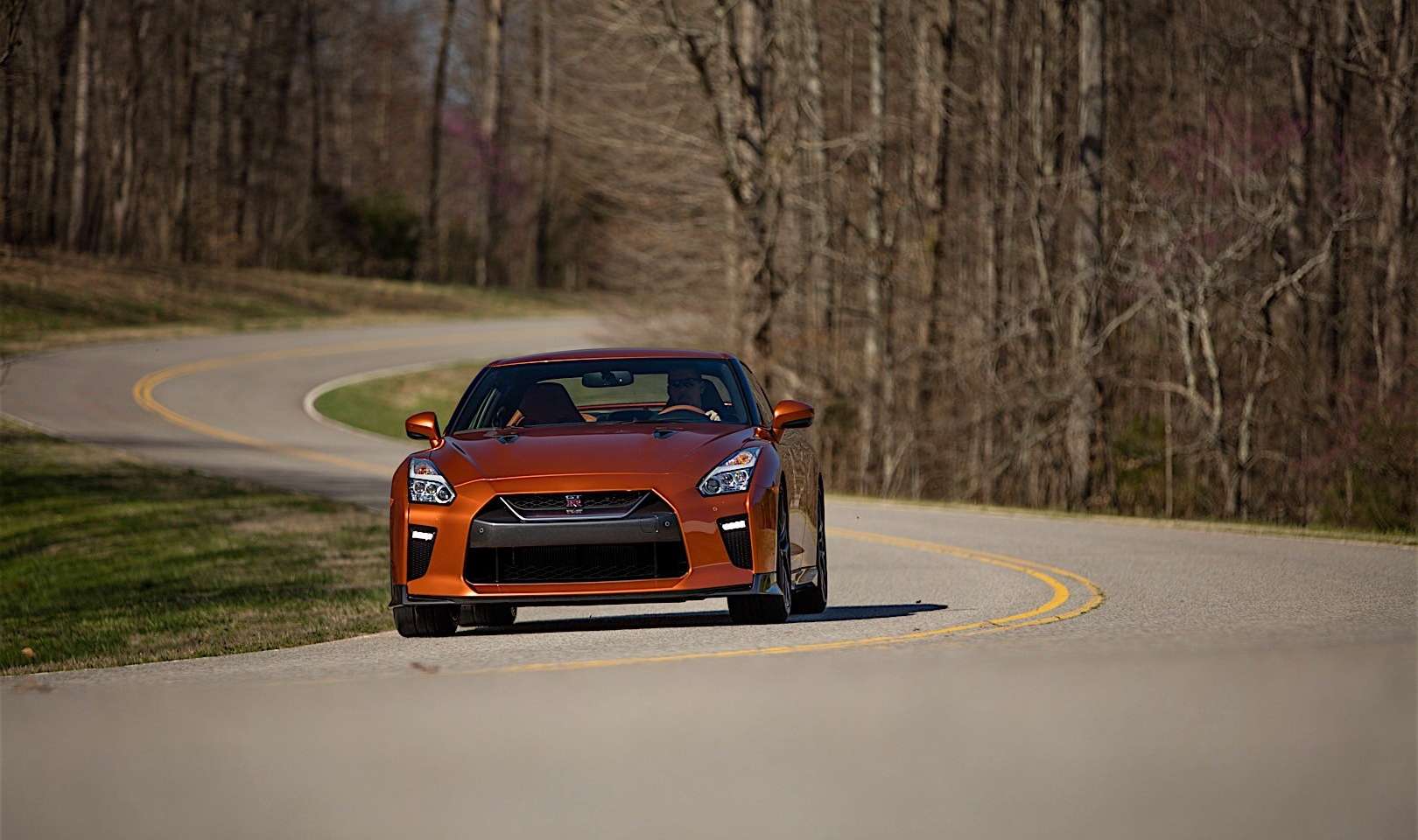 The 2016 Nissan GT-R Black Edition features lightweight black alloy wheels, a carbon-fiber rear spoiler, leather Recaro front sport seats and unique black and red interior trim.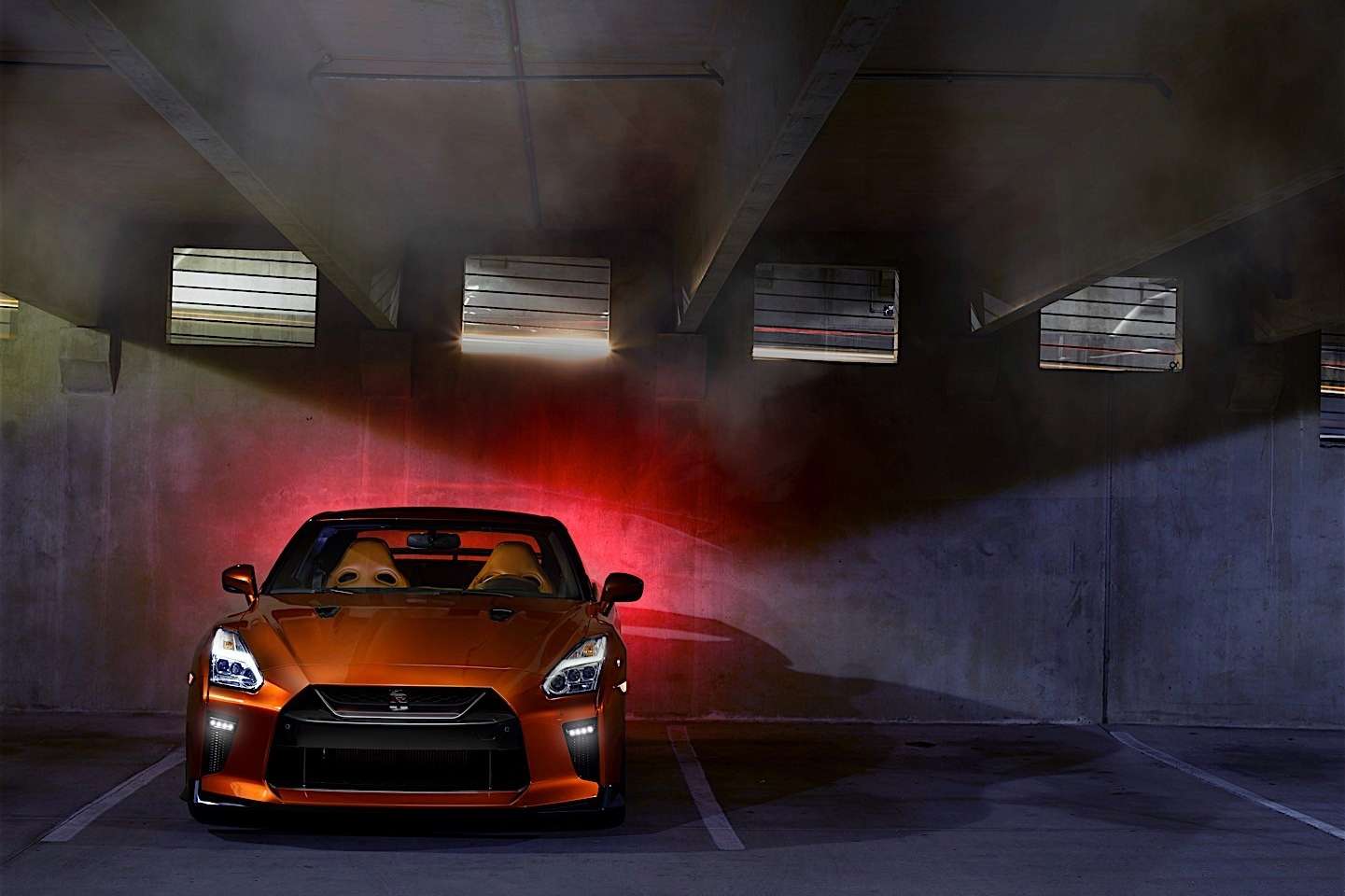 Topping the GT-R line is the Nismo model, which comes with a more powerful engine, body reinforcements, firmer suspension tuning, aerodynamic upgrades and distinctive interior trim. A titanium exhaust system is an option exclusive to the Nismo.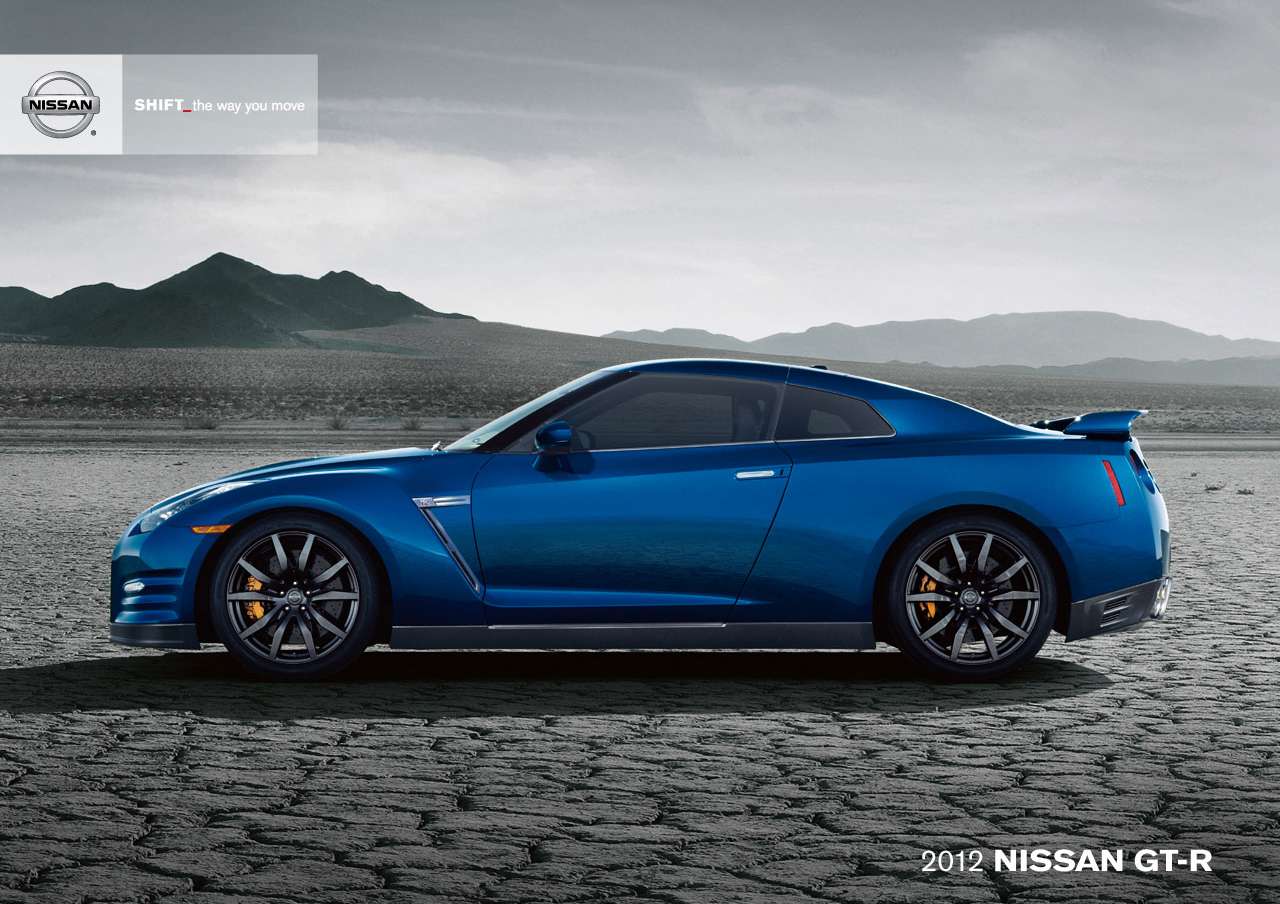 The 2016 Nissan GT-R is powered by a turbocharged 3.8-liter V6 engine that generates 550 hp and 463 pound-feet of torque. A six-speed automated manual transmission routes this power to the ground through an advanced all-wheel-drive system. The GT-R Nismo gets an upgraded version of this V6 that puts out 600 hp and 481 lb-ft.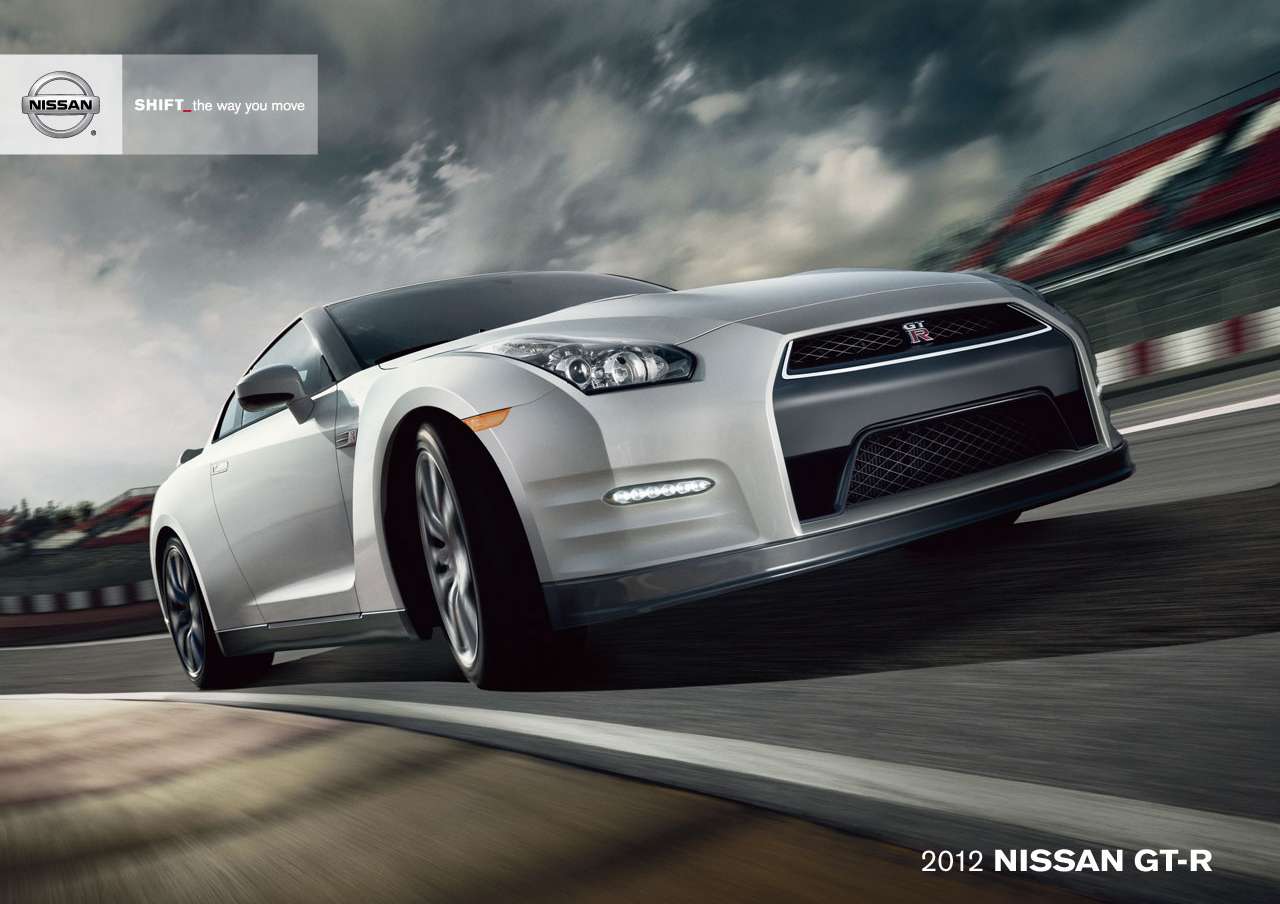 Utilizing a built-in launch-control program, performance is nothing less than jaw-dropping. In testing of a 2015 GT-R with 545 hp, we observed a 0-60-mph sprint taking just 3.2 seconds. This powertrain also achieves respectable fuel economy, with an EPA estimated 19 mpg combined (16 city/22 highway). We validated these estimates with our own real-world 23 mpg measured over ' 120-mile evaluation loop.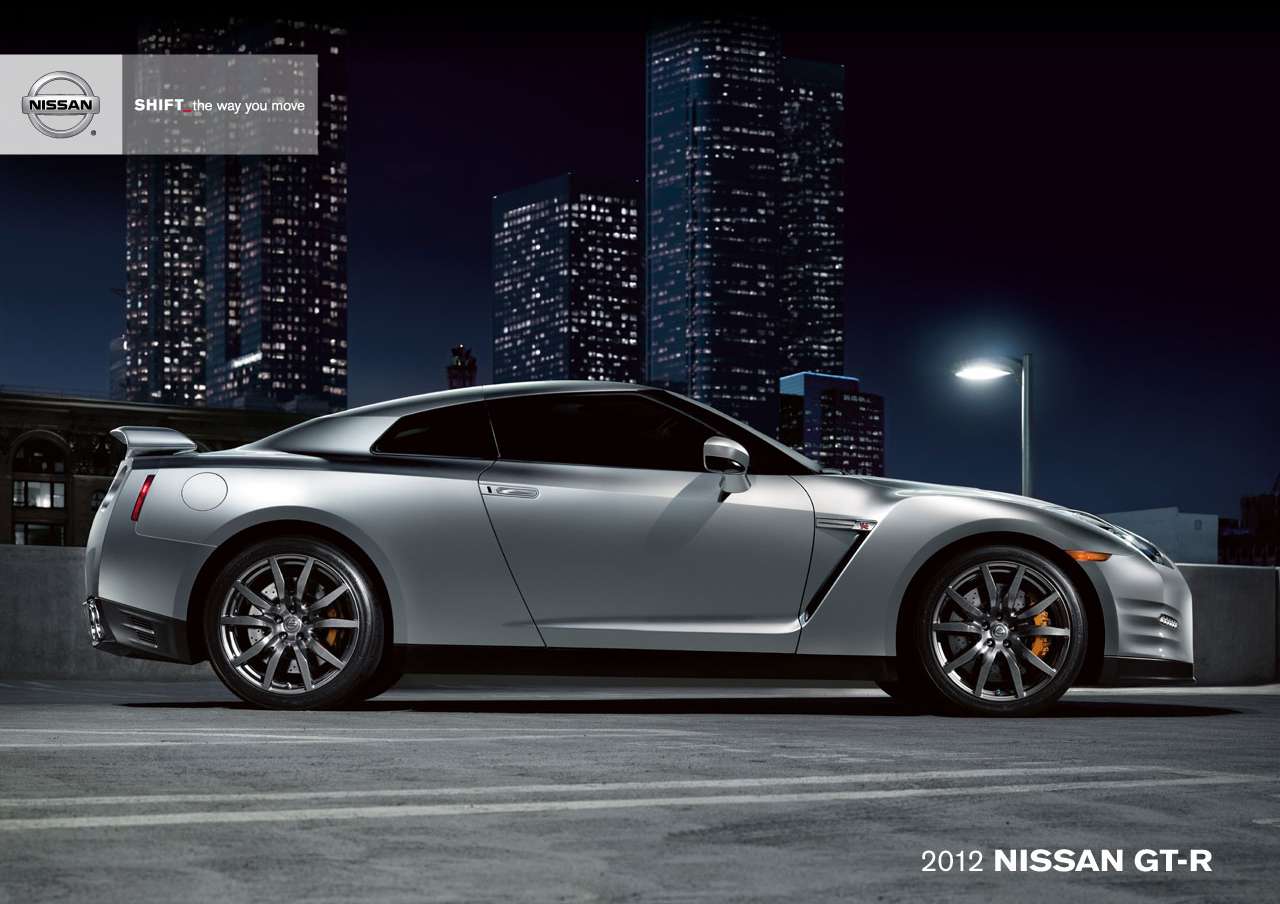 Standard safety features on the Nissan GT-R include antilock disc brakes, stability control and traction control, front-seat side airbags and full-length side curtain airbags. In testing of a 2015 GT-R, we recorded a best 60-0-mph stopping distance of 99 feet, which is on par with the world's best.
Pleasingly, the 2016 Nissan GT-R still has the impressive performance that has made this car the object of gearhead fantasies since its U.S. debut for the 2009 model year. The turbo V6 produces acceleration that's not unlike the jump to warp speed, while the transmission rips off rapid and perfectly rev-matched gearchanges. The sophisticated all-wheel-drive system is still a wonder, too, as it directs power where it's most needed for maximum traction, and for the greatest effect on handling.
Even after all these years, the GT-R can accelerate, brake and corner with the best of them.
This is also an exotic that remains remarkably easy to drive fast. Chuck the GT-R into a corner, any corner, and it sticks through the bend and rockets out the other side. But it never surprises. It's frightening in the same way that commercial air travel is: It's the conscious thought of the speed you're traveling (and the consequences thereof) that raises hairs, not the direct knowledge that you're in control of something special. Some drivers might find this advantageous, but others will bemoan the lack of passion.
Thanks to a slew of suspension modifications made last year, the GT-R is more comfortable to drive than ever before. But there's still room for improvement. The ride can be rough at times, and road noise is considerable, as are clunks and whines from the driveline.
The 2016 Nissan GT-R combines the driver-oriented cockpit you'd expect from a sport coupe with user-friendly controls. The combination of well-bolstered front seats and column-mounted shift paddles makes it easy for the driver to focus his attention on the business at hand. Everything is within reach and where it should be.
The GT-R's cabin is trimmed with generally high-quality materials.
In addition to the typical navigation and audio displays, the 7-inch touchscreen can bring up info like the currently selected gear and also play back a range of performance data including lap times and G-forces generated during aggressive cornering.
Press the ignition button on the center console of the 2016 Nissan GT-R, and you're suddenly at the helm of one of the quickest and fastest cars you can buy. Using the built-in Launch Control mode, you'll blast to 60 mph in less than three seconds. Yet despite the solid thwack the car delivers under hard acceleration, the Nissan GT-R boasts an array of mechanical and electronic chassis systems intended to keep both car and driver safe at high speeds. The performance extends well beyond straight-line performance, as the Nissan GT-R boasts cornering grip that borders on surreal. With an adjustable suspension, well-weighted steering and stop-me-now Brembo brakes, the GT-R thrills when pushed, and its 6-speed dual-clutch automatic transmission fires off shifts faster than a traditional manual gearbox. The downside is that the GT-R isn't nearly as refined as a Porsche 911 or Audi R8, and lacks day-to-day comfort.
TWIN-TURBO V6 ENGINENissan hand-builds each 3.8-liter twin-turbo V6 engine for the GT-R, and its 545 horsepower puts many V8 engines to shame; the GT-R Nismo edition puts out a whopping 600 horsepower. How proud is Nissan of its engine? Each one is signed by the person who built it.VALUEYes, value, when you look at it right. For example, at $ 150,000 and with a 0-60-mph time of 2.7 seconds, the GT-R Nismo costs $ 55,000 per second. To go faster you'll need a $ 180,000 Porsche 911 Turbo S; it hits 60 mph in 2.6 seconds, costing you $ 70,000 per second.
Nobody will mistake the Nissan GT-R for a luxury car, but this performance-oriented interior isn't without its charms. The big red start button draws your attention, situated on the center console between the two leather-appointed seats. Three switches on the dash control ride and handling settings, and the 7-inch display can show virtually every data point a car nerd could dream of seeing. Technically there are two rear padded spots with seatbelts, but the reality is that they're for occasional use at best, and should really be relegated to carrying extra cargo, since the trunk is on the small side.
The 2016 Nissan GT-R isn't a pretty car, but it makes up for its lack of pulchritude with an over-the-top aggressiveness. Put another way: It looks like it wants to beat you up and steal your lunch money. Yet it's not for show, as all the odd angles, rounded contours and crisp edges are in the name of aerodynamic efficiency, and the resulting 0.26 coefficient of drag proves that Nissan knows what it's doing. Other elements, like the enormous front-fender vents, help provide front downforce. Staggered-width 20-inch aluminum-alloy wheels further aid the GT-R's stability.
There are technically four 2016 Nissan GT-R models, although at only 30 available units, the Anniversary Edition almost doesn't count. Base Nissan GT-R Premium models come loaded though, with power leather front seats, a rearview monitor, dual-zone climate control, a 7-inch touch-screen nav system, and 11-speaker Bose audio. The Black edition models add Recaro seats and Rays wheels, plus black carbon-fiber exterior trim. The GT-R Nismo takes the place of last year's Track model, and offers a more powerful engine, better suspension, reinforced body and additional brake cooling.
The most alluring Nissan GT-R options come as option packages, and most of those are offered on the "base" Premium model. A Cold Weather Package adds all-season tires and special coolant mixture to help this exotic handle cold climates better, while a Premium Interior Package adds hand-stitched semi-aniline front-seat interior treatments. The rest of the models offer an array of accessories – most notable is the $ 12,900 titanium exhaust system available for GT-R Nismo models.
Yet another Nissan GT-R facelift was introduced in 2016, as it was unveiled at the New York International Auto Show, bringing an even sharper look and great driving performance enhancements. The revised Nissan GT-R (2012 model year for the US) features an engine with tweaked mapping, changes to valve timings, larger inlets and a modified exhaust system which boosts rated power to 530 HP and 612Nm of torque from 3200 to 6000rpm.
Known by many names, this major Asian conglomerate has been making cars since 1914. Today, Nissan is the third largest automaker in Japan. The Nissan Motor Company took over the Datsun company in 1933 and in 1934 it would take on the name we all know today.

The first Datsun passenger car came off the assembly line in 1935 and pretty soon Nissan started exporting to Australia. In 1937 the Datsun Type 15 becomes the first mass-produced vehicle in Japan, which also comes in mini-pickup and delivery van form.

Ever expanding the production, Nissan decides to expand into the United States. This move from 1958 was made due to the American influence Nissan had thanks to its designer, William R. Gorham. The models exported to the US were 1200 Sedans with a 48 hp engine, a compact pickup with 37 hp which later became a top seller during the 50s.

By the time the 60s rolled in Nissan had already made a name for itself on both sides of the Pacific. Now, the company moves into another part of the market, starting to sell sport cars. At first, it would be the SPL 210, a narrow, high roadster had a folding soft top and a 48hp engine, soon upgraded to a 85hp version.

Catering for the American market, Nissan introduces the Bluebird, with synchronized 3-speed transmission in 1962. In the off-road sector, the Patrol is debuted, with a generous amount of horsepower, that was marketed as being able "to climb trees". In 1967 the 2000 Roadster is let loose upon the unsuspecting public and onto the racing world which it takes by storm.

The sporty line is continued in the 70s with the "Z" line, one still continued today. The 1970 240Z becomes the best selling sports car in the world by offering quality and comfort at an affordable price. Sales in America start taking off until eventually, in 1975, Datsun becomes the number 1 importer in the States.

Nissan starts expanding during the 80s in order to keep up with demand and opens up new factories. And just when everyone thought that Nissan couldn't get any bigger, along comes a whole new brand of Nissan, one aimed at a more luxurious segment of the market, Infiniti. In 1989, as the Infiniti project getting off the ground, parent company Nissan was celebrating its millionth car built in the US.

As new plants get built throughout the 90s, new models are added to the line up to corner the market. The Altima sedan and the Sentra become front-runners as the best sold models in the Nissan line-up. Next, in 1999, it was time for the European market, Nissan signs an agreement with French manufacturer Renault to use each other's expertise and strengths.

In 2002, the Z concept is resurrected with the 350Z, a sporty car that quickly wins over car enthusiasts but specialists as well. The ewly-formed SUV market will also be represented in the Nissan line-up with the Murano. Now, the boys over at Nissan seem to have a real hard point to make as they've released the GTR, a super-sporty car, the crowning jewel of Nissan motoring and engineering.