With this generation's more sophisticated handling and expanded engine lineup, the 2017 Chevy Camaro has solidified its move from a knuckle-dragger of old to an impressively well-rounded sport coupe and convertible. Sure, it's far from practical, but we doubt you'll care much.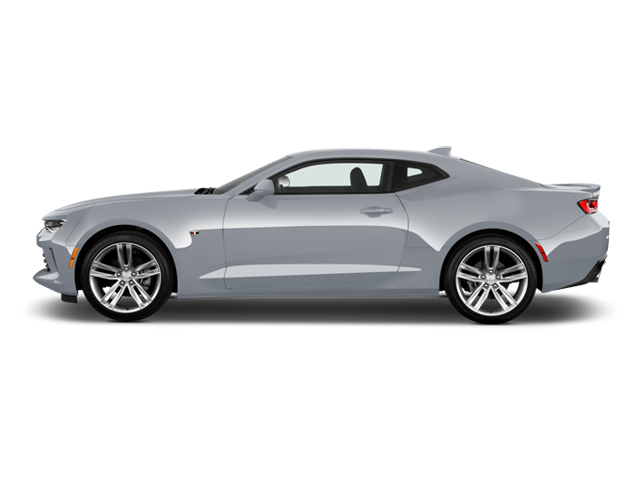 The 2017 Camaro, coming off a full redesign last year, has evolved into what you could almost say is a sports car, boasting more sophisticated underpinnings and truly impressive, world-beating handling capabilities. Yes, it still has muscle-car-worthy tire-shredding power. However, you no longer have to get the V8-powered SS to enjoy what the Camaro has to offer. Even the base turbocharged four-cylinder produces 275 horsepower, and the 335-hp V6 accelerates with the sort of pace that used to be in the realm of V8s. Really, we think it's the rational-minded engine to get for a lot of Camaro buyers. Then again, the SS can blast from zero to 60 mph in fewer than 4 seconds, so maybe just go with what your heart tells you.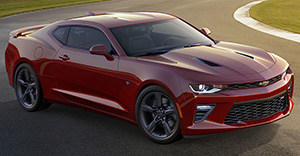 From a performance perspective, the Camaro has its Ford and Dodge competitors smoked, be it in a straight line or around corners. But it also has some drawbacks from a livability perspective. For instance, the Camaro's more exotic styling and proportions mean it's a less useful car to drive every day. Its visibility in all directions is poor, and its backseat is best left to luggage, which is perhaps a good thing because the trunk is laughable. As such, the Camaro won't be for everyone, but it's nevertheless a fantastic performance machine whatever you label it.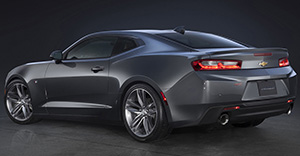 The 2017 Chevrolet Camaro is available as a four-seat coupe and convertible, with 1LT, 2LT, 1SS, 2SS and ZL1 trim levels. The LTs come standard with a turbocharged four-cylinder, the SS has a V8 and the ZL1 has a supercharged V8 along with myriad performance enhancements. The 1's and 2's represent higher levels of equipment, but there are several optional packages and stand-alone items to help you customize your ideal Camaro.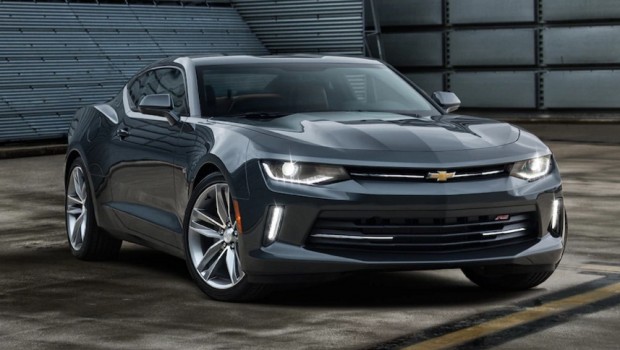 The LT trim levels comes standard with a 2.0-liter turbocharged four-cylinder engine (275 horsepower, 295 pound-feet of torque), and a 3.6-liter V6 (335 hp, 284 lb-ft) can be specified as an option on both LTs. Both come standard with a six-speed manual transmission and rear-wheel drive. An eight-speed automatic is optional.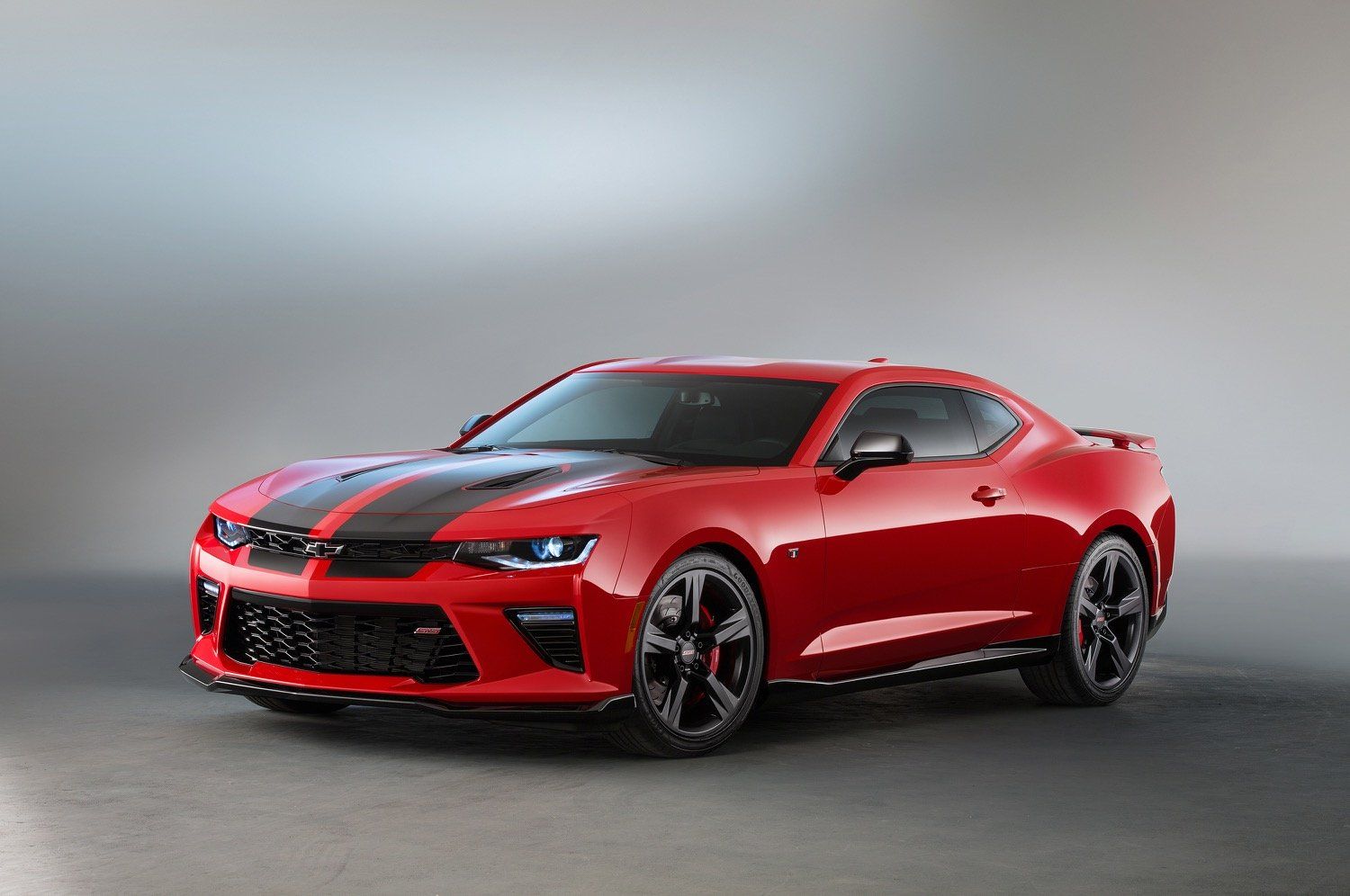 Additional standard equipment on the 1LT includes 18-inch alloy wheels, LED running lights, a limited-slip differential (with the manual transmission), a rearview camera, keyless ignition and entry, power-adjustable front seats, a leather-wrapped steering wheel and adjustable driving modes. Technology equipment includes Bluetooth, OnStar emergency communications, 4G LTE Wi-Fi connectivity, a 7-inch touchscreen (Chevy's MyLink interface), Android Auto, Apple CarPlay, and a six-speaker sound system with satellite radio.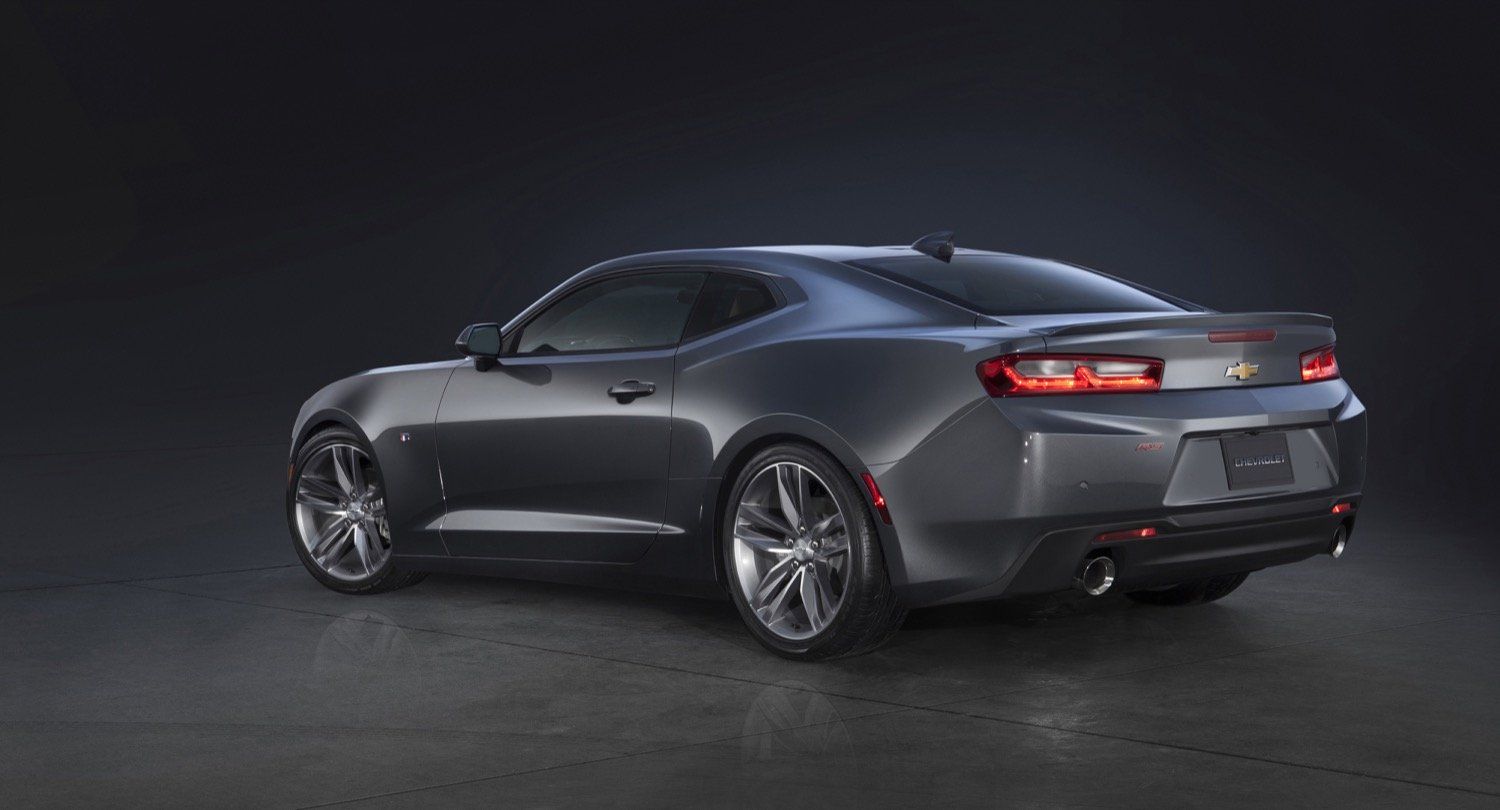 The available Technology package adds a nine-speaker Bose audio system and an 8-inch MyLink touchscreen.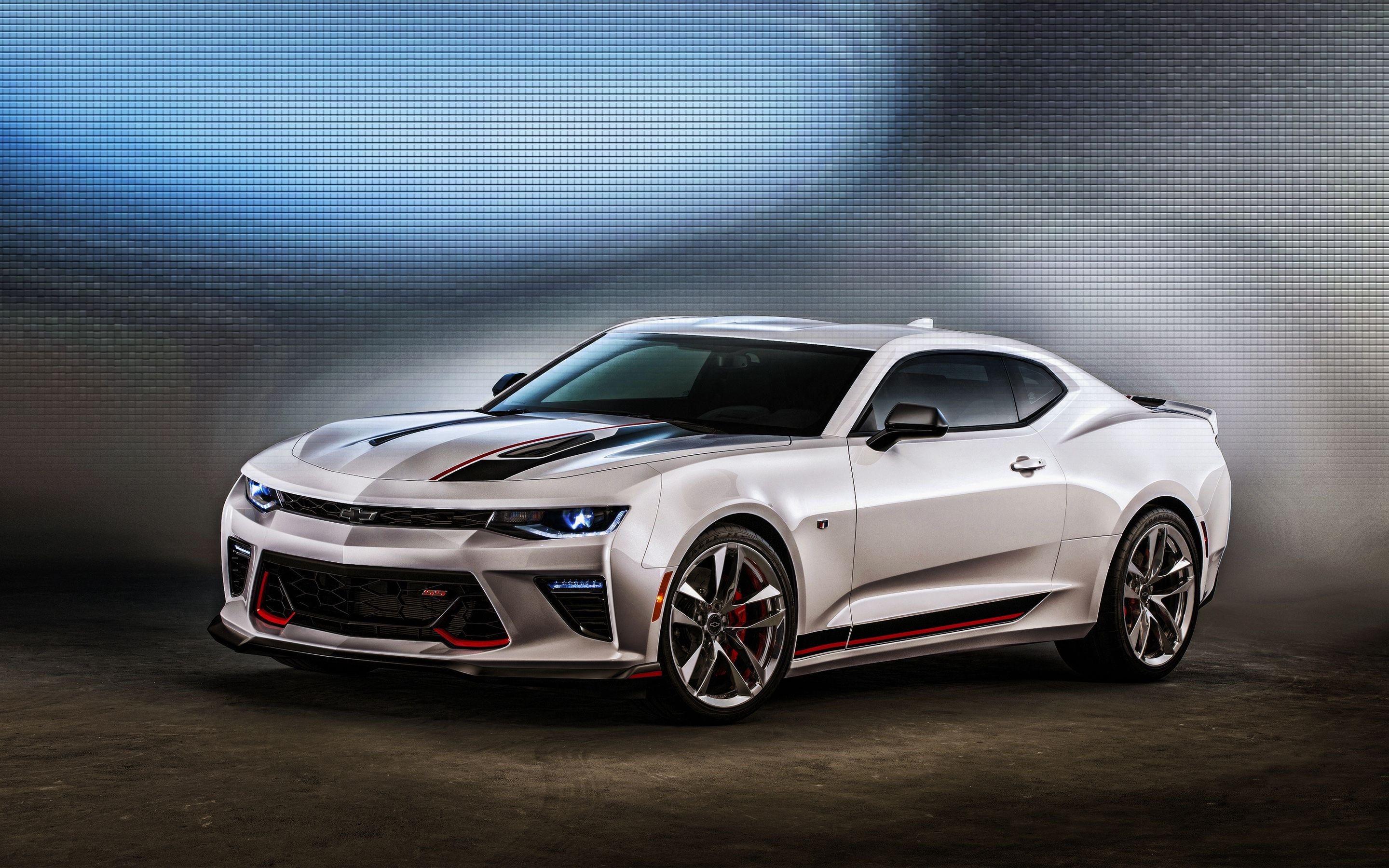 The 2LT includes the Technology package's contents and adds dual-zone automatic climate control, heated and ventilated front seats, and an auto-dimming rearview mirror. Ordering a 2LT with the Convenience and Lighting package will add heated and auto-dimming mirrors, rear parking sensors, driver-seat memory functions, a head-up display, a heated steering wheel, wireless smartphone charging, and warning systems for blind spots, rear cross-traffic and lane departure.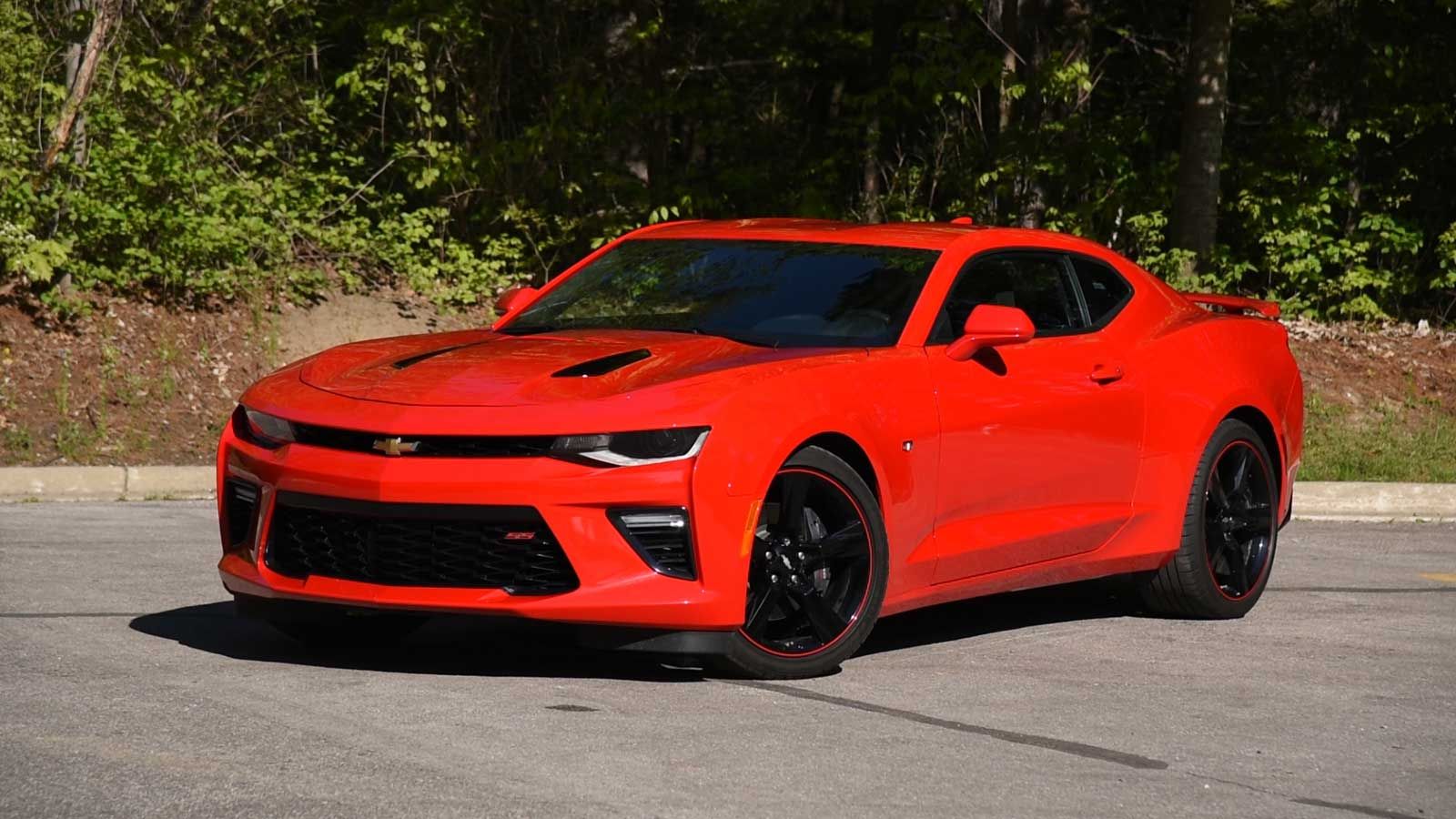 A pair of noteworthy packages are available on both LT trim levels. The RS package includes 20-inch wheels, xenon headlights, LED taillights, a special grille and a rear decklid spoiler. The 1LE package (coupe only) includes the V6, the FE3 sport-tuned suspension from the SS, 20-inch forged alloy wheels, four-piston Brembo brakes, a mechanical limited-slip differential, a short-throw shifter, a track-cooling package, a dual-mode exhaust, special aerodynamic spoilers and a satin black hood. Recaro sport seats can be added to the 1LE package.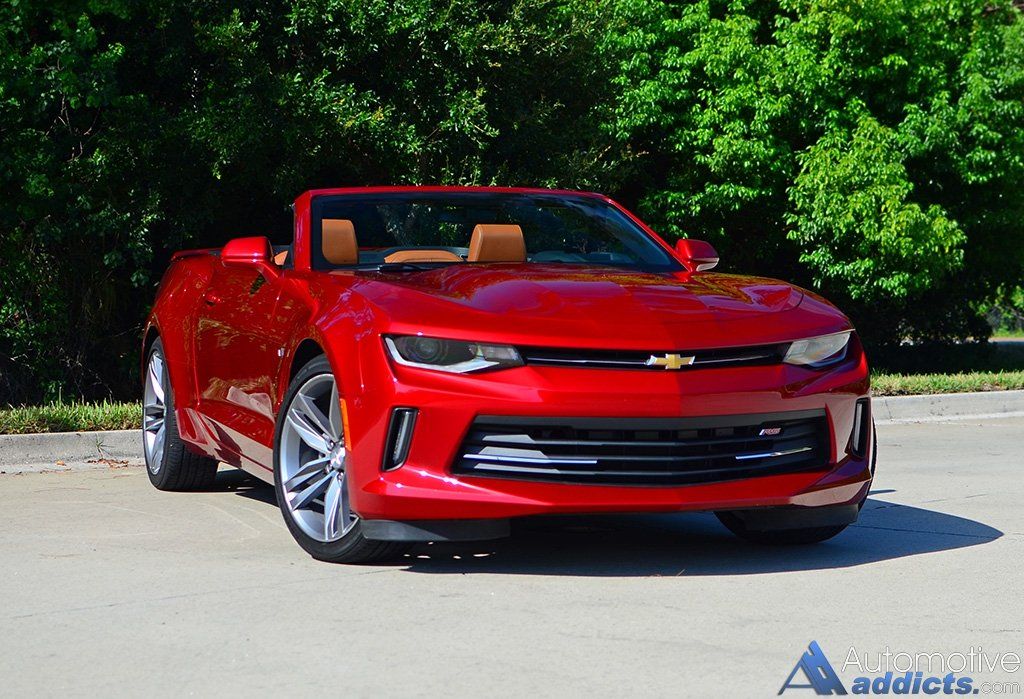 The 1SS comes with a 6.2-liter V8 good for 455 hp and 455 lb-ft of torque. It too comes standard with a six-speed manual, but it includes an automatic rev-match downshift function. An eight-speed automatic is optional. Added to the standard 1LT content are 20-inch wheels, the four-piston Brembo brakes, the FE3 sport-tuned suspension, a mechanical limited-slip differential, a Track driving mode, a rear spoiler, xenon headlights and upgraded gauges. The 2SS includes all the features from the 2LT trim, along with unique interior accents and the Convenience and Lighting package.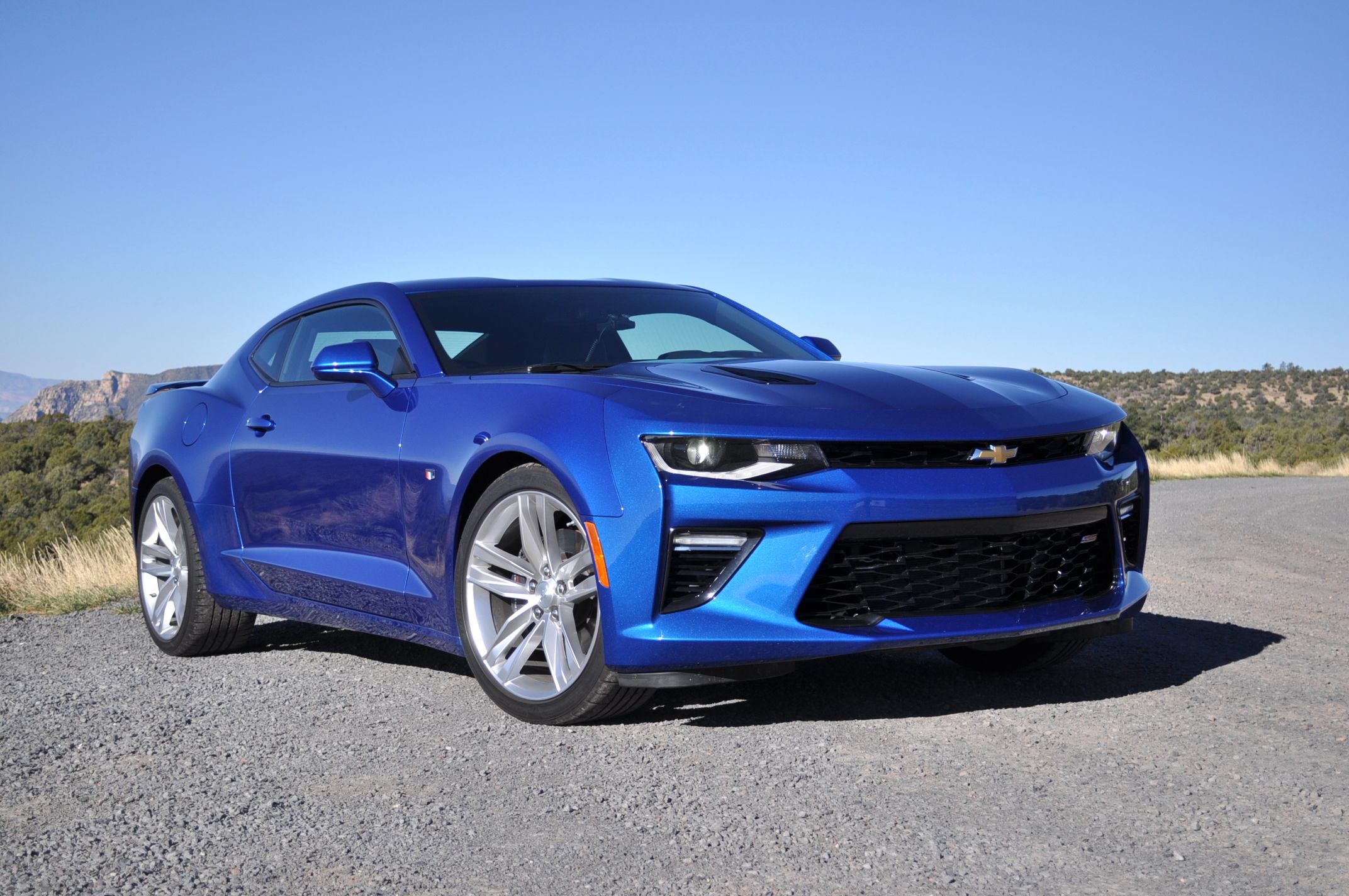 The SS 1LE package adds six-piston Brembo brakes, the FE4 suspension with adaptive dampers, an electronic limited-slip differential, different forged alloy wheels, upgraded performance tires, the Recaro sport seats and everything else included with the LT's 1LE package.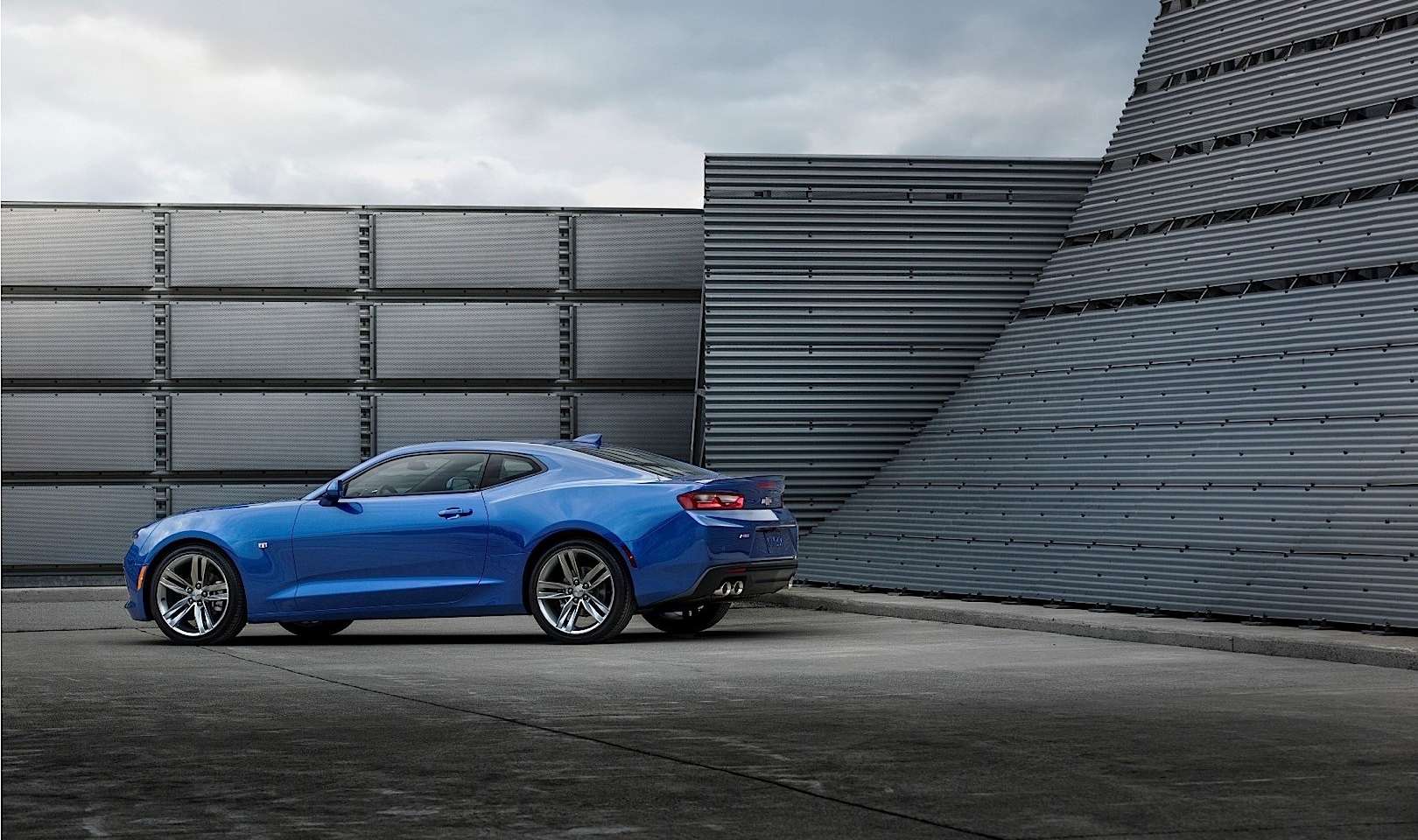 Other available extras include a sunroof (all Camaros), a performance exhaust (all V6- and V8-powered models), a navigation system (2LT and 2SS trims), a Heavy Duty Cooling and Brake package for the 1LT and 2LT, and the FE4 suspension with magnetically controlled adaptive dampers (V8 models).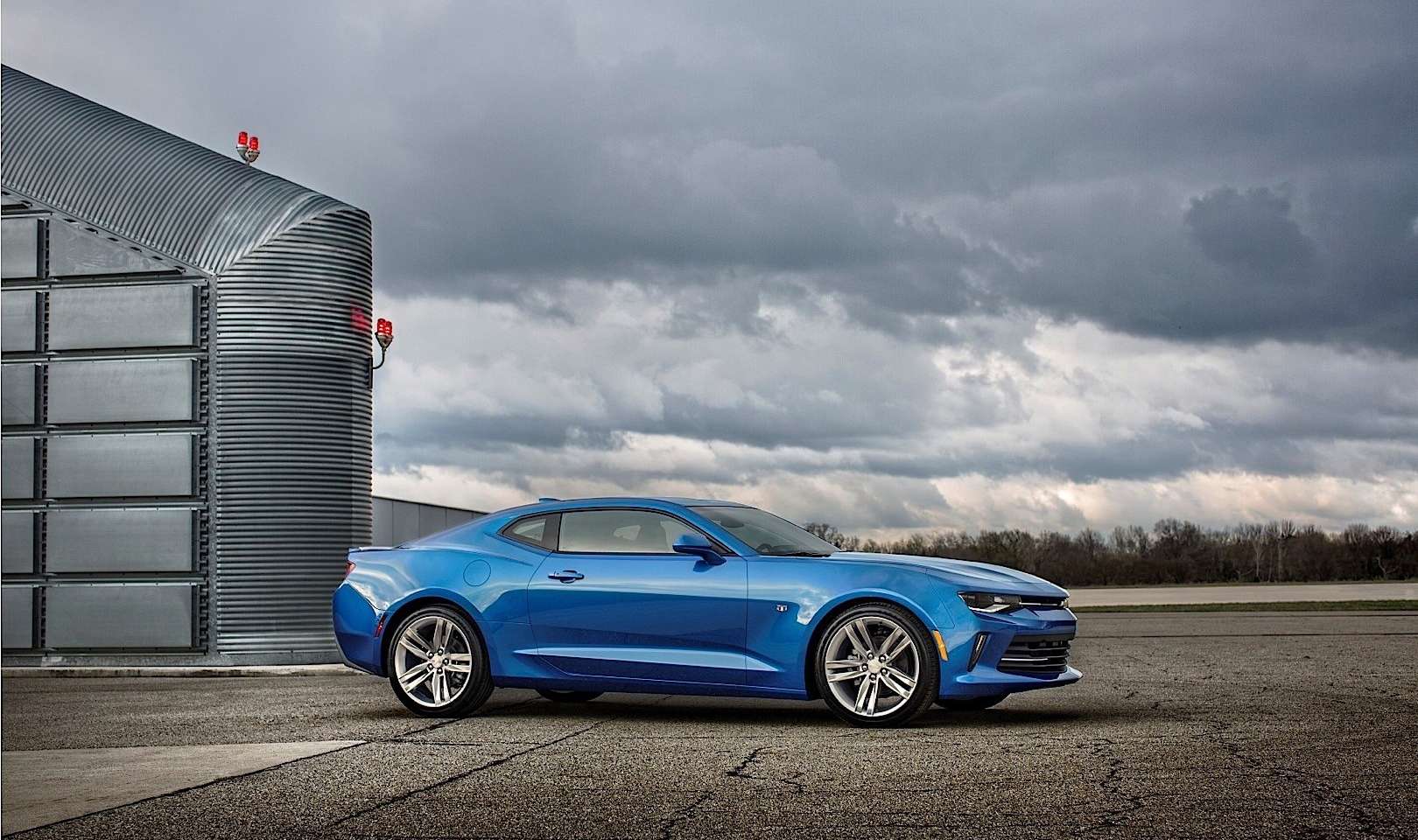 Finally, the Camaro ZL1 has a 6.2-liter supercharged V8 that pumps out 640 hp and 640 lb-ft of torque. A six-speed manual is standard, but a 10-speed automatic is optional. All of the 2SS and 1LE extras, minus the cosmetic differences, are included.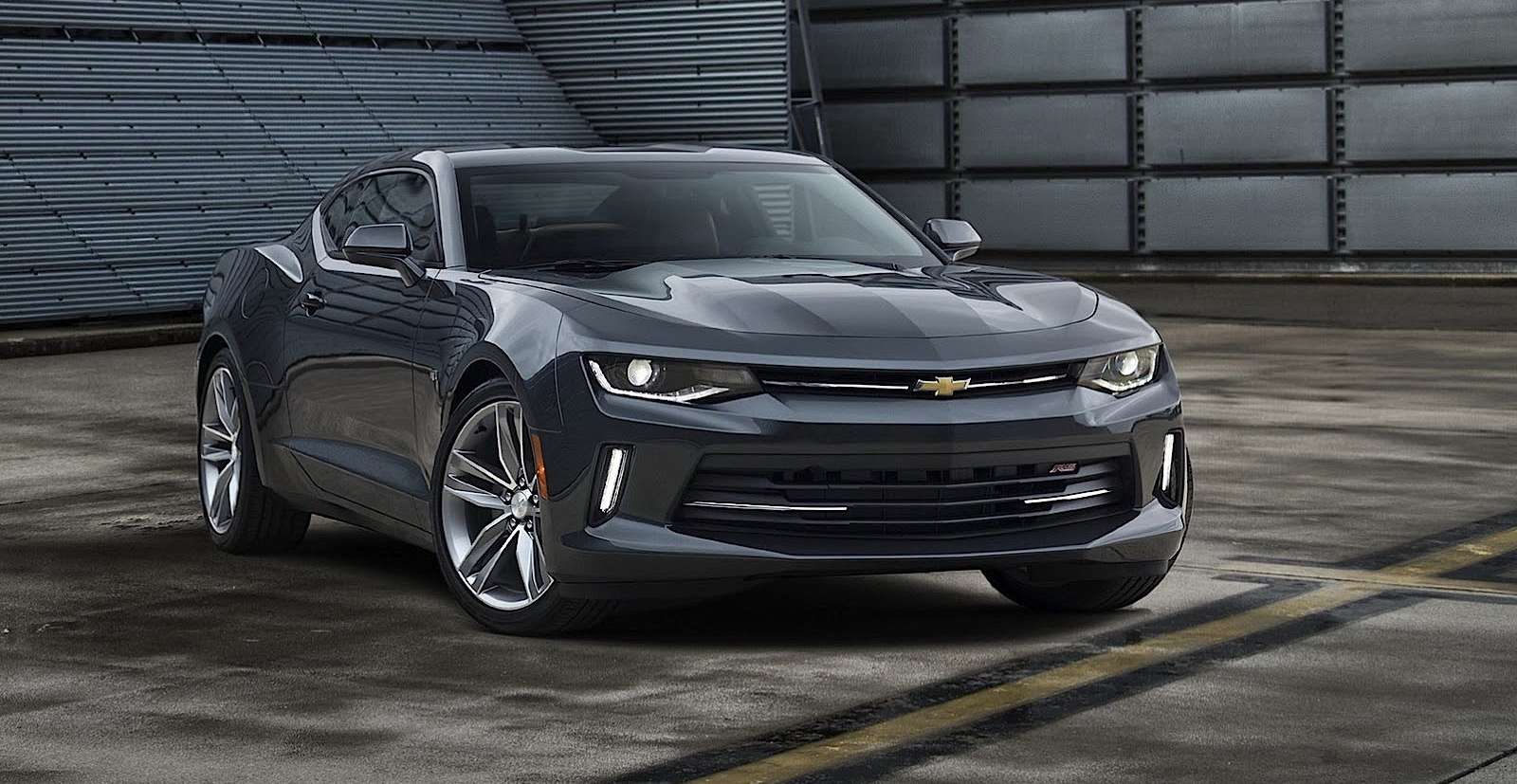 Let's get this out of the way now: No, we haven't driven the 2017 Camaro ZL1, but with 650-horsepower supercar-grade performance, suffice to say we're excited. Part of that excitement is because we already know how fundamentally good this Camaro is. Smaller and much lighter than its predecessor, it's much more nimble and lively from the moment you take the wheel. That sophisticated feel extends to every model, be it the turbocharged 4-cylinder, the V6, or the V8 SS model. The 8-speed automatic transmission offers slick shifts and paddle shifting, enhancing the fun-to-drive quotient rather than diminishing it. If you prefer to row your own, there's a solid 6-speed manual transmission available. Balancing out the go is some serious whoa in the form of Brembo brakes, which are standard on the V8-powered SS. It comes together in a car offering the driving sophistication of a European luxury-sports sedan, for considerably less money.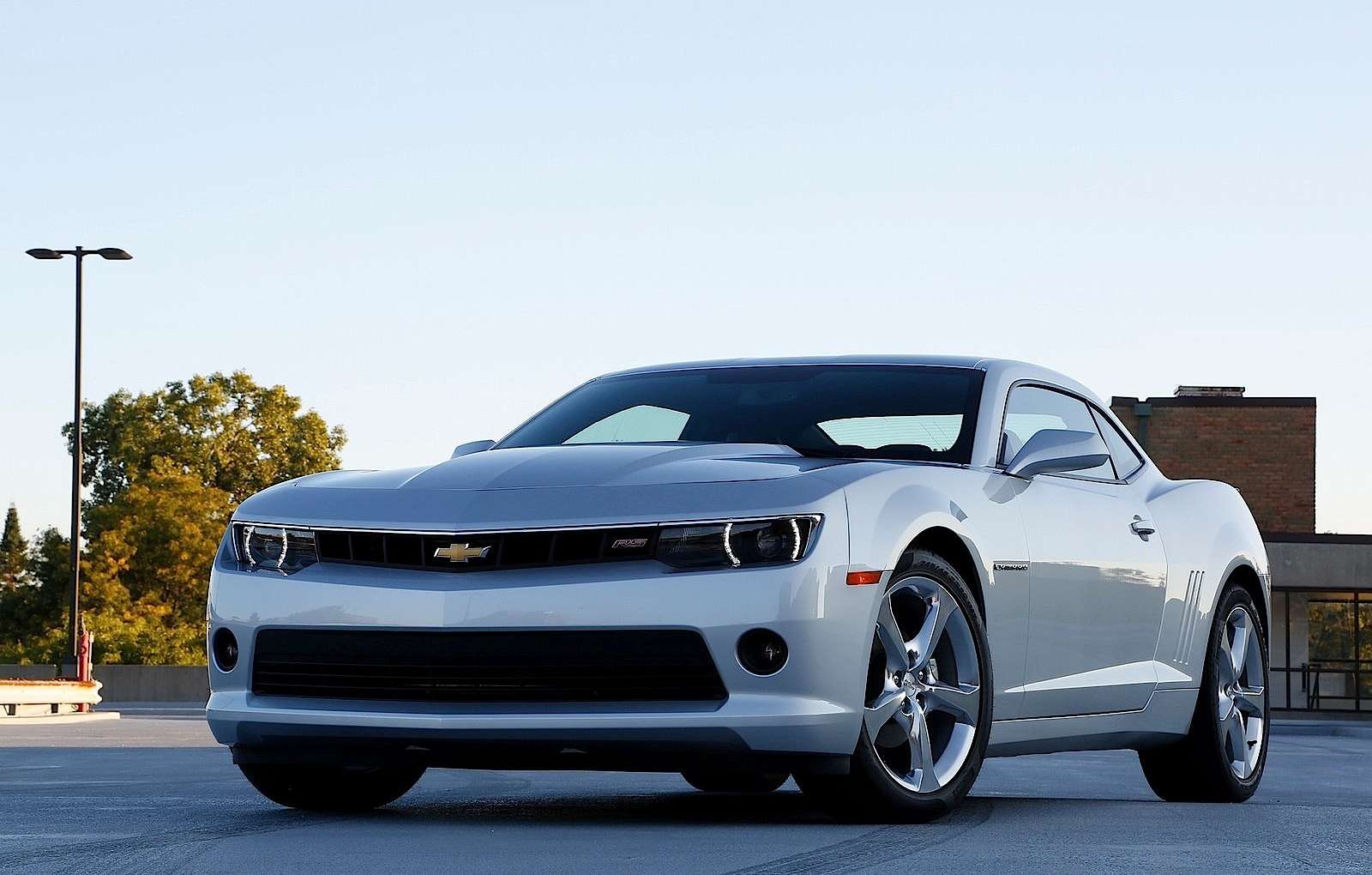 CAMARO ZL1What's not to love? The 2017 Camaro ZL1 combines the amazingly powerful engine we already love in the Corvette Z06 with the Camaro's excellent chassis dynamics. With 0-60 mph in about 3.5 seconds, and the quarter mile flashing by in just 11.4 seconds at 127 mph, it's supercar performance for $ 62,000.4-CYLINDER TURBOAnd here we are on the opposite end of the performance spectrum. The 4-cylinder doesn't offer nearly the power of the V8, but its 275 horsepower ain't bad. Couple that with up to 31 mpg on the highway, and it's the ultimate cake-and-eat-it-too solution.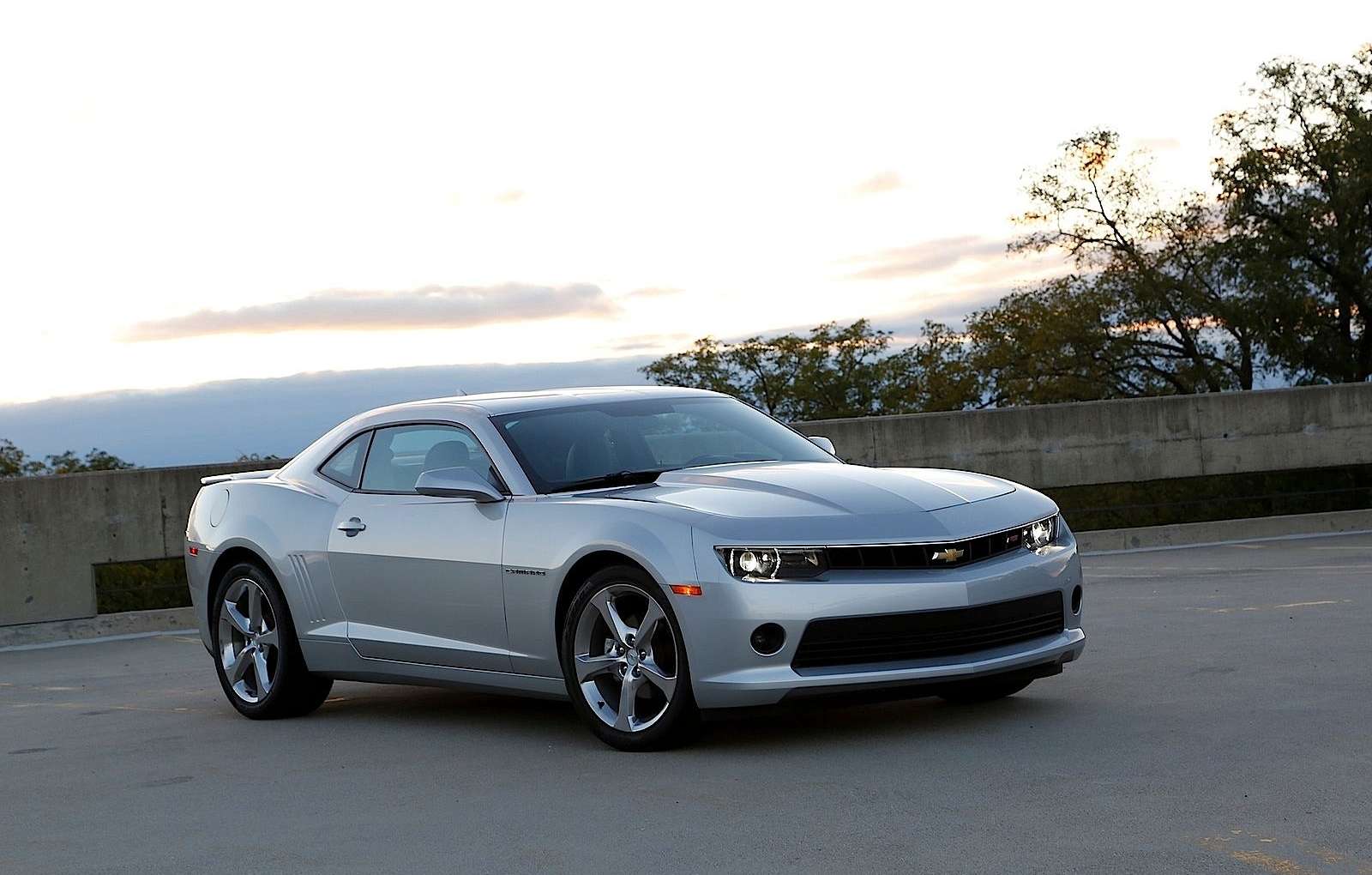 The 2017 Camaro interior is a combination of clever touches, cool styling and occasionally so-so materials. The clever touches include climate controls that reduce dash clutter by using the trim rings around the center vents to control temperature and fan speed. The design integrates classic and modern elements seamlessly. The seats offer great support in corners, and the touch-screen infotainment system incorporates Android Auto and Apple CarPlay, hampered somewhat by a too-reflective screen. The materials used are still not up to the level of the Ford Mustang or Dodge Challenger. We've ignored the rear seat, and after one glance, you will too.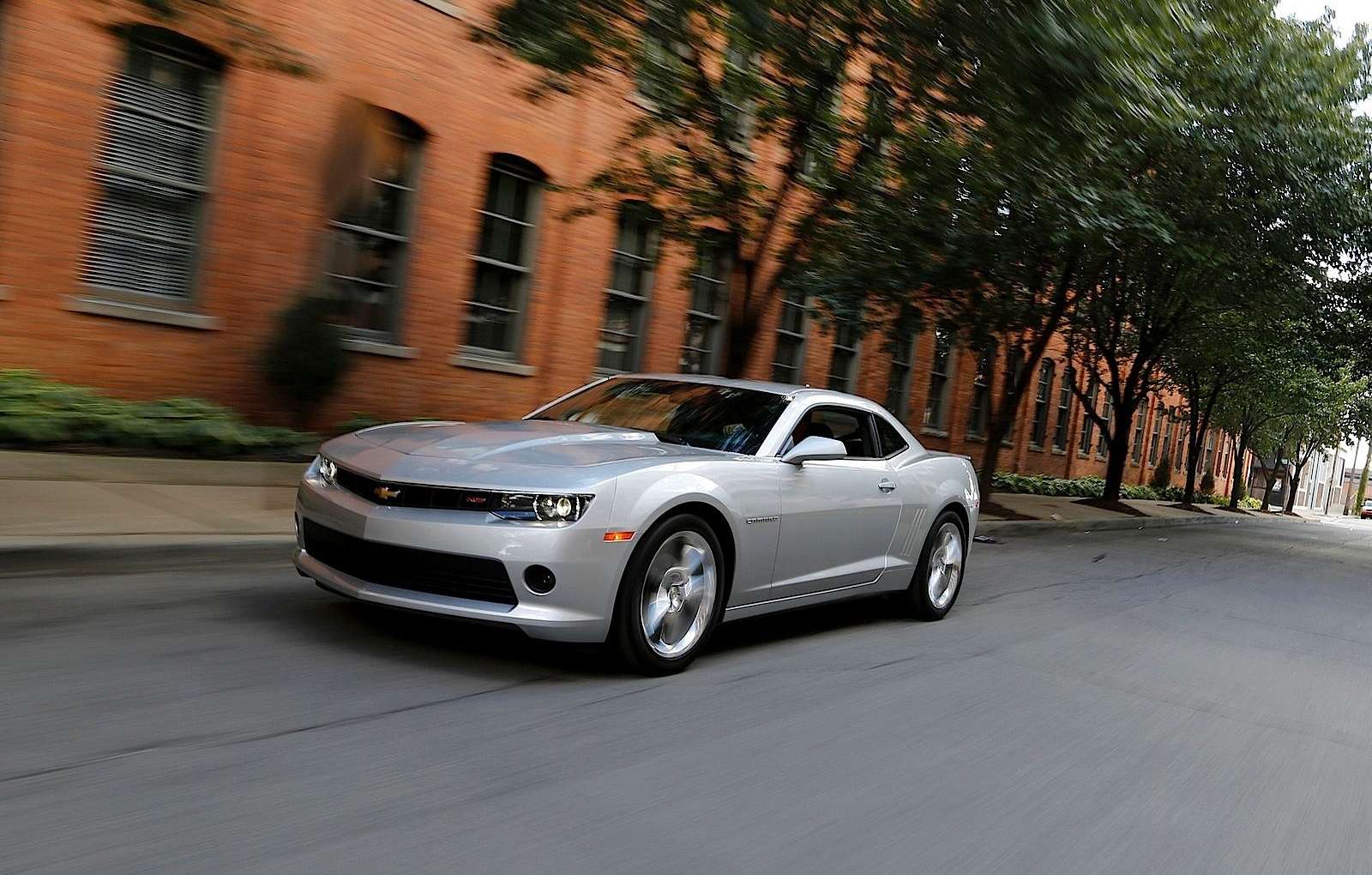 The 2017 Chevrolet Camaro sports clean, tight lines to go with its tidy dimensions, owing a little to the classic 1969 model, but really more of an update to the previous-generation Camaro. Regardless, there's a lot to like. We love the impossibly thin headlights, aggressive fenders and low-slung roof. Camaro ZL1 models get a deep grille and bumper to feed that hungry engine, and the 1LE looks equally stunning with unique mesh grille inserts and a front splitter, plus a satin-black hood. Unfortunately that cool low roofline results in narrow windows that make it nearly impossible to see out the back.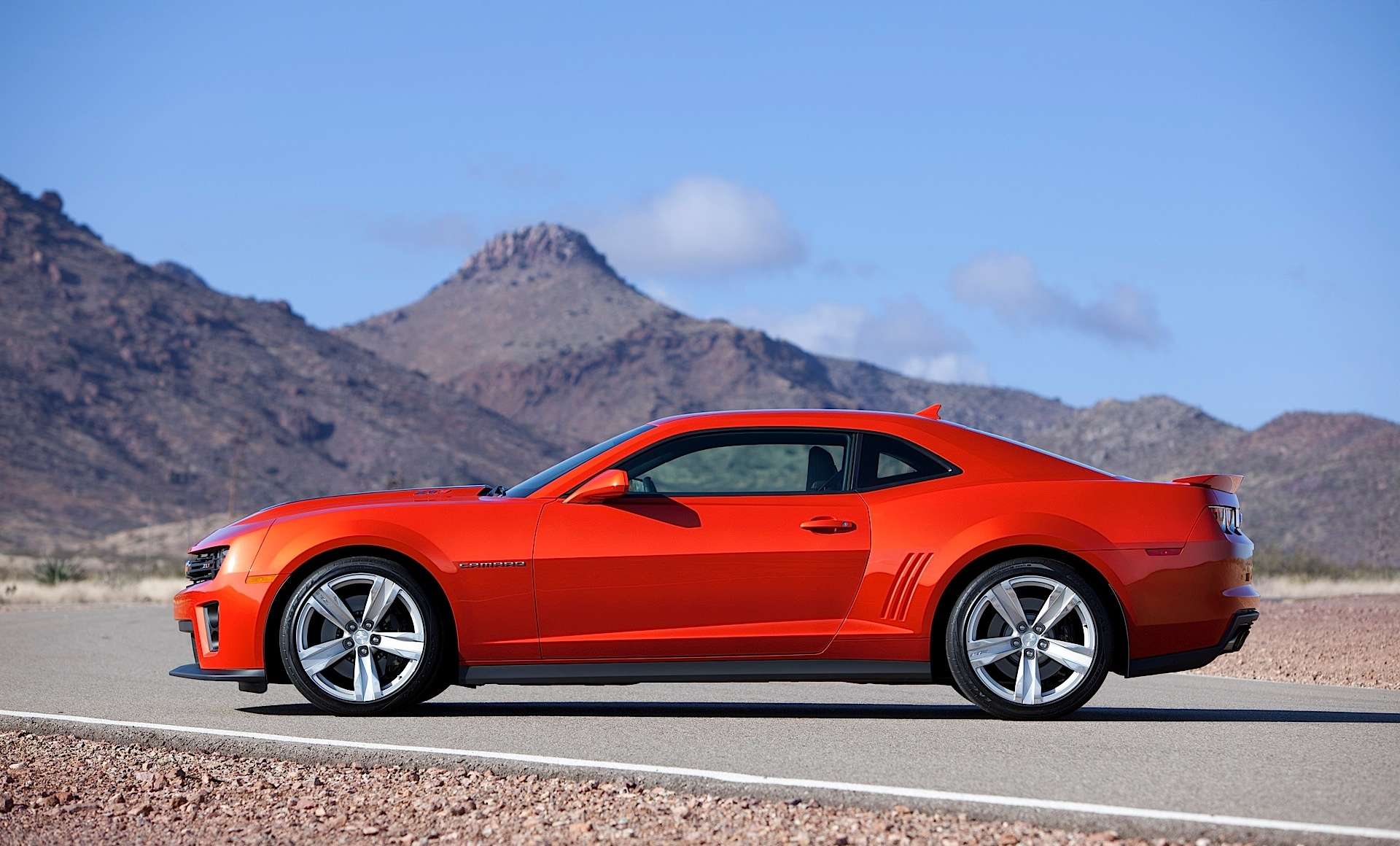 The base-model 2017 Chevy Camaro is the 1LT, which comes with a 2.0-liter turbocharged 4-cylinder engine connected to a 6-speed manual transmission. There's also a driver-selector mode that includes Snow and Ice, Tour and Sport. The 7-inch touch-screen audio system includes Apple CarPlay and Android Auto, dual USB ports, aux input, and GM's 4GLTE Wi-Fi hotspot technology. Bluetooth, automatic climate control, and a color driver-information display between the main gauges are all standard. Upscale features include push-button start and keyless entry, power driver and passenger seats, and a leather-wrapped flat-bottom steering wheel. Multiple airbags and advanced stability control help keep you safe.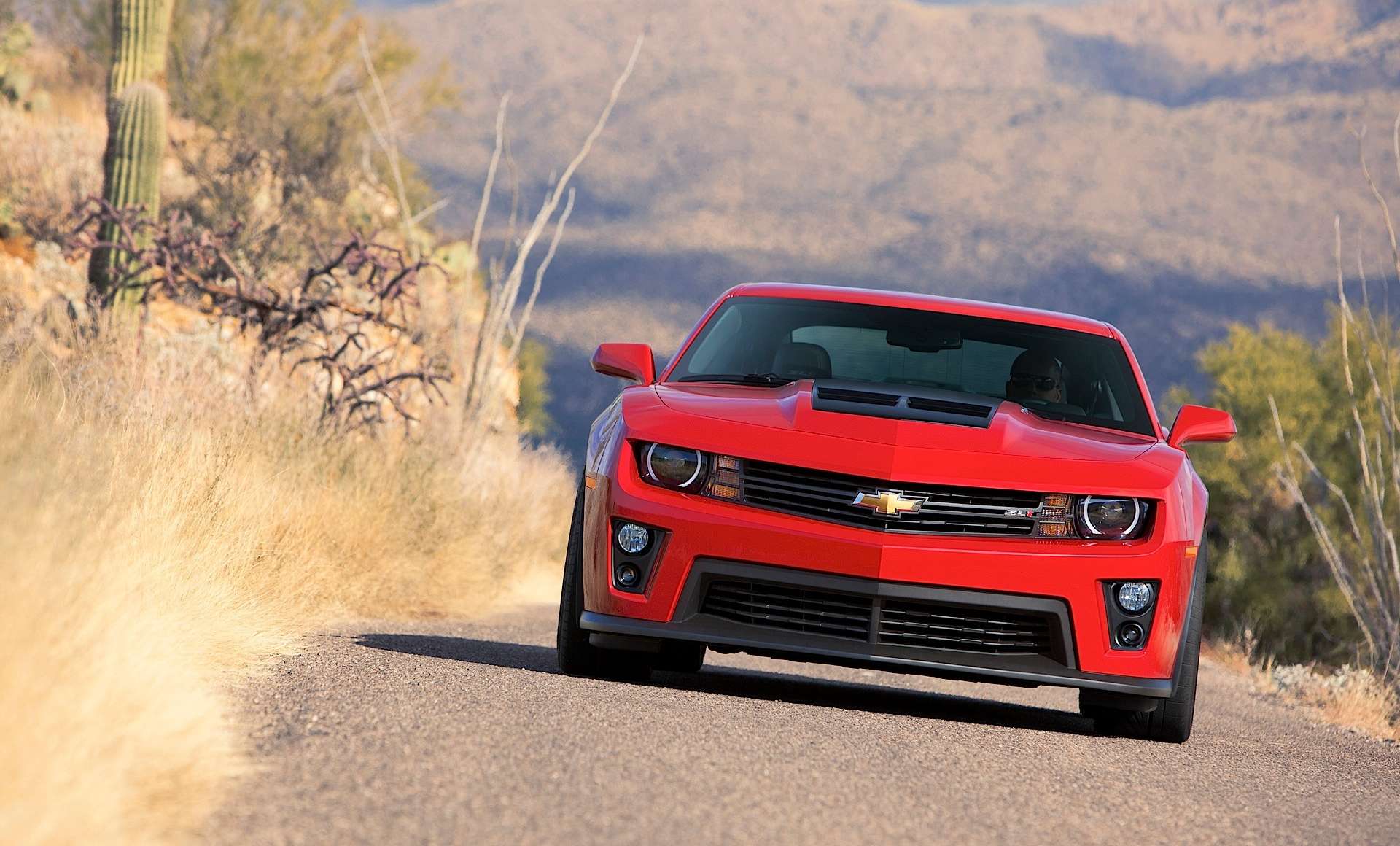 Optional engines include, of course, the 335-horsepower 3.6-liter V6 on LT models or the 455-horsepower 6.2-liter V8 in the new Camaro SS. Other choices are an 8-speed automatic, two different Brembo-brake upgrades, an upgraded audio system with a larger touch screen, and an enhanced driver-information center similar to the Corvette's. The Camaro SS adds available magnetic ride-control suspension, power sunroof, in-dash navigation for those times when your iPhone doesn't have a signal, and a dual-mode exhaust system. That doesn't even include the 1LE track package for both LT and SS models, and of course the 650-horsepower Camaro ZL1.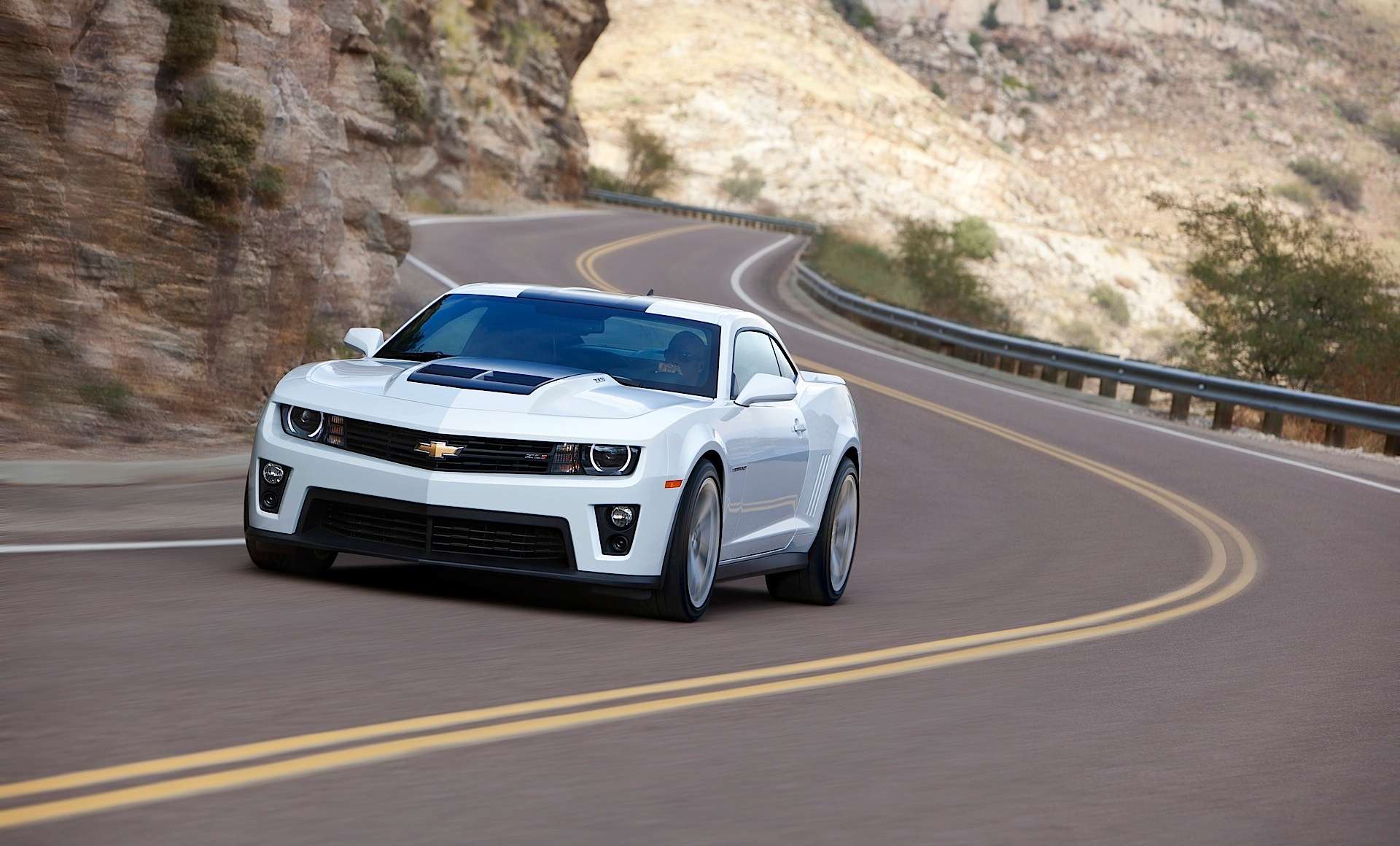 With the Camaro ZL1 there are now four engines available for the 2017 Camaro. There's the standard 2.0-liter turbocharged 4-cylinder, with a muscular 275 horsepower and 295 lb-ft of torque. Step up to the 3.6-liter V6, which offers more power but less torque than the 4-cylinder, and offers cylinder deactivation for better fuel economy. But a Camaro needs a V8, and in the Camaro SS there's the 6.2-liter V8 pumping out 455 horsepower. Step up to the Camaro ZL1 and you're looking at a 650-horsepower supercharged version, making it the most powerful Camaro ever. All engines connect to either a 6-speed manual that includes automatic rev matching on V8 models or an 8-speed automatic with paddle shifters; Camaro ZL1 models get an optional 10-speed automatic. 2.0-liter turbocharged inline-4 275 horsepower @ 5,600 rpm 295 lb-ft of torque @ 3,000-4,500 rpm EPA city/highway fuel economy: 22/31 mpg (automatic), 20/30 mpg (manual) 3.6-liter V6 335 horsepower @ 6,800 rpm 284 lb-ft of torque @ 5,300 rpm EPA city/highway fuel economy: 19/28 mpg (automatic), 16/26 mpg (manual) 6.2-liter V8 455 horsepower @ 6,000 rpm 455 lb-ft of torque @ 4,400 rpm EPA city/highway fuel economy: 17/27 mpg (automatic), 16/25 mpg (manual) 6.2-liter supercharged V8 650 horsepower @ N/A rpm 650 lb-ft of torque @ N/A rpm EPA city/highway fuel economy: N/A Note: Due to changes in EPA testing to more effectively reflect real-world conditions, some 2017 models show slightly lower fuel-economy scores than their 2016 versions.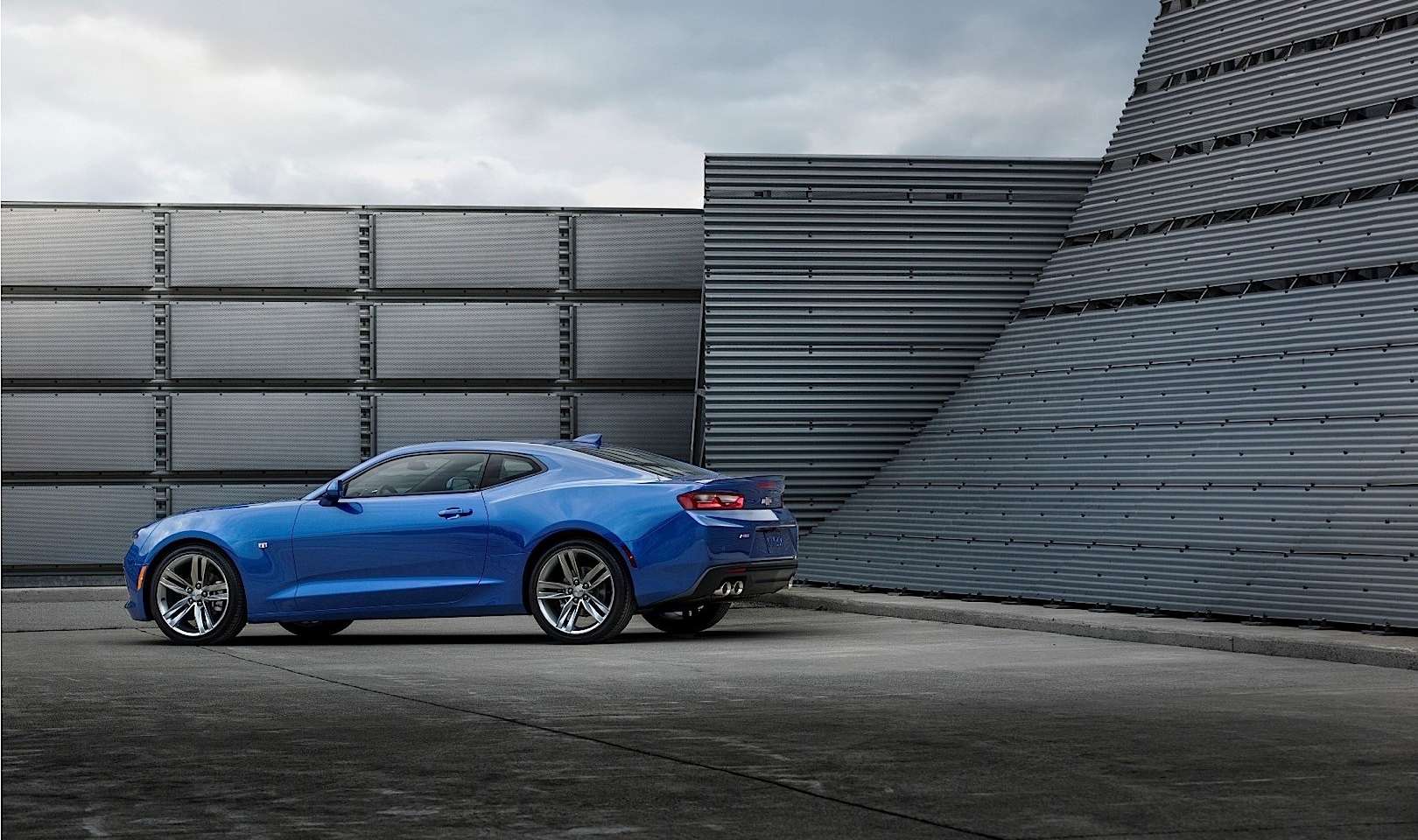 The Manufacturer's Suggested Retail Price (MSRP) on a 2017 Chevrolet Camaro LT coupe starts at about $ 27,300, including the $ 995 destination charge. The V6 engine adds about $ 1,500 to the price, and the 8-speed automatic adds another $ 1,500. If you want V8 power, a 2017 Camaro SS starts just under $ 38,000 with a manual transmission. The all-conquering Camaro ZL1 starts a little above $ 62,000. Convertible models run about $ 7,000 higher than coupes. Thanks to a generally higher level of standard equipment, prices are pretty much on-target with its crosstown rival, the Ford Mustang, and both the Ford and Chevy cost less than the Dodge Challenger. Check the Fair Purchase Price calculator to see what others in your area paid for their new 2017 Camaro. Over the long haul, the Camaro should hold its value a little better than its Ford and Dodge rivals.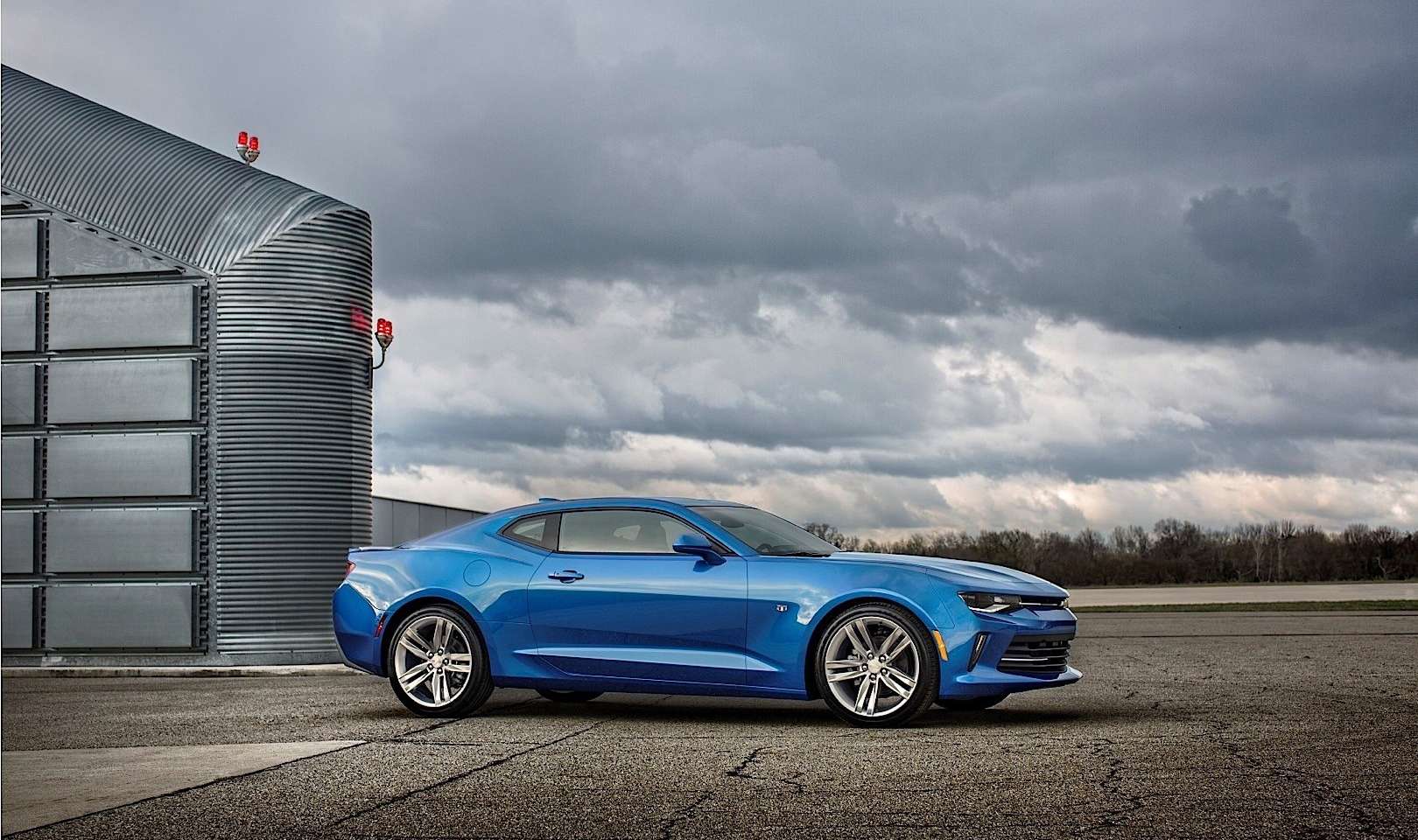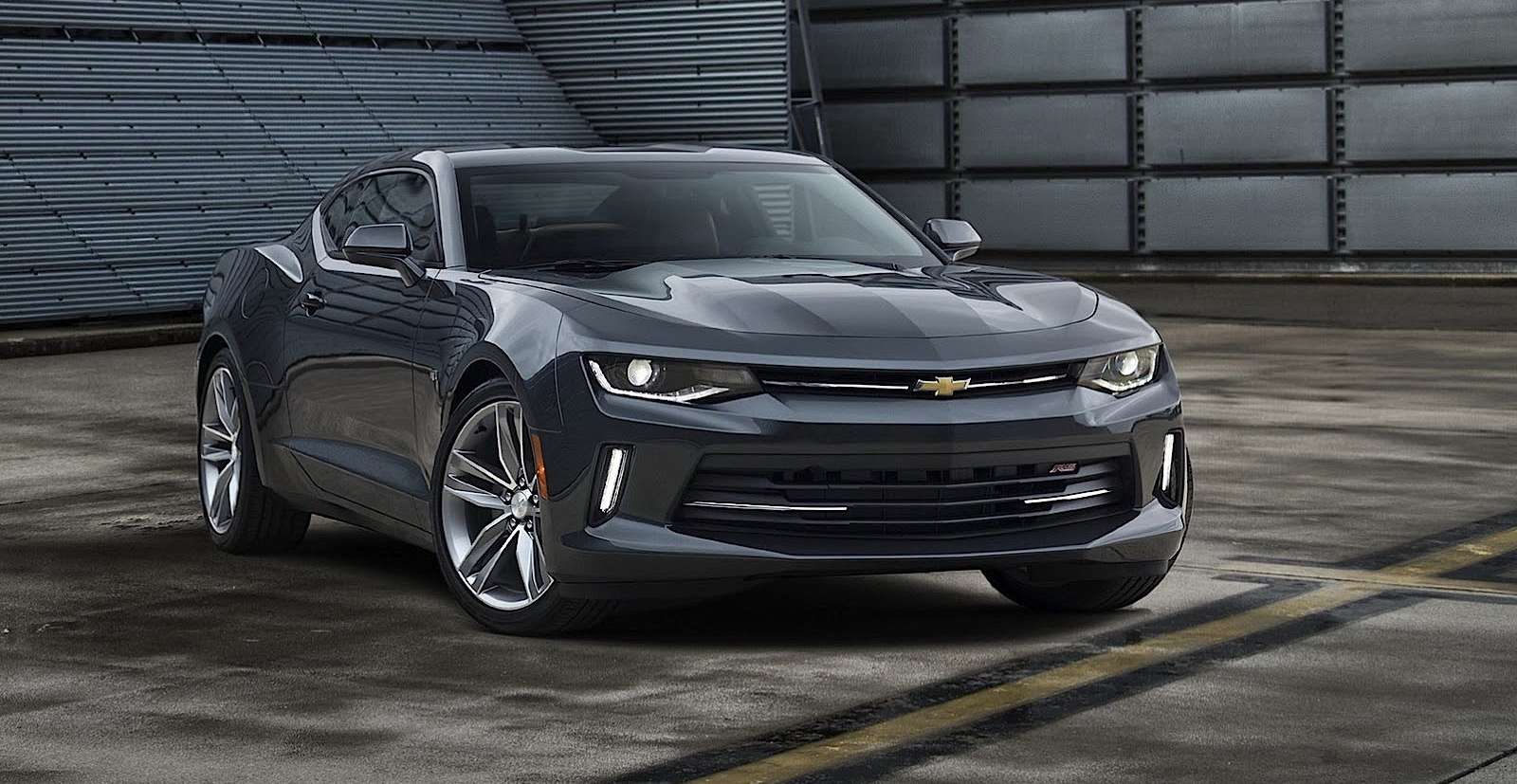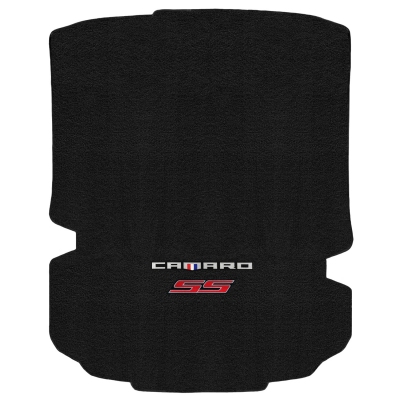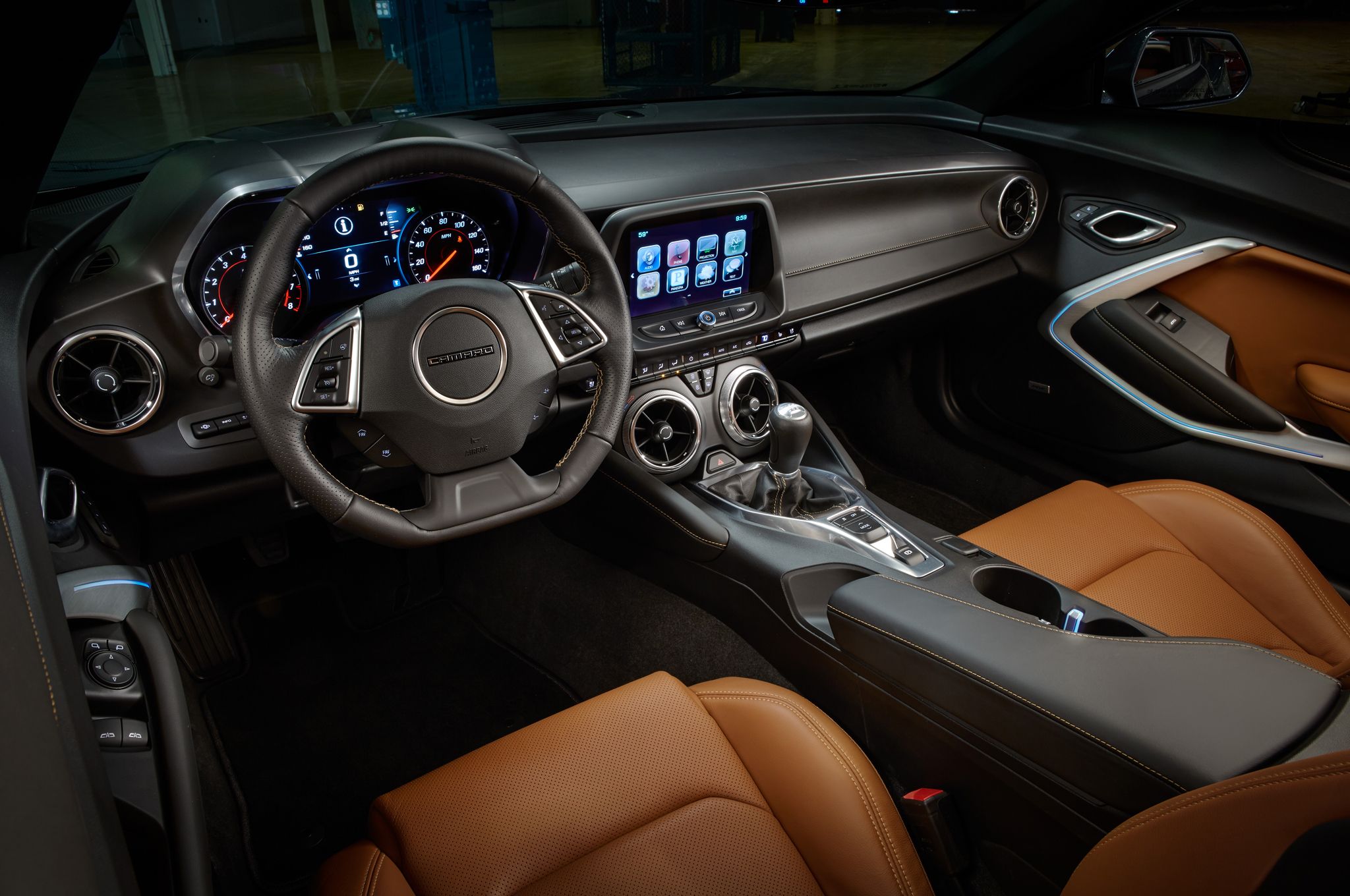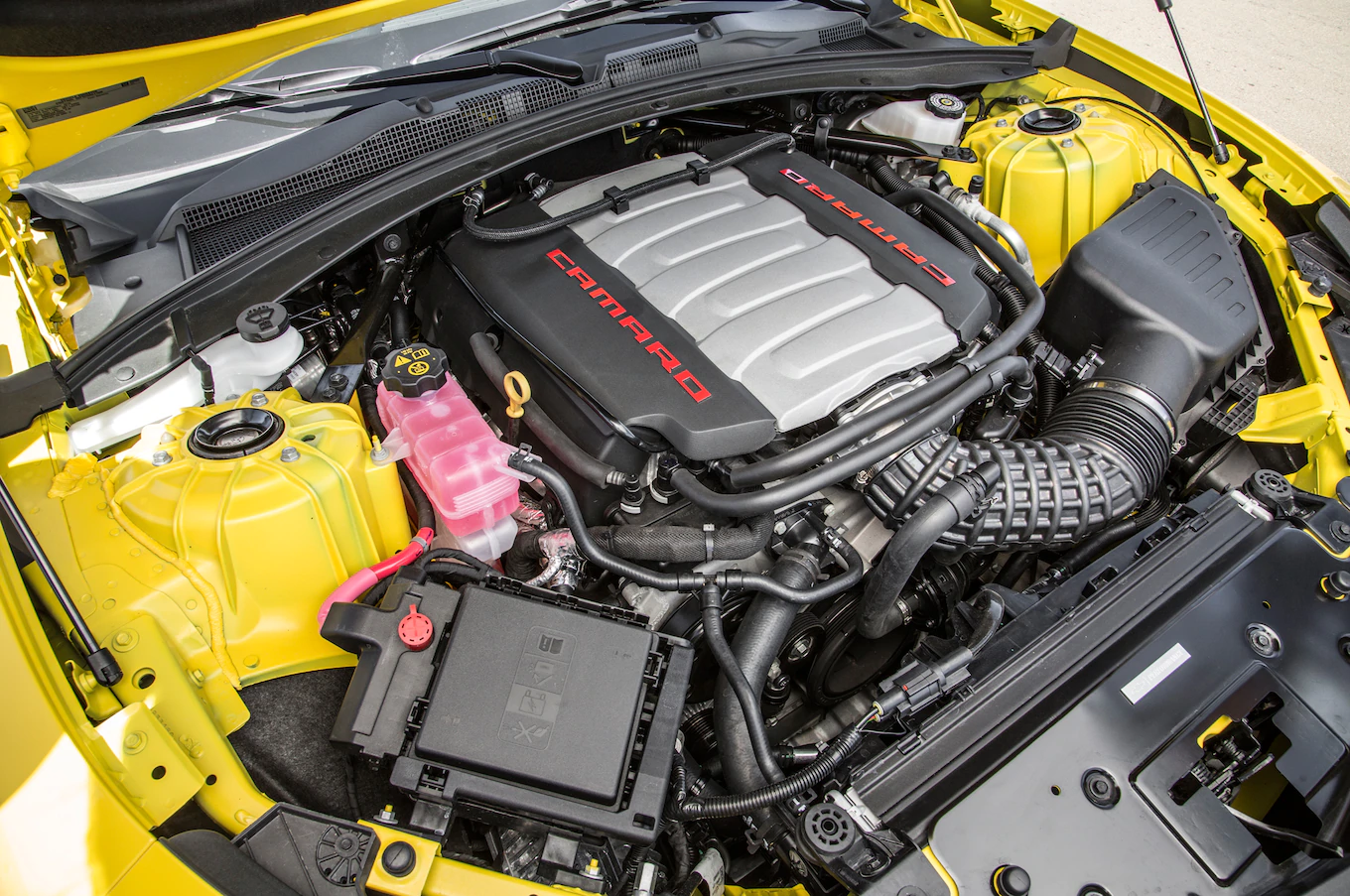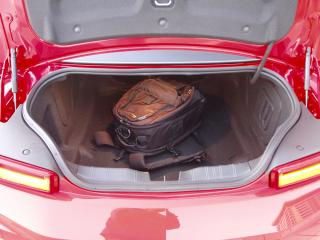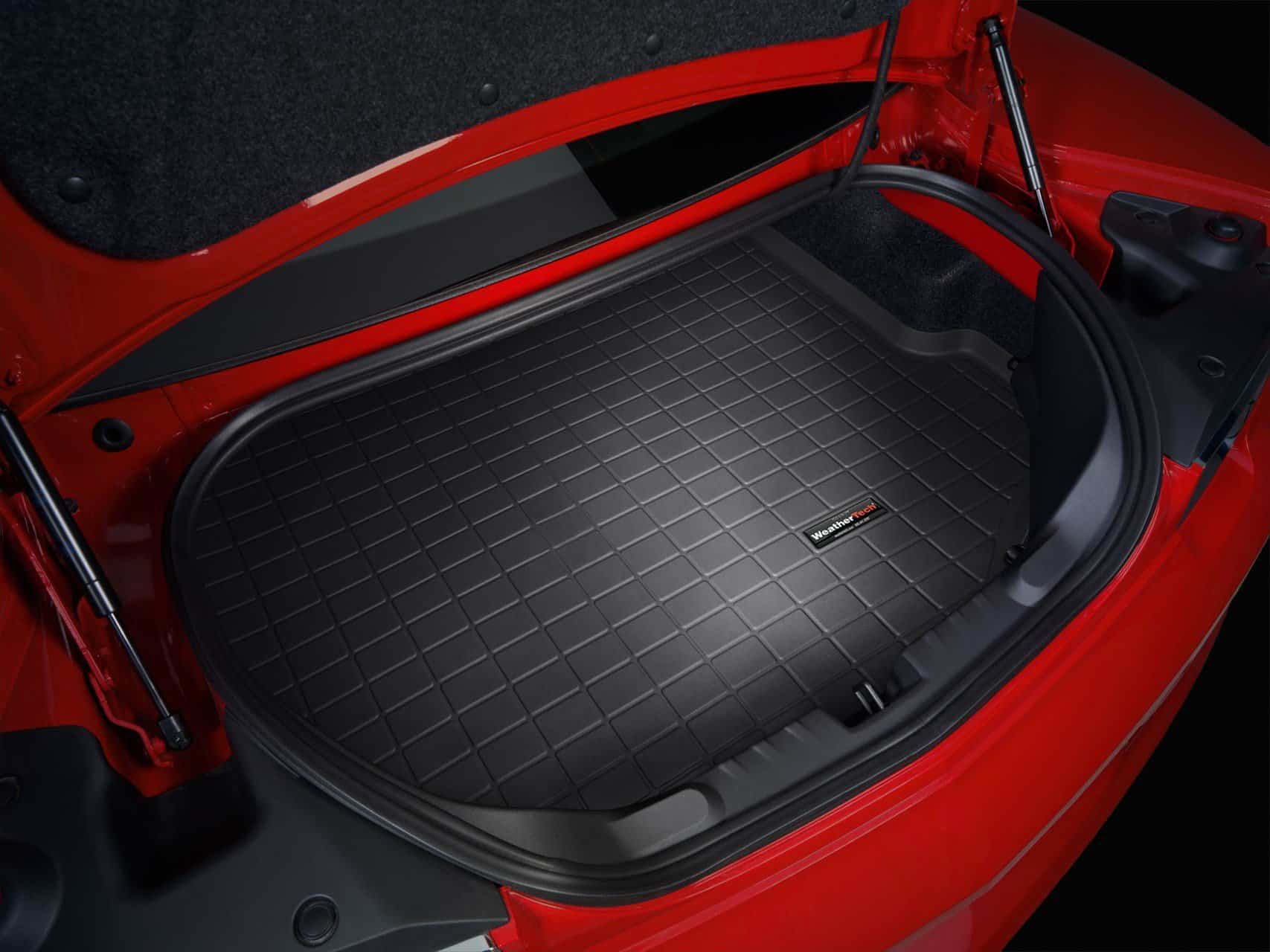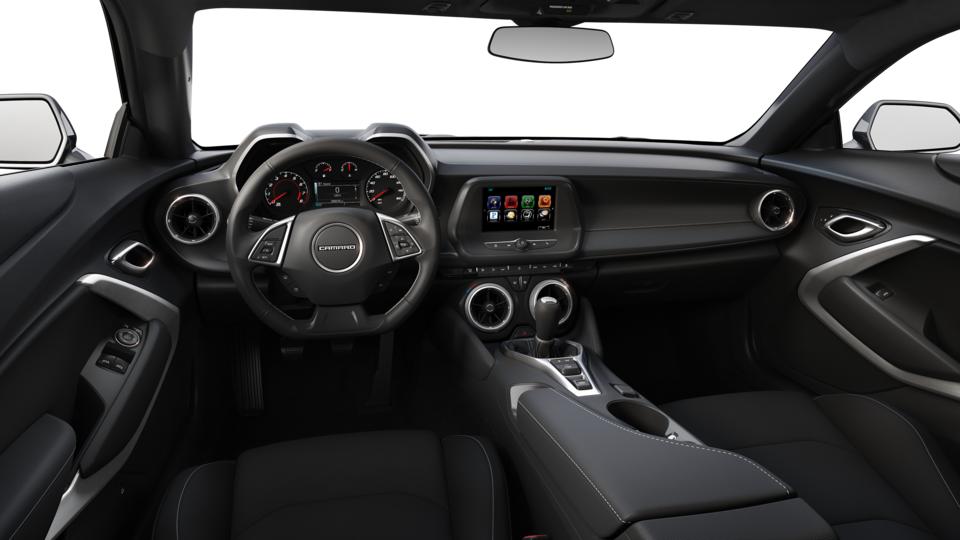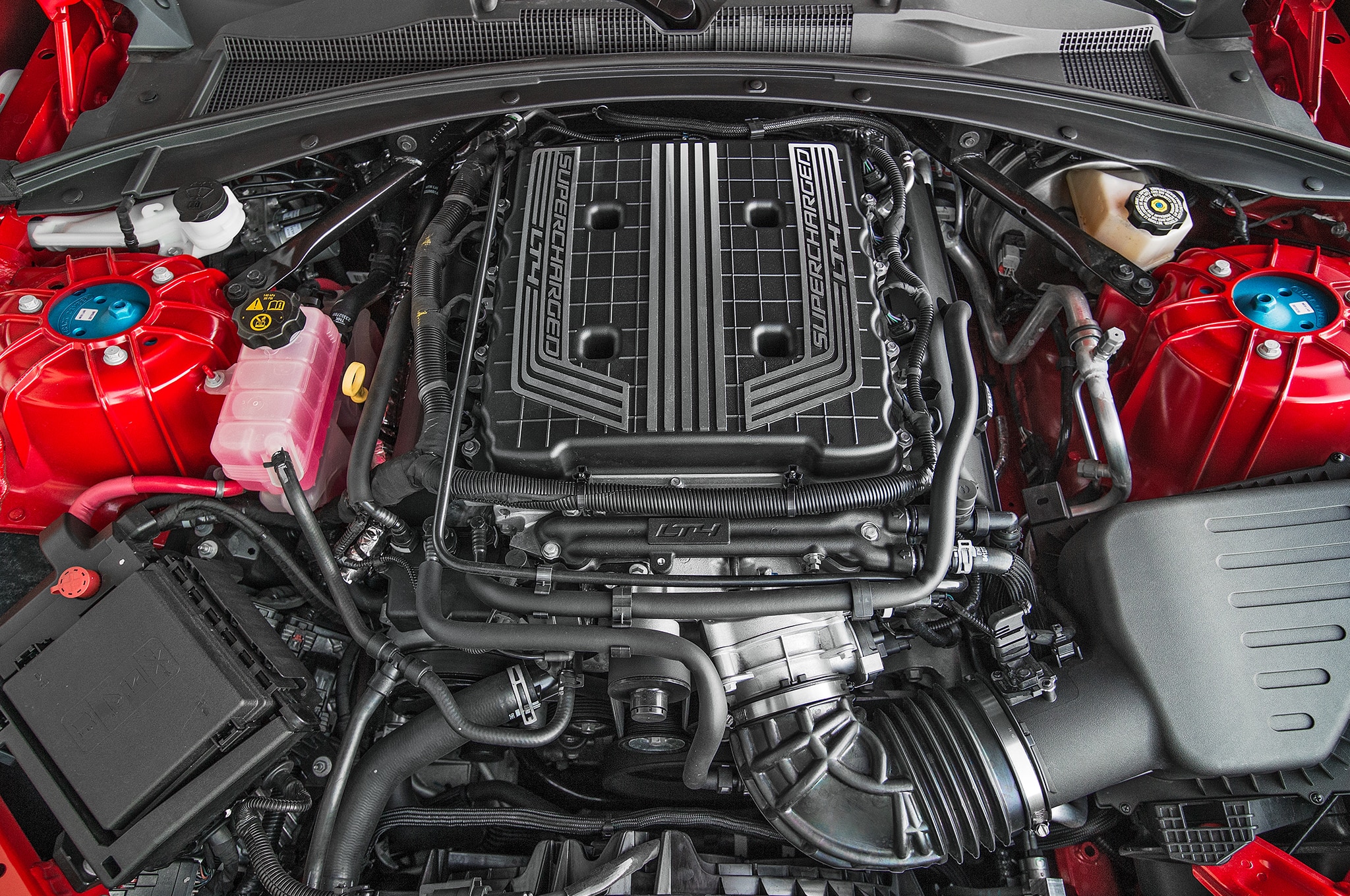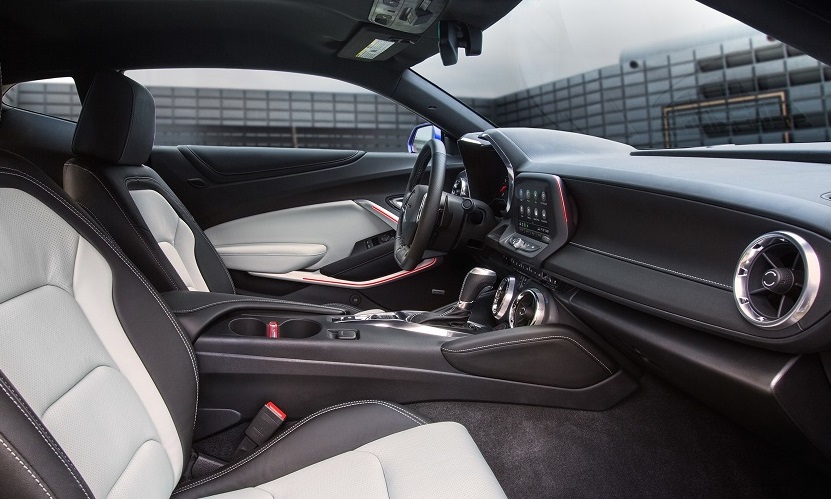 2017 Chevrolet Camaro Consumer Reviews
giantenvoy, 02/08/2017
2LT 2dr Coupe (2.0L 4cyl Turbo 6M)
Fiftieth Anniversary 2017 Camaro RS
First let me explain - I have a 2017 Camaro RS 2LT V6 with Automatic - 50th Anniversary Edition. I was not given this choice by Edmunds! It is a great car. This is the third and so far the best Camaro I have owned. The ride is smooth and acceleration is wonderful. It is extremely comfortable and fun to drive (fast). FYI - I got the V6 engine because it takes regular gas not premium like the 4 Cylinder Turbo and the V8. After a two years of ownership, my Camaro has been very reliable. The only time it has seen service is for an oil change. It is also a blast to drive! This one was a keeper until my three year outgrew the back seat and started kicking the back of my seat! I since traded it for another fun car to drive - A Mini Cooper S Clubman All4.
grabbanked, 03/06/2017
1LT 2dr Coupe (2.0L 4cyl Turbo 8A)
Camaro V6 is Awesome!
Edmunds does not have a catagory for a V6 engine, only the turbo 4 or the V8. I have the Camaro 1LT V6 automatic. I always bought V8 muscle cars over the years, but this V6 has plenty of power and sounds great with the performance exhaust option. Ride comfort is good, the seats are really comfortable (I'm 6'3"), acceleration is excellent, and the cars handles and brakes well. I like the V6 option because it makes the car a good daily driver, with a lighter front end (compared to the camaro ss with the V8), and gas mileage is good, I get around 22 mpg combined. Also, the V6 engine takes regular gasoline, the V8 and turbo 4 require 91 octane, so there is a savings at the pump. Reviewers talk about the poor visibility. Its really not bad at all, I have no complaints. Its all around a great car, and I don't feel like I want the V8 at all. Check the V6 camaro out, it's fast and fun. I love it.
balearicventricle, 09/09/2016
SS w/2SS 2dr Coupe (6.2L 8cyl 6M)
Vastly improved car over prior generations
I have previously owned a fourth generation and a fifth generation Camaro. The fourth gen had good handling and surprisingly good fuel economy (especially for a V8), but was rough around the edges. The fifth generation was a porky car that seemed slower and while nicely styled, was impossible to see out of. It seems like GM got it right for this particular version. The acceleration (V8) is the quickest of any production car I have ever purchased, while the handling is glued to the road and the braking is first rate. But outside of the sports/muscle-car aspects, the biggest improvements are in refinement and features. In short, it is actually a nice to borderline luxurious interior that is comfortable with logical controls and well-laid-out instrument clusters and displays. The seats are essentially perfect, and even things like the steering wheel feel like they were made with optimal comfort in mind. Features like the controllable vehicle modes (Touring/Sport/Track/Snow-Ice) are a nice plus. Another plus (with the optional dual model exhaust I have) is that the car makes it clear that it is serious - the only description I have for it is that it snarls like it is angry with a don't-mess-with-me-attitude whenever you stomp on it or first fire it up. There are still negatives to the car - the biggest one is that while it is improved, the outward visibility is still not great. Another negative is the back seats are really only fit for children or small adults, so this is best thought of as a Corvette with back seats. But the pluses of the car easily win out. One other note - while I have always been a stick-shift driver, this is the first automatic vehicle (with the optional A8) I have owned that I actually like. The shifting of the auto is first rate. I am also seeing almost 27 MPG on the highway with my admitted lead-foot driving. All in all, this is by far the best muscle car I have ever purchased in a continual stream of them I have had all the way back to my high school days.
gillsgraphic, 01/07/2017
2SS 2dr Coupe (6.2L 8cyl 6M)
Beyond any other in its class
The 2017 Camero beats every other sports car in its class. Excellent power, speed, handeling. The 50th aniversary is the way to go!
astonishedtanning, 09/01/2019
"50th Anniversary edition"
Just a fun car to drive. Very comfortable! Much better than my c6 Corvette. Looks and is fast.
grublunchbox, 08/06/2019
"My Dream Car"
This is the most powerful car I have every owned and I am loving it. With 455 horses and 455 pound feet it's more than enough to get the beast rolling . i also put the 1LE package onto my SS2 so I would be able to turn corners not just go in a straight line after one trip on the Pasadena Freeway you would know what I mean.I am truly enjoying the six speed stick and the hill hold is great.But this is my weekend car because the V8 drinks to much gas even though it's way better the say s 1969 model, I'm getting 17 miles to the gallon. It's Hyper Blue and LOOKS GREAT!
crapulousmixture, 07/23/2019
"Exactly what I wanted. Exactly what I hoped for."
Top three features are speed, comfort and ... the transmission! The new automatic transmission is completely astounding - it shifts faster than I can on a stick shift. I can't say enough about how awesome the transmission is and how the computer understands when I want it to stay in the power band based on how I'm driving, and I've been a stick shift guy my whole life. As for speed, it gets to 150 mph pretty easy and only feels like 110. 650 horse power is serious business. I hardly ever floor the gas peddle, don't need to, but when I do it's kinda scary in a good way. The problem with is you spend a very small amount of time accelerating and then you have to slow down. Stops very fast. Takes corners much faster than I expected considering the weight - it completely hugs the road. Very comfortable and the sound system is intense. It had 10 decibels less cabin noise than the Corvette when I test drove them last year. Short passengers need to adjust the seats if they want to see the road, lol?! I prefer the sunk in feeling but once in a while I'll raise the seats so I can see the front corners better. No problems with visibility. I have too much fun changing between sport and touring modes - some times I want to be quiet, and other times I want to growl and roar. Pretty safe for such a dangerous car.Read less