Building on last year's significant updates, the 2017 Honda Accord should appeal whether you're prioritizing interior space, fuel economy, value or even an engaging driving experience. Read on to learn more why the Accord is a must-drive if you're shopping for a midsize sedan or coupe.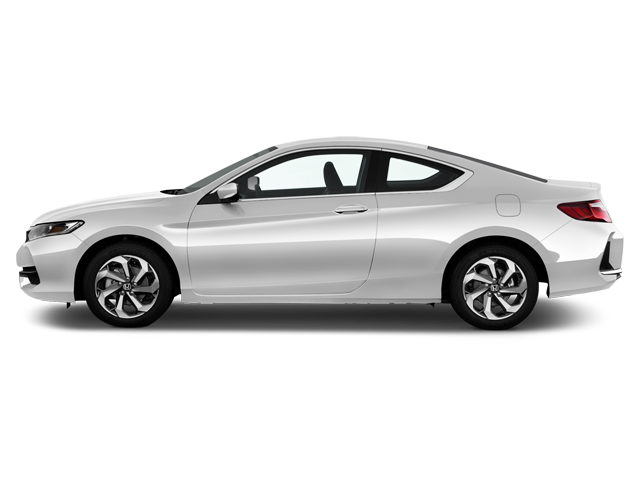 Following some notable revisions last year, the 2017 Honda Accord is essentially a carryover model, and an aging one at that, considering Honda last gave its Accord a full redesign for the 2013 model year. Even so, most of the midsize sedan segment is still playing catchup. The current Accord is arguably Honda at its finest. It scores highly in just about every category, and unlike many rivals, it's a genuine pleasure to drive. If you're looking for a family sedan that does it all, or perhaps a sporty yet still roomy coupe, the 2017 Accord's across-the-board excellence simply cannot be ignored.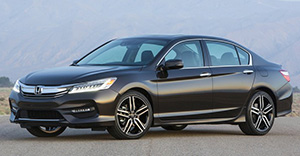 The front-wheel-drive 2017 Honda Accord is available in two body styles. Sedans come in LX, Sport, Sport Special Edition (Sport SE), EX, EX-L, EX-L V6 and Touring trims. Coupes are available in LX-S, EX, EX-L, EX-L V6 and Touring trims. Upgrading from one trim to the next gets you more features,  and we think the associated price bumps are appropriate given the upgrades you get. A suite of advanced safety systems called Honda Sensing is available on all trims except Touring (where it's standard), but our lackluster experiences with this system make it difficult to recommend.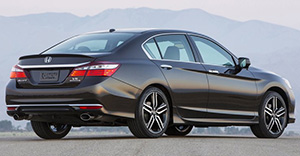 Starting with the sedans, the base LX is quite generously equipped and powered by a 2.4-liter four-cylinder engine (185 horsepower, 181 pound-feet) paired to a six-speed manual transmission or continuously variable automatic transmission (CVT). Feature highlights include 16-inch alloy wheels, dual-zone automatic climate control, a 7.7-inch central display (not to be confused with the touchscreen that's added on higher trims), Bluetooth, a rearview camera, a height-adjustable driver seat, a one-piece folding rear seat and a four-speaker sound system.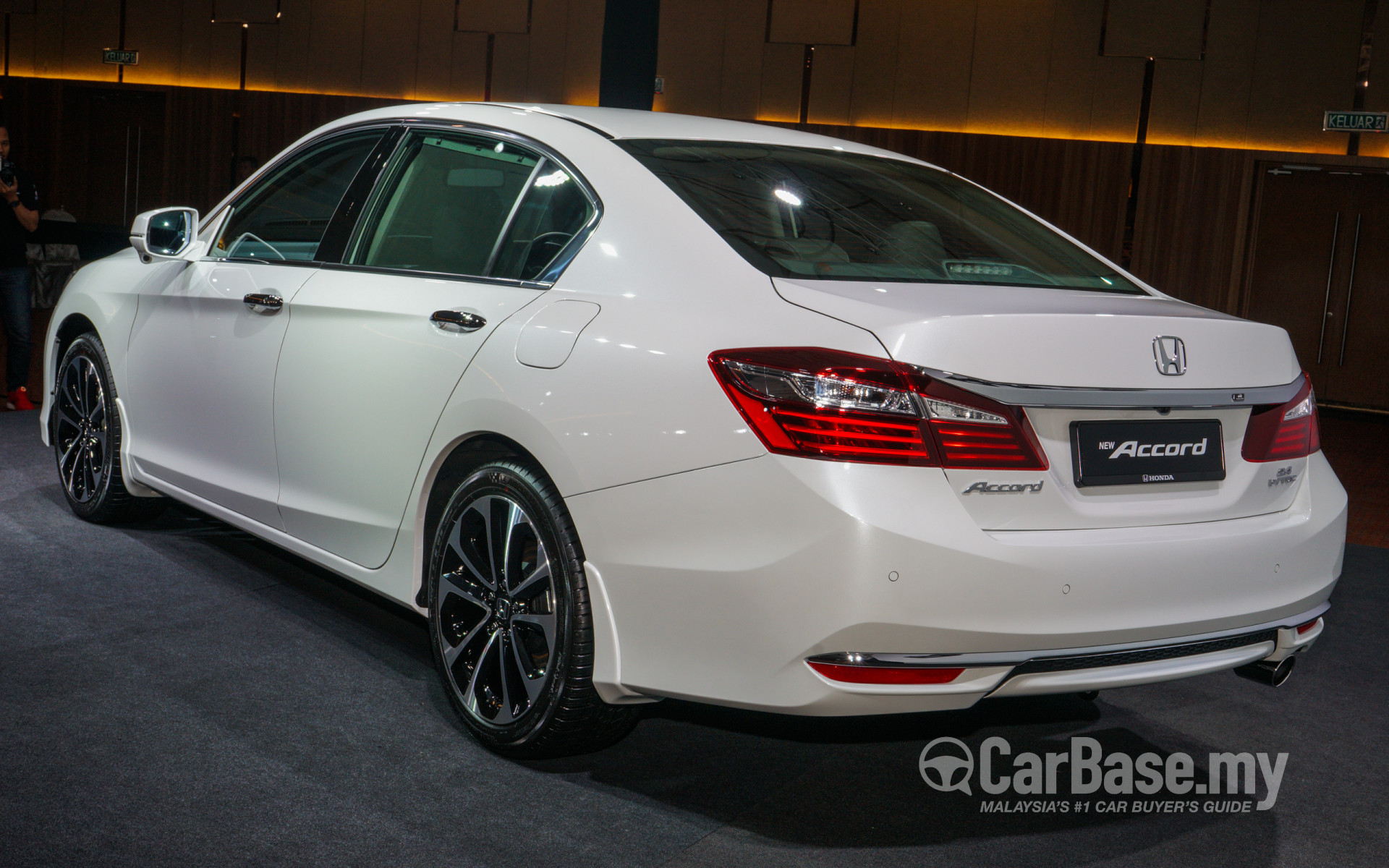 Opting for our favorite, the Sport, gets you a bit more power (189 hp, 182 lb-ft), 19-inch wheels, LED daytime running lights and foglights, cloth seating with imitation-leather bolsters, a power driver seat, a 60/40-split folding rear seat and a leather-wrapped steering wheel (with shift paddles if the automatic transmission is specified).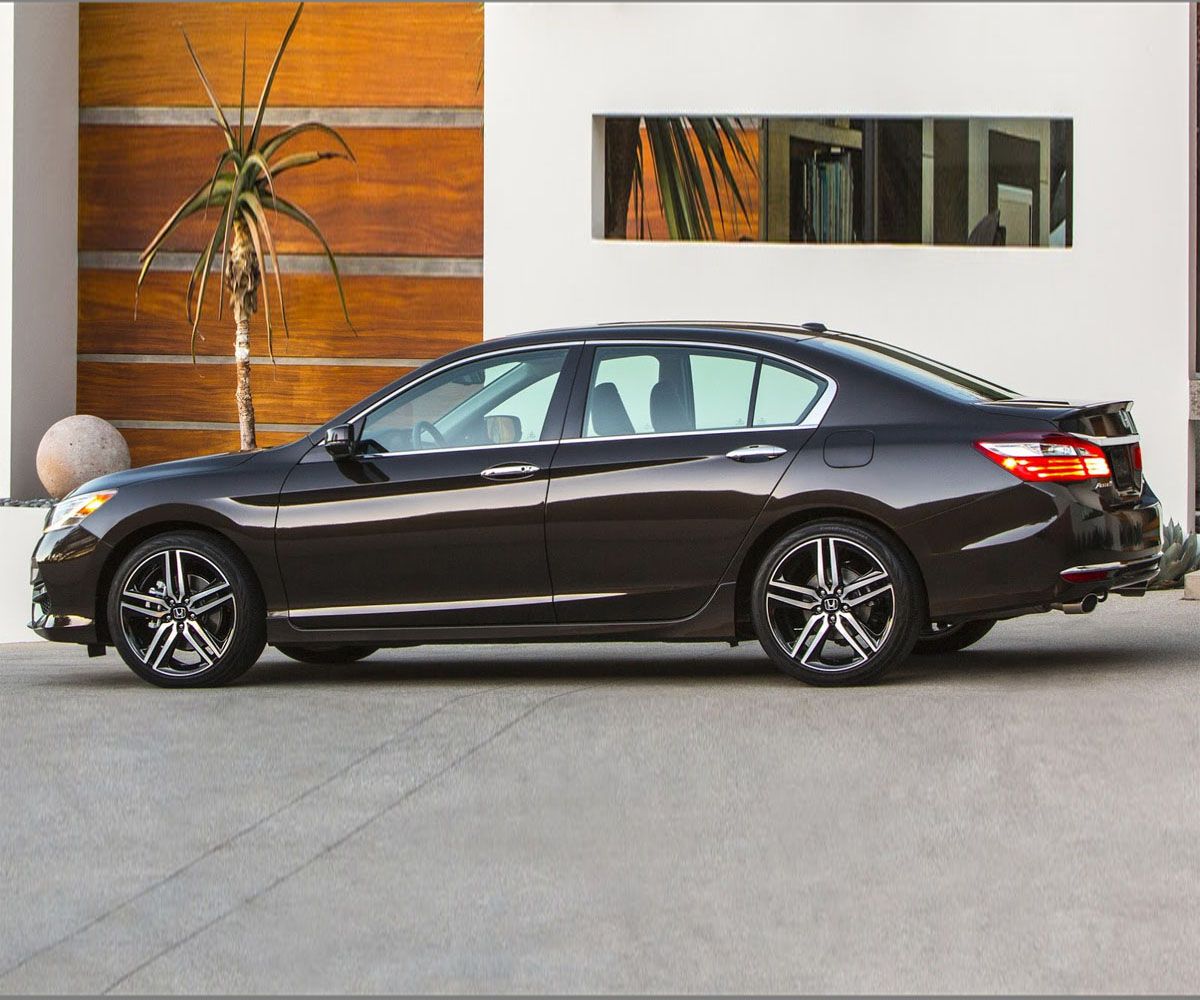 The Sport Special Edition is very similar to the regular Sport, but it adds special-edition badging, heated front seats and leather seats with red accent stitching.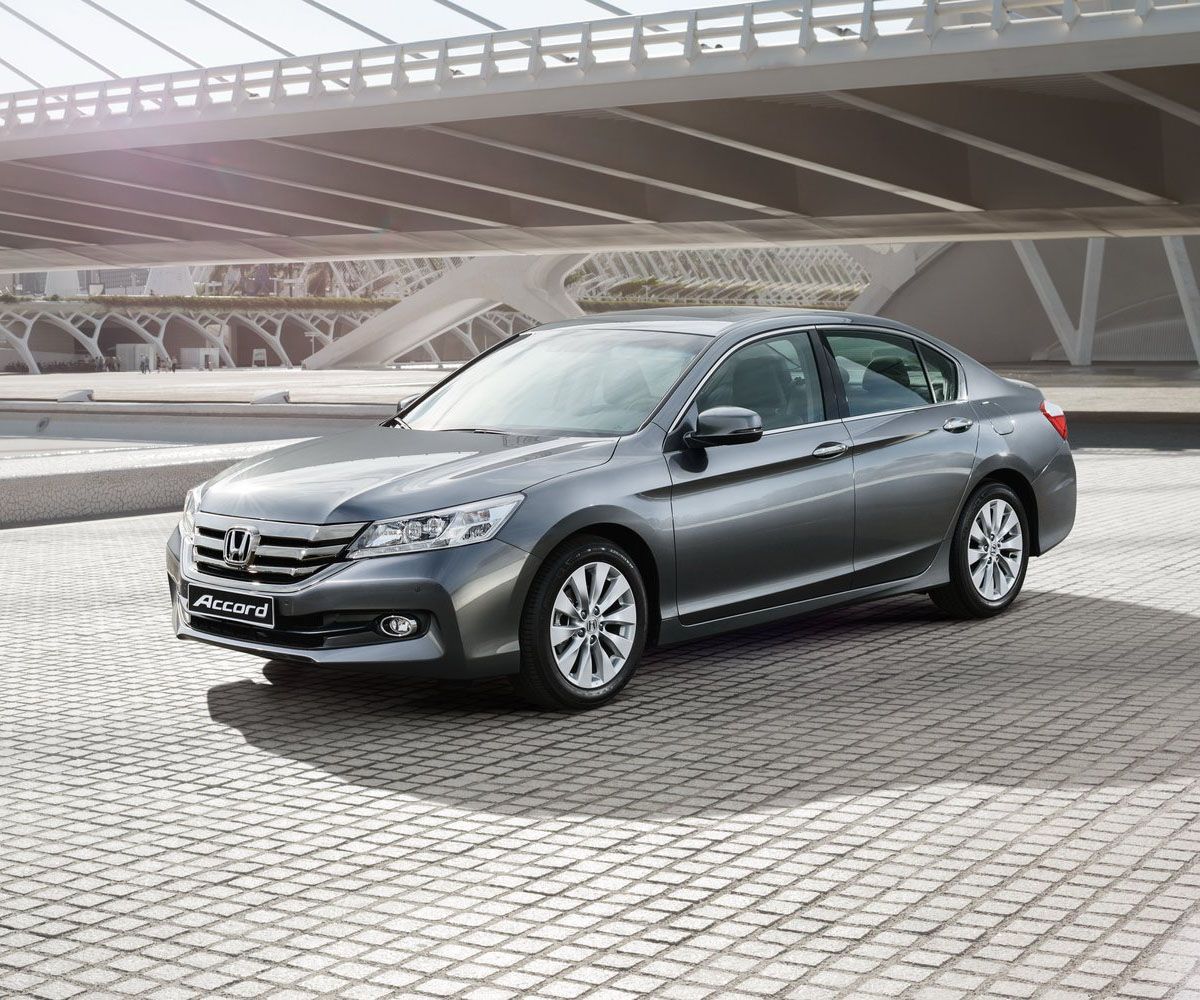 The Accord EX also builds off the LX, but it focuses more on extra amenities than sportiness, adding 17-inch wheels, LED daytime running lights and foglights, heated mirrors, a sunroof, keyless ignition and entry, remote ignition (with the automatic transmission), the power driver seat,Honda's LaneWatch blind-spot camera system, a six-speaker sound system with a 7-inch touchscreen interface (the standard 7.7-inch display remains as well) and satellite and HD radio. Also standard is smartphone app integration via HondaLink (with smartphone-enabled Aha radio features), Android Auto and Apple CarPlay.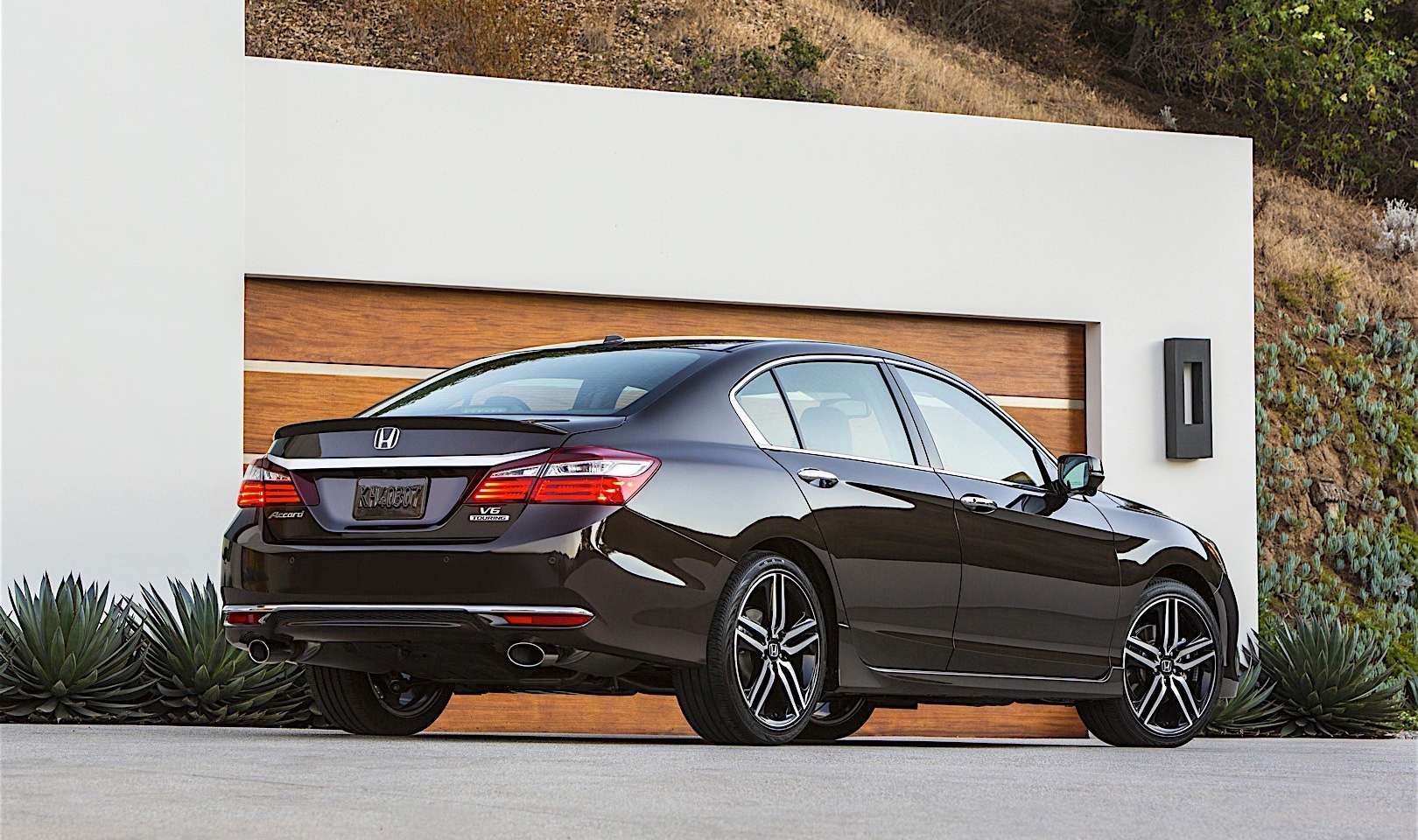 The EX-L trim comes with the CVT and adds leather upholstery, driver-seat memory functions, a power passenger seat, heated front seats, an auto-dimming rearview mirror and an upgraded seven-speaker sound system. As its name suggests, the EX-L V6 is powered by a 3.5-liter V6 (278 hp, 252 lb-ft) matched to a six-speed automatic.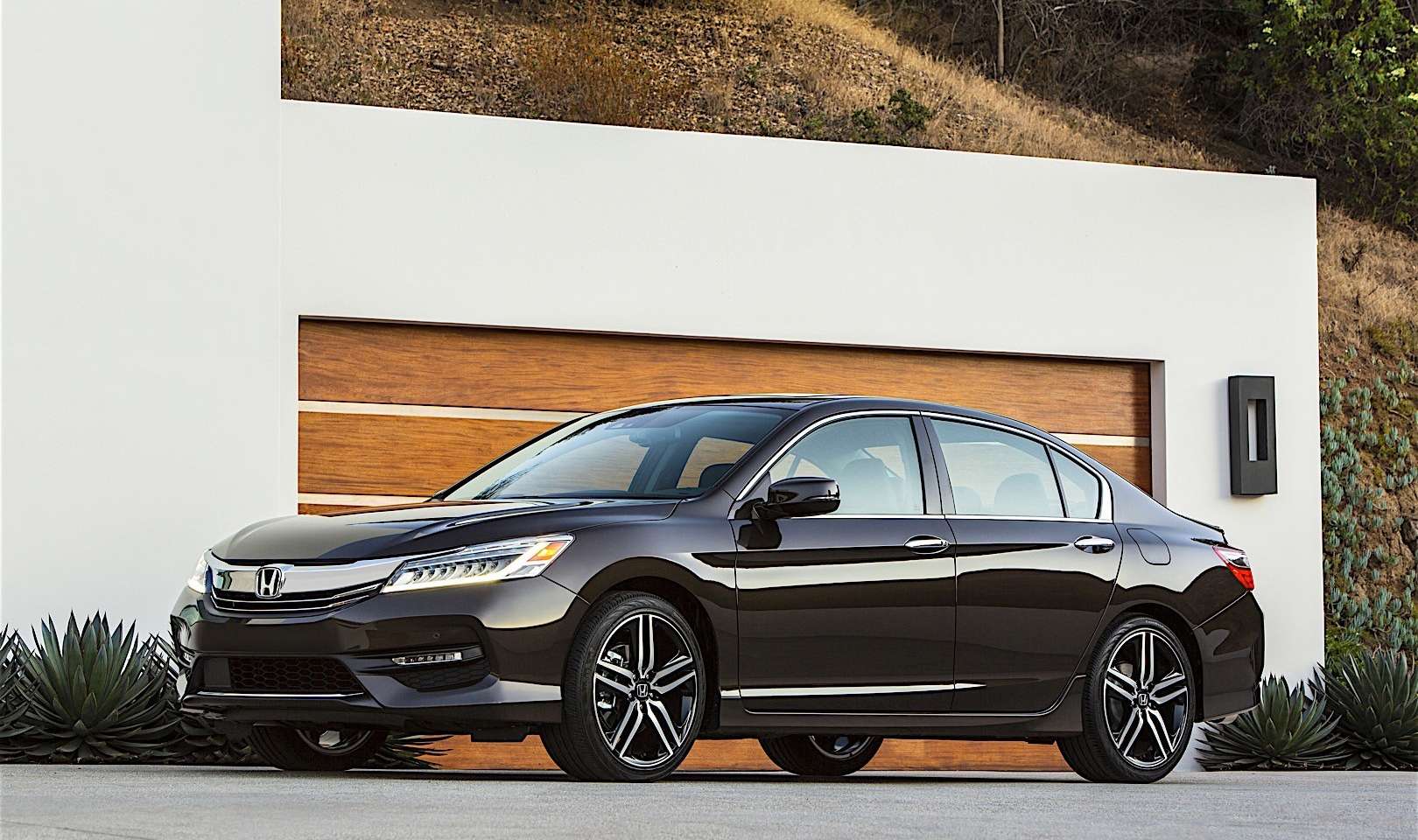 All of the above trims can be outfitted with the Honda Sensing package, which includes adaptive cruise control, forward collision warning with automatic emergency braking, and lane departure warning and mitigation. A navigation system is optional for the EX-L and EX-L V6.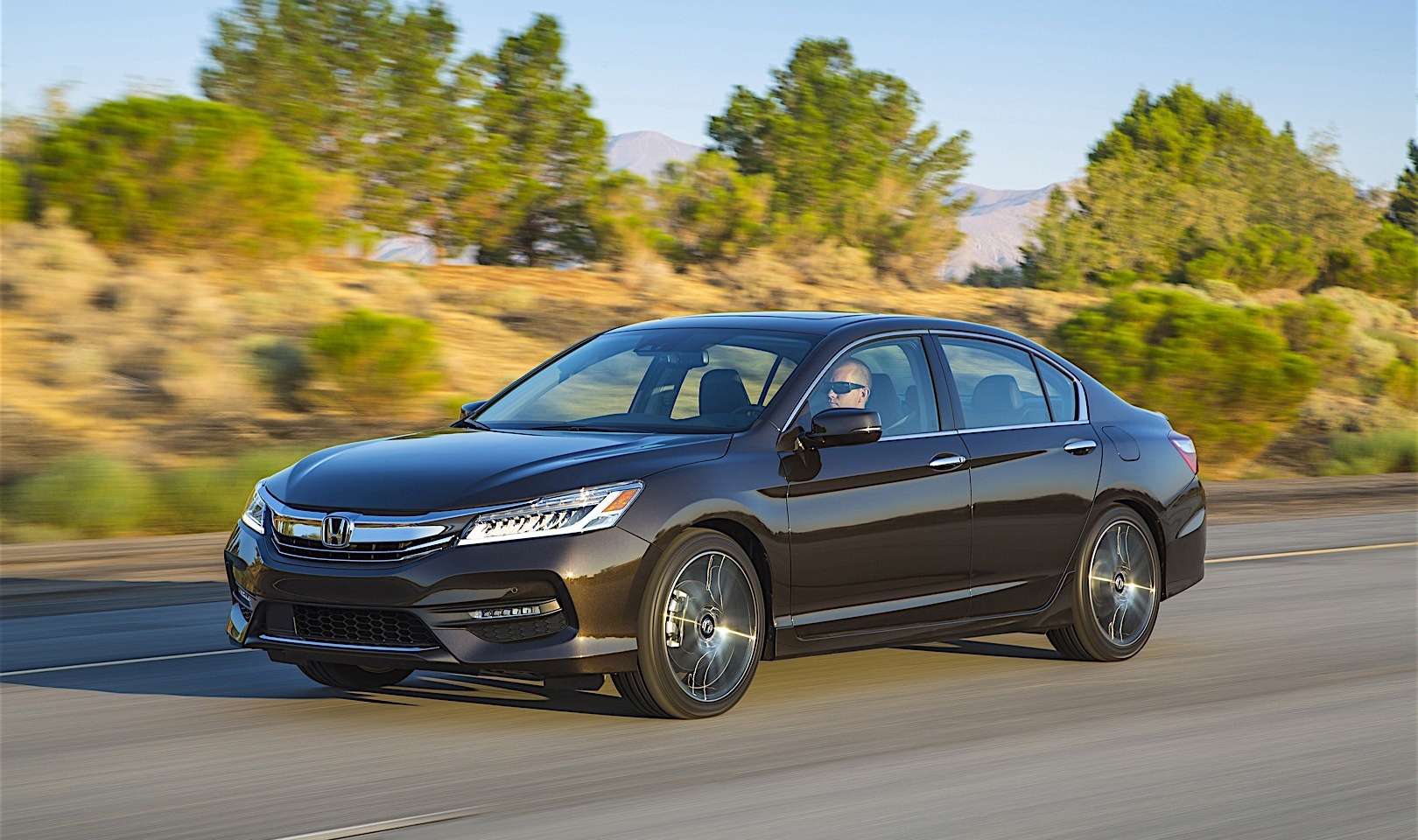 The range-topping Touring takes the EX-L V6 offerings and adds the features from the Honda Sensing package as well as 19-inch wheels, LED headlights (with automatic high-beam control), automatic wipers, front and rear parking sensors, a rear decklid spoiler, heated outboard rear seats and the navigation system.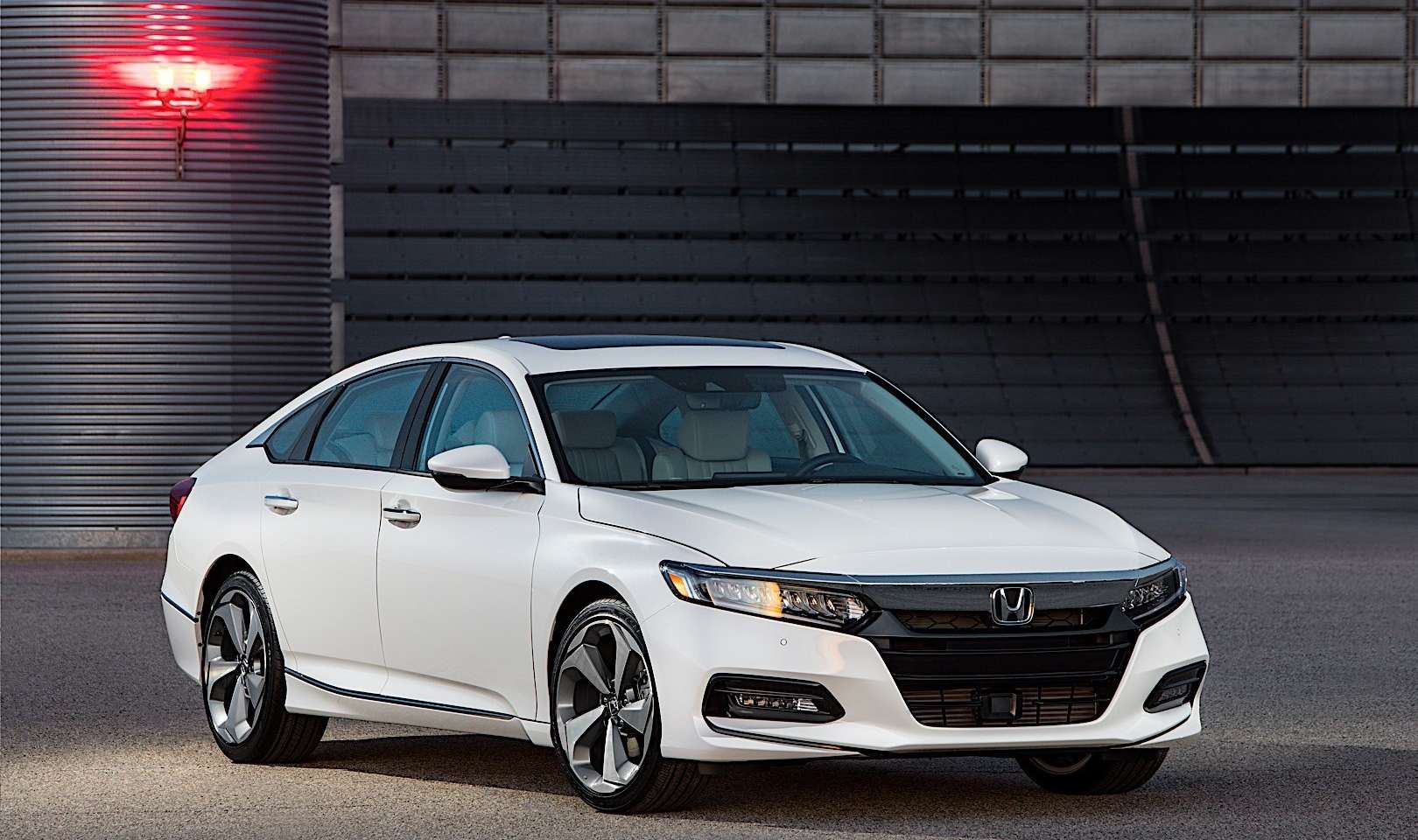 For the Accord coupe, the base LX-S trim is similar to the LX sedan but adds 17-inch wheels and the six-speaker audio system. The coupe's EX, EX-L, EX-L V6 and Touring trims are also comparable to the sedan's in terms of equipment, though every EX variant gets 18-inch wheels (the Touring gets 19s). Note that all automatic-transmission coupes include standard paddle shifters.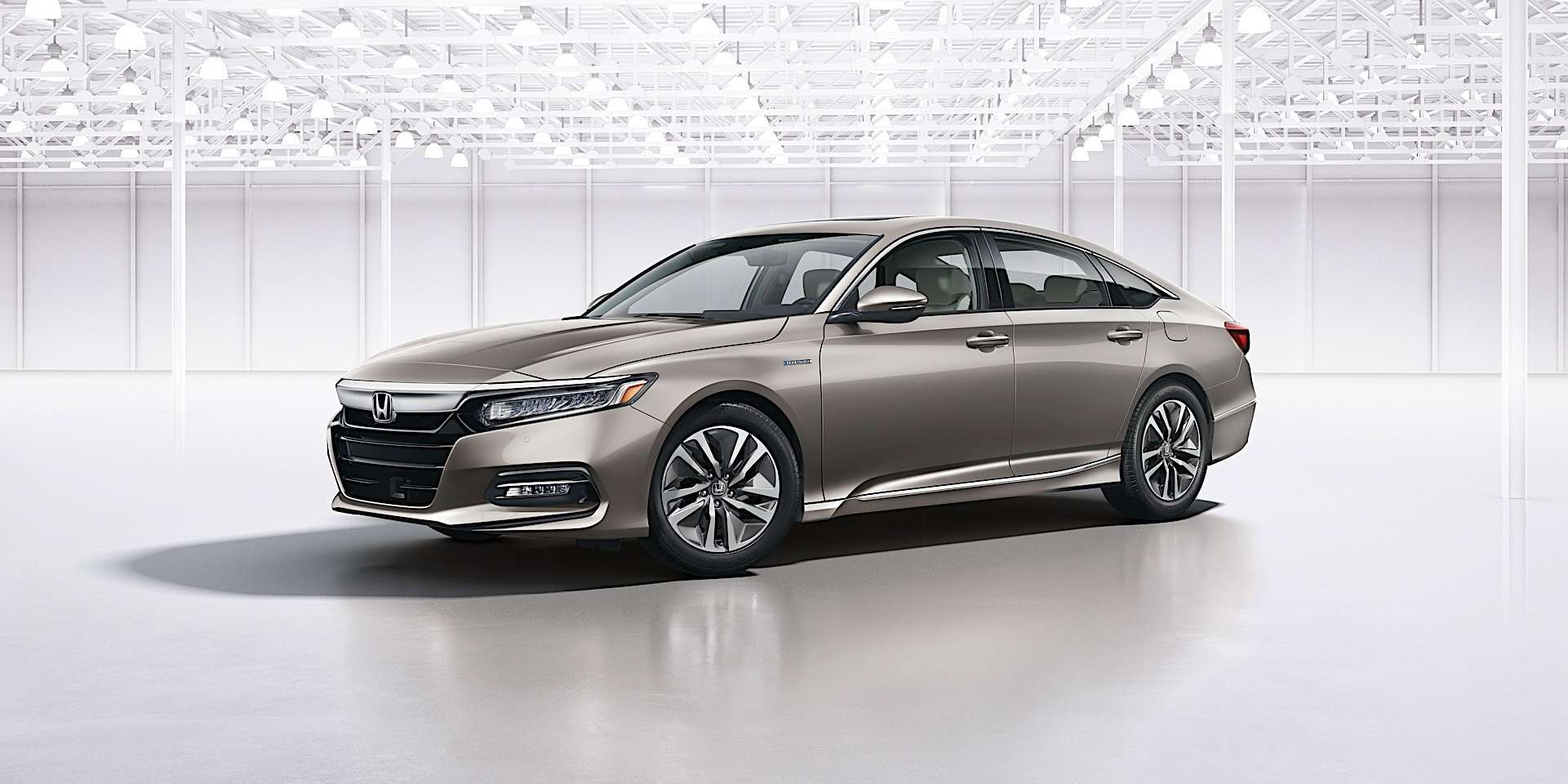 All Accord models are brisk, compliant and comfortable, with each particular model offering more or less of those traits depending on drivetrain. The bread-and-butter 4-cylinder Accord with an automatic transmission finely balances the comfort/agility equation while offering one of the best continuously variable transmissions (CVT) in the business. V6-powered sedans and coupes are surprisingly quick, and the larger engine boasts deep power reserves. The few buyers who opt for a manual transmission will be rewarded with crisp, easy shifts. The new Accord Hybrid accelerates swiftly, similar to an electric vehicle when it is being powered via electric motor. Transitions between its gasoline and electric powerplants are smooth, but the gasoline engine and electronic continuously variable transmission (e-CVT) drone under hard acceleration. We found the available lane-keep assist system so-so; it can nudge you back into the lane, but doesn't work 100 percent of the time, especially on twisty 2-lane roads.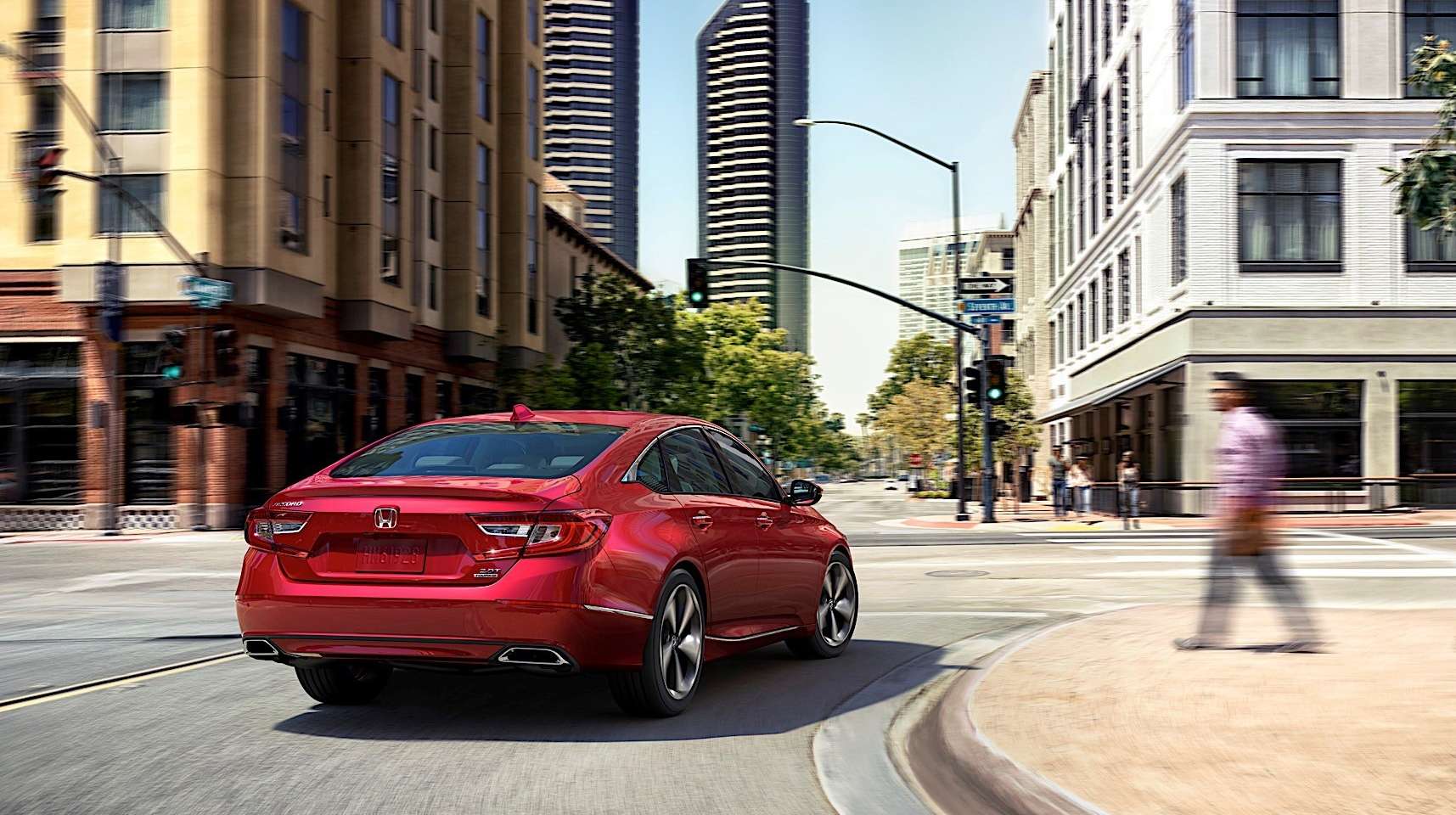 HONDA LANEWATCH This safety system has been around a few years and still impresses. Via a camera mounted under the right-side mirror, it displays a real-time view of what's happening in the next lane when you activate the turn signal, showing whatever may be in your blind spot so you don't collide. ACCORD HYBRID One of the best things about the reintroduced Accord Hybrid -- aside from its nearly 50-mpg rating -- is that it looks just like a regular Accord. For buyers who want great fuel economy but don't want way-out-there looks, the hybrid Accord is an excellent choice.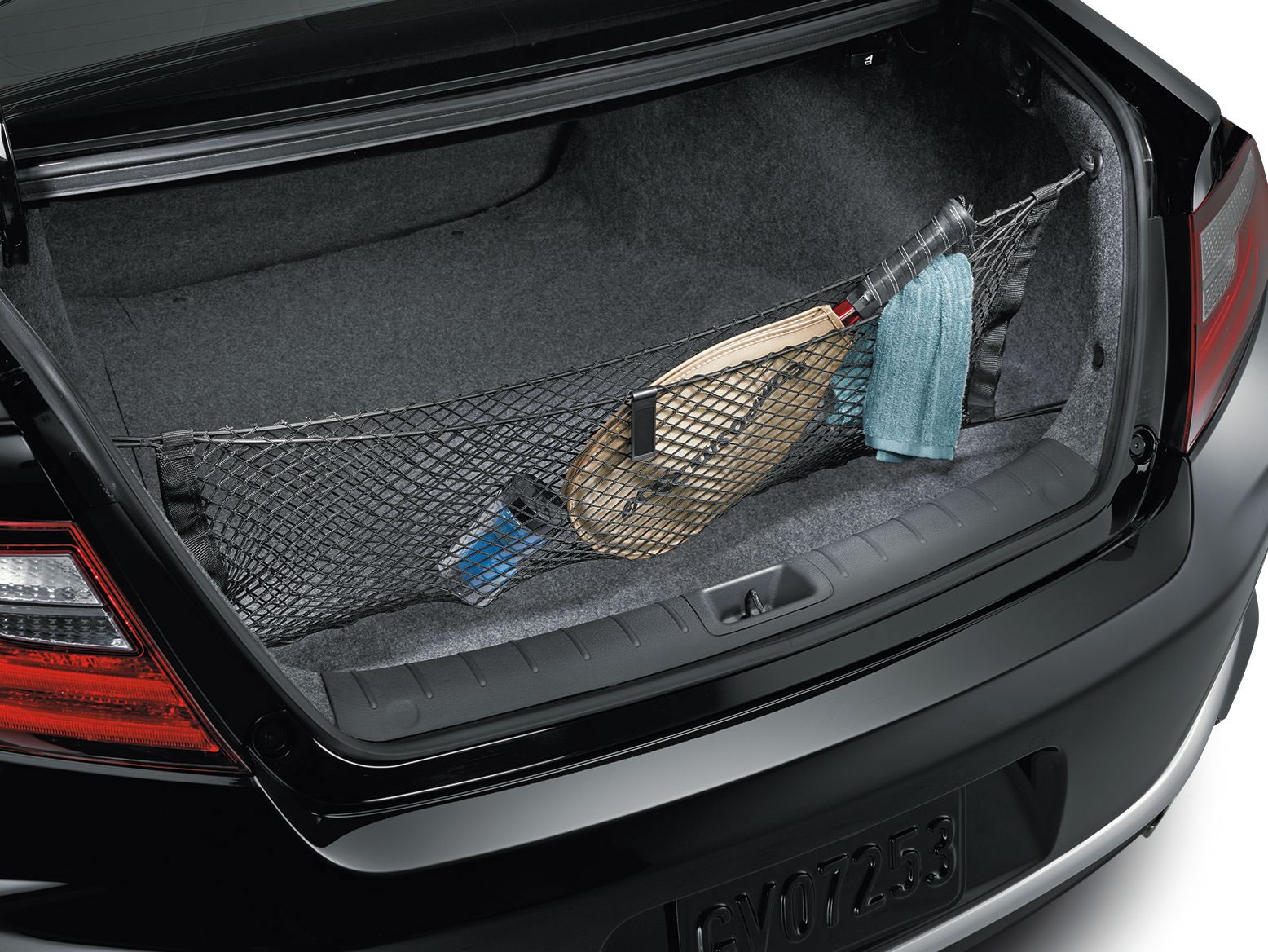 All 2017 Accord models accommodate five passengers, though the coupe has less legroom than the sedan. Rear-seat passengers in the sedan are also treated to a good view out thanks to large side windows. Up front, higher trims of the Accord have a pair of screens. The top one displays audio info and the rearview camera, while the other below shows navigation and other functions. However, the lower screen is touch-only, lacking traditional knobs for volume and tuning. Lower-trim models don't have the secondary screen, and instead offer easy-to-use controls. In hybrid Accords the rear seat doesn't fold due to the battery pack.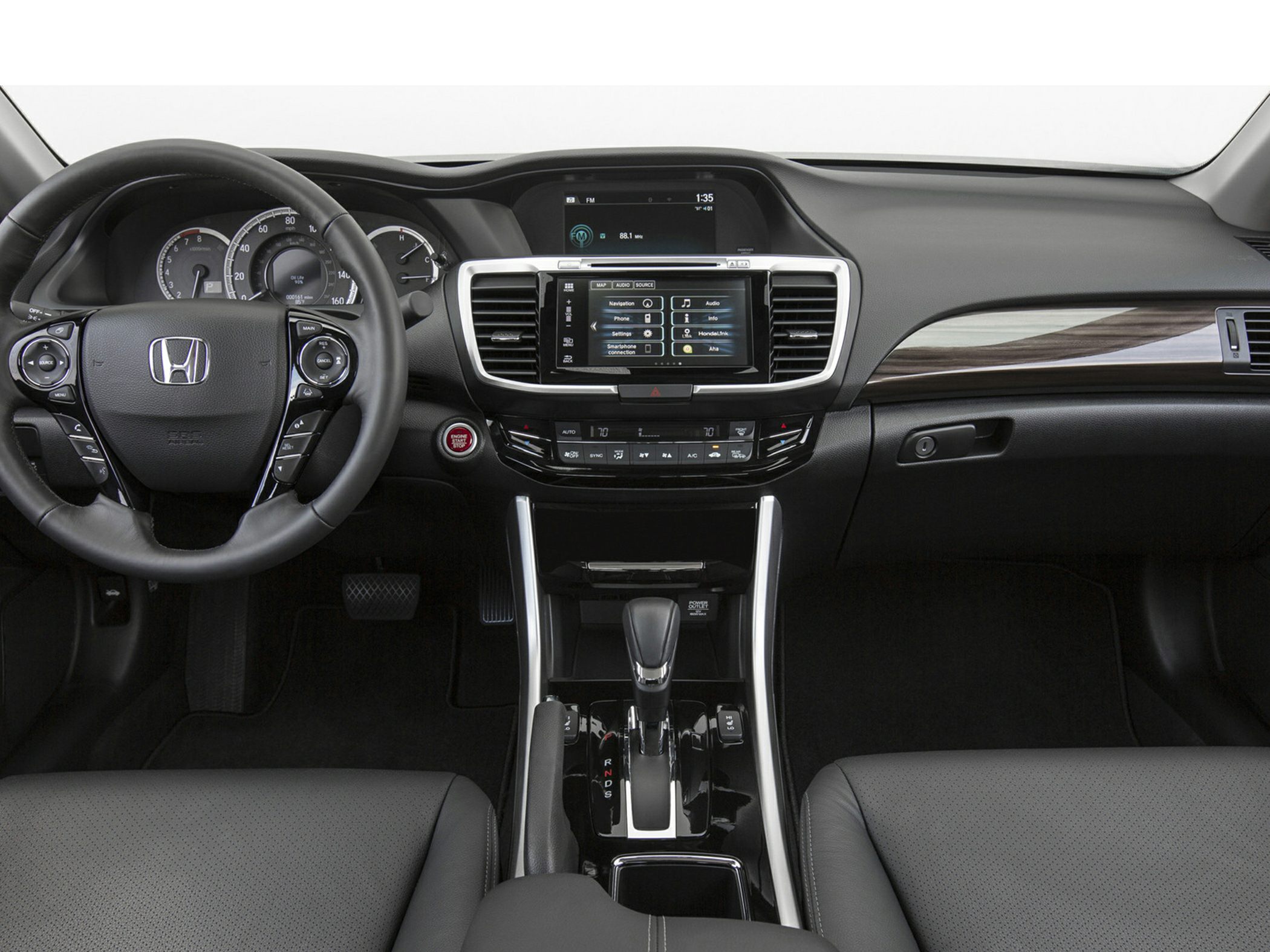 The 2017 Honda Accord pulls off quite a feat when it comes to style: It looks handsome, contemporary, yet timeless. This is a well-proportioned vehicle whose design will likely hold up well as the years pass. The Accord coupe, too, looks elegant, sporty and more expensive than it is. Among the few traits of which we're on the fence is the way the grille wraps into the elongated headlights; it can be a little too sweeping. Hybrid Accord models look similar to their gasoline-only counterparts, except for their small hybrid badges and blue accents on the grille, headlights and taillights.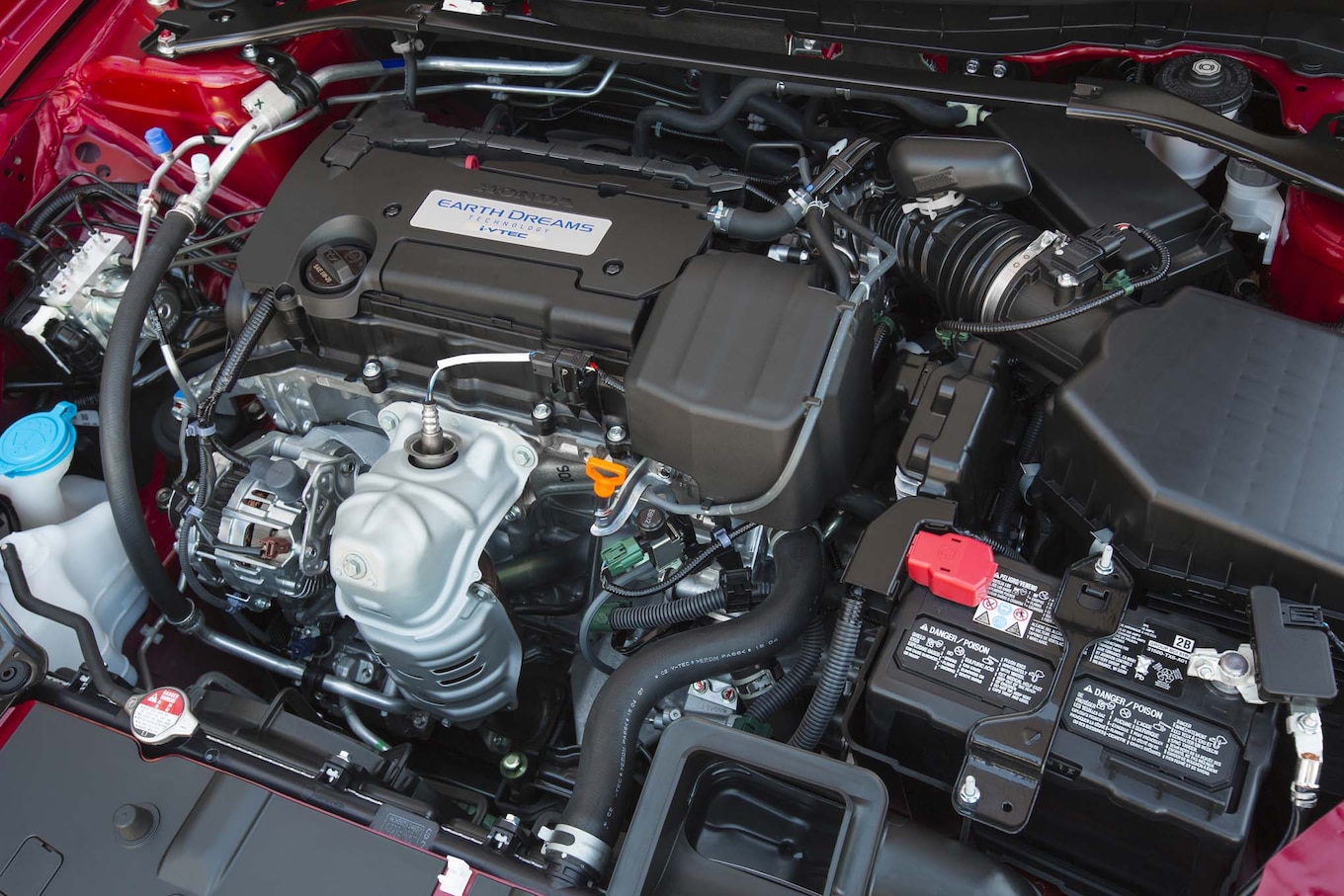 Including the new Sport Special Edition, the 2017 Accord sedan is available in seven trims. At the lowest end, a base LX includes rearview camera, dual-zone automatic climate control, 4-speaker AM/FM/CD player with Bluetooth connectivity and USB and auxiliary inputs, and an 8-inch color display. We recommend stepping up to at least the Sport or Sport Special Edition, which include 10-way-power-adjustable driver's seat, LED fog lights and daytime running lights, split-folding rear seat, leather-wrapped steering wheel, and in the Special Edition, leather interior with heated front seats. The Accord's standard safety features include antilock brakes and stability- and traction-control systems.
Most extras come by climbing trims, with a notable exception being the HondaSensing suite of features that we heartily recommend. For $ 1,000, it includes lane-keeping assist, adaptive cruise control, collision-mitigation braking, and road-departure mitigation system. HondaSensing is standard on top-line Touring and all hybrid models of the 2017 Accord. Other extras available depending on trim include the LaneWatch blind-spot monitoring system, navigation, upgraded audio, HomeLink integrated garage opener, Apple CarPlay/Android Auto integration, and the HondaLink smartphone connectivity system.
The Honda Accord sedan and coupe are available with 4- or 6-cylinder engines tied to both manual and automatic transmissions, while the gasoline-electric Accord Hybrid is offered as a sedan only. Gasoline models with the 4-cylinder with an automatic transmission use a CVT that feels natural, while V6 models have a traditional 6-speed automatic. If you want a V6 Accord with a manual transmission, that combination is available in coupe form only. At up to 36 mpg, even a standard Accord is highly efficient. For those seeking the most efficient Honda Accord, the hybrid model earns a 49-mpg EPA rating. The hybrid uses both a 4-cylinder gasoline engine and a pair of electric motors. A lithium-ion battery pack sits in the rear of the car. 2.4-liter inline-4 185 horsepower @ 6,400 rpm (189 for Sport models) 181 lb-ft of torque @ 3,900 rpm EPA city/highway fuel economy: 23/32 mpg (manual), 27/36 mpg (automatic, LX, EX, EX-L sedan), 26/34 mpg (automatic, Sport, Sport Special sedan and LX-S, EX, EX-L coupe) 3.5-liter V6 278 horsepower @ 6,200 rpm 252 lb-ft of torque @ 4,900 rpm EPA city/highway fuel economy: 18/28 mpg (manual, coupe), 21/33 mpg (automatic, sedan), 21/32 mpg (automatic, coupe) 2.0-liter inline-4 + AC Synchronous Permanent-Magnet Electric Motor (Accord Hybrid) 212 combined horsepower @ 6,200 rpm 232 lb-ft of torque @ 0-2,000 rpm EPA city/highway fuel economy: 49/47 mpg
The 2017 Honda Accord has a Manufacturer's Suggested Retail Price (MSRP) starting just over $ 23,000 for a base, manual-transmission sedan. Most buyers will opt for an automatic transmission, an extra $ 800. We think you'll be even more satisfied in a Sport or Sport Special Edition model, which sits in the mid-$ 20,000 range, also the point at which Accord Coupe models begin. A top-line Accord Touring model sits above $ 35,000 in both sedan and coupe form. Finally, the new Accord Hybrid starts just over $ 30,000 and tops out at nearly $ 37,000 in Touring form. At these prices, the Hondas are in step with longtime rival the Toyota Camry, as well as the Ford Fusion and Nissan Altima. Do check the Fair Purchase Price to see what others in your area are paying for their Accord, which is expected to hold its value well, just below the Toyota Camry and Subaru Legacy.
A new Honda Accord sedan was released for the American market in 2017 representing the 10th generation of the model. For 2016, the ninth-generation Honda Accord received a refresh, coming with both upgraded mechanics and visuals.
The circumstances under which Honda came to be are at least manga worthy. Torn by the second world war, the country was yet far from making a full recovery. Focusing all the resources that were left to rebuild what had been destroyed, Japan could hardly fill at once all the voids that had been created. The Japanese auto industry  was dazed, many factories having had to convert to cater for demands in military vehicles and aircraft.

The open spots that war had created had to be occupied fast and Honda was quick enough to settle on grounds that would later witness its growth as the 5th largest automobile manufacturer in the world. Soichiro Honda founded the company in 1948. The timing was perfect as many car or bike plants were destroyed during the war.

Focusing on developing a cheap indispensable vehicle, Honda strapped an engine to a bike, delivering  a very efficient means of locomotion. Cheap and versatile, it set the cornerstone in Honda's incredible expansion. Ten years later, Honda would reach American land and establish the American Honda Co. World domination would naturally follow, made easy through clever subsidiary locations and dealership settlements.

The bloodhound-nosed company leader, Soichiro could sense that Honda would be big and committed to setting a new standard in car-production quality. This combined with his almost Napolean market take-overs proved to be a powerful concoction that allowed Honda to developed unabated by competition.

The brand became synonymous with usefulness and innovative engineering. The company's motorcycle division registered a tremendous sales increase, pushing Honda on the motorcycle manufacturer's podium. During the 1970's, Honda became the world's largest motorbike maker.

Its production of cars however, that had started during the 60's  was slow at sparking as much attention as its 2-wheeled drives did. Although it had entered motor sport competitions, Honda cars failed to impress the average American driver. Having been designed for the Japanese market, the small-sized cars had little close to nothing to do against the large vehicles favored by the Americans.

In an effort driven by market-conquest desires, Honda launched the American-oriented civic, a larger model than any other previously released. Although still small compared to the US-made cars, the Civic became the first to attract the American buyer. The 70's energy crisis and subsequent emissions laws opened a second row of gates for Honda. Through their later Civic models such as the CVCC which was a  variation on the stratified engine, the Japanese car maker managed to meet emissions regulations without having to equip their cars with catalytic converters that besides reducing pollution also raised automobile price tags.

In mid 70's, Honda would release another American-friendly vehicle, the Accord that quickly became Mr. Popular due to its fuel economy and easy drive. By 1982, Honda had reached heights that no other Japanese car manufacturers had before: opening a plant on American soil. There first assembly line was built in Maysville, Ohio. Three other plants later followed as well as the construction of one in Lincoln, Alabama and another in Timmonsville, South Carolina. The latest Honda factory opened in 2006 in Tallapoosa, Georgia.

After building the brand in the States, Honda found it hard to compete in the luxury car segments against the veteran American producers and European imports so it introduced its on line of luxury vehicles in 1986. Known as Acura, the range comprises variations of successful Honda models such as the Legend or Integra. Honda was the first Japanese car maker to do so, follow by fellow Nissan and Toyota which have launched their own separate luxury lines, Infiniti and Lexus.

The quest for a better engine was completed in 1989 when Honda announced the introduction of the V-Tec. Capable of variable valve control, the V-TEC syncs valve open/close times to increase power at high revs and reduce fuel consumption at low ones. Presently, Honda is involved in smart engine research, safety improvements and pre-crash warning and avoidance systems.

As far as their involvement in motor sports goes, Honda has been constantly striving to hold its position with one foot on the podium and the other one caught in menacing holdbacks and loses against other Japanese producers like Yamaha, Suzuki and Kawasaki.

The company's latest car-engineering improvements are primarily fuel and safety oriented, the latter having become one of the major criteria in car buying choices especially in the United States. The company's involvement in developing new cleaner vehicles has finally paid off with the recent release of the FCX Clarity. Powered by hydrogen cells, the car does not emit any pollutants, the only by products being water and oxygen. When its not developing new fuel technology, Honda is busy with being the largest engine producer on Earth, with over 14 million engines manufactured per year.
2017 Honda Accord Consumer Reviews
giantenvoy, 10/14/2016
Sport Special Edition 4dr Sedan (2.4L 4cyl CVT)
Best Buy for 4 bangers!
Design is appealing and slick, turns heads. Interior looks/feels rich. Instrument well designed, with balanced brightness at night. Headlights sufficient brightness, taillights gorgeous at night. Leather Seats are comfortable and easy to adjust (power mode), seats warmer both side (driver/passenger). Stereo volume sufficient, controls on steering wheel makes it effortless to control/adjust/change channel. Leather wrapped steering wheel feels rich and smooth. Cabin is roomy front/back, trunk sufficient space. Ride is average "S" mode makes car glue on road, increase engine response which translates for faster acceleration. Small wind noise at center of driver side window at 65+ mph. Engine super quiet at idle and roars at high rpm. Transmission shifting super smooth, unnoticeable. Great gas mileage. Overall, car is best buy in my book.
debugkenzi, 09/24/2016
EX w/Honda Sensing 4dr Sedan (2.4L 4cyl CVT)
So far, so good
I've owned this vehicle for seven months now, and so far it seems to be a good investment. Driving is easy, and acceleration is very smooth: engine RPMs barely get above 3k when accelerating from a stop light, and the car gets up to speed easily with very little struggle (compared to my previous 2013 hybrid that red lined while accelerating to 45 mph). The interior is very quiet and comfortable with good visibility. Love the Honda sensing with the camera on the passenger side - very helpful when passing vehicles on the highway or making sure you're parking close enough to the curb. I wish I had a camera on the driver's side as well! Adaptive cruise control works great - the furthest distance setting provides a very comfortable 3-second following range which is a bit far in some driving situations. The closest distance setting is also comfortable, giving about a one-second following distance. Love the lane keeping system - when off, it gives you a visual warning when you are departing your lane; when on, it helps to gently guide you to the center of your lane - the car almost drives by itself! And the lane departure is a gentle reminder - some cars I test drove nagged at you when you started to leave your lane, and the loud notification beeps were quite distracting. It has pretty good smartphone integration - if I plug my Android phone into the USB port, I can use Google navigation that's on my phone (and it automatically shows up on the console screen) - that saved me a few hundred bucks since I didn't have to buy the trim with navigation (and Google maps is generally more user-friendly than most car navigation systems). I also have access to music on my phone and Amazon music. You can also use Pandora or other streaming services or use Honda's "A-Ha" music app. I can get phone calls through the car speakers, and the system will even read texts & give me the option to provide a voice reply. Android Auto will also read my emails to me once the vehicle is parked. Overall, very good technology and integration that I've only just begun to explore. Other notes: - Fold down rear seats are only operable from the trunk, and you can't access the trunk from the back seat. This provides the opportunity to securely lock the trunk so the valet driver can't get in without the key. You can also lock out the glove compartment so you need the physical key to get in. - Rear seat room is comfortable, even for a 6'3" adult. - This trim level has two center dashboard screens - the upper screen cycles between music info, trip info, or an uploaded photo & clock. You also have the option to combine music info and trip info on the same screen. The lower touch screen displays music, cell phone, Android Auto features (e.g. navigation) & trip info (trip mph and duration, including previous trips) - seems a bit redundant though to have some of the same info displayed on both the upper and lower screens. - Below the bottom touch screen are simple, easy to operate dual-zone climate controls that keep the passenger compartment very comfortable. - Car has a number of driving modes. The transmission itself has "Drive" and "S" (which I assume means "Sport," but it's not defined in the owner's manual as such). "S" gives a little more power for faster starts, probably at the expense of fuel economy at highway speeds. "S" is also used for models with paddle shifters, for towing, for increased engine braking, or in hilly terrain. Drive, I assume, gives you the advertised 185 hp and 181 ft-lbs torque. You also have an "Econ" button: Econ mode restricts both the climate system and engine power to maximize fuel economy. The A/C doesn't blow as hard, and it takes a bit longer to cool the vehicle on warm days. I suppose you could drive in Sport mode with Econ activated, but it seems like it would be counter productive. I generally leave the car in drive with Econ mode activated, and it seems to do fine, even on the hottest summer days. I've had no problem with acceleration or speed while in Econ mode, though I've noticed that with cruise control on, the vehicle slows a bit when going up hills, and it doesn't return to the ordered speed as aggressively. I suppose if you want something a little more responsive, either don't use Econ mode, drive with the transmission in "Sport," or buy the V-6 or sport model. With about 5000 miles on the car, I'm getting about the advertised 30 combined mpg (advertised at 27/36 mpg & 30 mpg combined). Most of my driving is on the highway, and I've seem mpg up to 42 mpg. Yesterday, I turned off Econ mode and still got 36 mpg highway. Overall, a very good mid-size sedan. While it doesn't have all the luxury features that are out there, it is very well equipped, and very well made. And if buying a domestic vehicle is on your agenda, my previous Ford was built in Mexico, but this Honda was built in Ohio. I probably put more groceries on tables in America with this car purchase than with my "domestic" Ford.
colagyr, 06/08/2017
Touring V-6 4dr Sedan (3.5L 6cyl 6A)
Close to Perfection
This is my second 9th gen Accord Touring, so I'm obviously a fan of Honda and this iteration of Accord. The 2017 9.5 gen is even more refined than my 2014, with a smoother operating engine that has more seamless VCM transitions between 3 and 6 cylinders, more supple ride quality due to the reactive amplitude dampers and revised rear bushings, vastly improved and updated infotainment system with Apple CarPlay, improved, more eye-catching styling, Honda Sensing safety features, and additional luxury features, such as rain-sensing wipers, full LED headlights with auto LED highbeams and heated rear seats. In Lunar Silver Metallic with deeply tinted windows, the car often attracts compliments. The acceleration is outstanding and the J-series V6 is a real gem: one of Ward's Best engines for 2014, it's smooth and rev-happy, with a mean, intoxicatingly joyous sound when worked hard into VTEC range (5100 rpm). It makes higher trim Accords feel like a completely different beast than those powered with i4s and CVTs. If there's any downside, it would have to be the POS Continental ProContact tires that Honda has chosen for models with 19" wheels. Too narrow in both width and sidewall, the tires explode at seemingly the tiniest impact, which is probably one of the reasons why such a reliable automaker now has a roadside assistance program. Having owned my 2017 for 6 months, I speak from experience as I have now had 3 blowouts since December 2016. At $ 362/tire, premature replacement of tires due to blowouts has to be the largest, if only downside to my ownership experience thus far.
metacarpalwham, 06/11/2017
Sport 4dr Sedan (2.4L 4cyl 6M)
Comfortable, agile, manual transmission sedan
The 2017 Accord doesn't have the most powerful engine at this trim level, but the slightly gruff, very responsive character of the non-turbocharged 4-cylinder has won me over. The engine loves to rev, feels alive and is your friend for a fast drive, as is the handling which is agile and sure footed as long as you feed the car some power through fast corners -- if you lift off or are timid with it, it can feel a bit twitchy and nervous. On balance I'd much sooner have this car with its absence of electronic add-ons than an option-laden front-heavy V6 that is great for freeway acceleration but doesn't have the balance of a four and is lumbered with an automatic transmission. Having come from European and U.S brands, it was refreshing to get into a new car and have simply nothing wrong with it. Best points: engine performance; handling; steering; reliability; the standard halogen headlights are very effective -- really as good as HIDs; value for money; passenger space; San Marino Red color. Worst points, minor stuff but: stereo sounds boxy and tinny with a treble bias that can't really be dialed out (lessons to be learned from GM's ability to get decent balanced sound from a modest system); Bluetooth radio streaming sometimes fails -- may be the iPhone at fault; I'm no doubt in the minority on this but I would prefer a fully manual climate control system -- this one does not seem good at holding a comfortable temperature and airflow volume in winter when set to full auto with a setting of, say, 72 degrees (but summer A/C performance seems strong). Overall, this car does pretty much everything I care about very well and I am glad I bought it. Update at 10K miles: The car is still performing flawlessly. The manual transmission is sweet and intuitive. I recently had the opportunity to drive an LX with CVT. It was a different car entirely, well made but a bit lacking in character and the handling did not have the edge that the Sport's has. I expect that C&D is right: the Sport with manual is the sweet spot in the range. I drive a lot of country roads in winter and headlight performance matters. I feel as comfortable with the Accord's halogens as I did with the HIDs in my old BWW 325i. There is plenty of light to the sides of the road and the high beams flood the road with light. That's thoughtful design and carefully, rigorously tested implementation that many others in the U.S. market do not seem to bother themselves with. Update at 15,000 miles: one issue so far. Rear defog had one bad element, associated with poor FM radio reception when switched on. Rear window replaced under warranty, issue fixed.
uprightlength, 10/19/2019
2015 Honda Accord
"Great car!"
I've driven my Accord all over the country. It's comfy, reliable, and has a decent amount of power. Cloth interior is nice, leather would've been better, but I wanted a regular EX because its' infotainment system was simpler than in the EX-L. Gonna drive this car for a long time. Love it!
egretpunctured, 10/19/2019
2015 Honda Accord
"Great car!"
I've driven my Accord all over the country. It's comfy, reliable, and has a decent amount of power. Cloth interior is nice, leather would've been better, but I wanted a regular EX because its' infotainment system was simpler than in the EX-L. Gonna drive this car for a long time. Love it!
swooshjackberry, 10/18/2019
2013 Honda Accord
"Reliable Vehicle, Great experience for passengers"
The car was overall a great experience. I got the car as my first car about a year ago but I'm in the look for something AWD and Newer. The Honda Accord Sport handles very well and had no major issues with the car during my time of owning it. The car has a great sound system and has custom tires that are brand new and just got replaced. The car was overall a great car with no catches or any serious reoccurring issues.