Without a doubt, the Audi RS 5 delivers driving dynamics to support its aggressive appearance. Press the start button and the turbocharged V6 comes to life with an emphatic roar. There is minimal throttle lag, meaning acceleration is nearly instantaneous and violently fast.Audi's 4-mode (Comfort, Auto, Dynamic, and Individual) Drive Select system allows the operator to tailor vehicle driving dynamics to the road, or the mood. Comfort is the most relaxed setting, and likely the best of the various modes. The ride is still firm, but handling is barely compromised -- the Audi coupe carves canyons like a champ without any sign of harshness. The story is much different in Dynamic mode, which makes the (optional) dynamic dampers violently firm -- unreasonably so (unless driving on a perfectly smooth surface, we suggest never using it). Suspension tuning aside, the steering is accurate, the brakes deliver confident stopping, and body roll is minimal. And power from the splendid turbocharged V6 feels unlimited -- the RS 5 delivers the impression that it would cruise at triple-digit speeds all day long.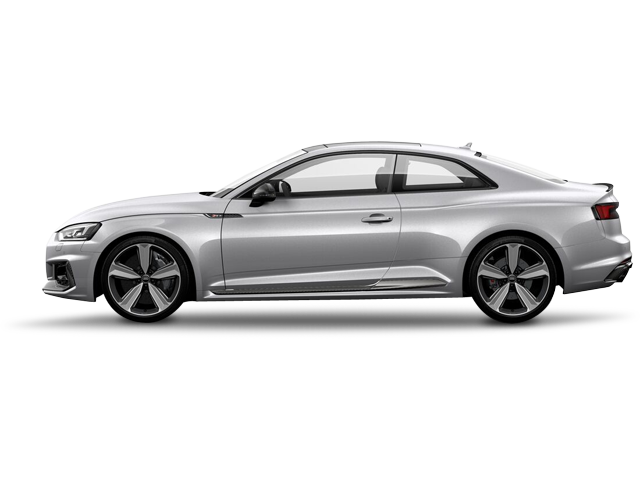 2.9-LITER BITURBO V6 ENGINEThis all-new powerplant, which also powers the Porsche Panamera 4S, is wickedly strong, notably efficient, and it delivers a thrilling sound track out the exhaust pipes.AUDI VIRTUAL COCKPITVirtual gauges, driving information, and real-time Google maps are displayed on a beautiful full-color 12.3-inch primary instrument panel, which is refreshed at 60 frames per second thanks to NVIDIA quad core processing power.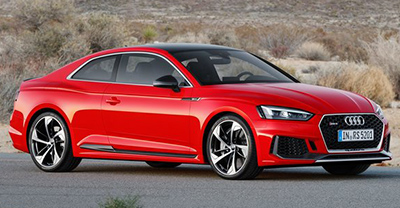 Few will find fault with the beautiful passenger cabin within the 2018 Audi RS 5. A hallmark wrap-around dashboard, near-impeccable ergonomics, and brilliantly illuminated high-resolution screens simplify vehicle operation. Materials fit and finish is first class, too, an accolade that Audi has earned over the past decade.Differentiating the RS 5 Coupe interior from its standard Audi A5 siblings are the contoured bucket seats, with RS embossing, a fat -- flat-bottom -- steering wheel with paddle shifters, and stainless-steel pedals. High quality leather and Alcantara upholstery is standard, but most shoppers will check off a few option boxes to customize their interior with premium leather and contrasting stitching.If there's a downside, it's the two rear seats that are cramped and uncomfortable -- consider the space additional room for luggage and small children, not adults.
While the Audi RS 5 is a high-performance derivative of the standard S5, there is no mistaking its high-performance mission. With heavy design influence from Audi's racing 90 quattro IMSA GTO, the RS 5 Coupe features wider and flatter Singleframe signature grille, wider front and rear quarter panels (note the gray extension on the outboard side of the headlights -- that accommodates the flare), a lowered ride height, and wider wheels. There is a discreet rear spoiler on the back decklid, and the rear valance has been re-sculpted to accommodate signature oval "RS" exhaust pipes.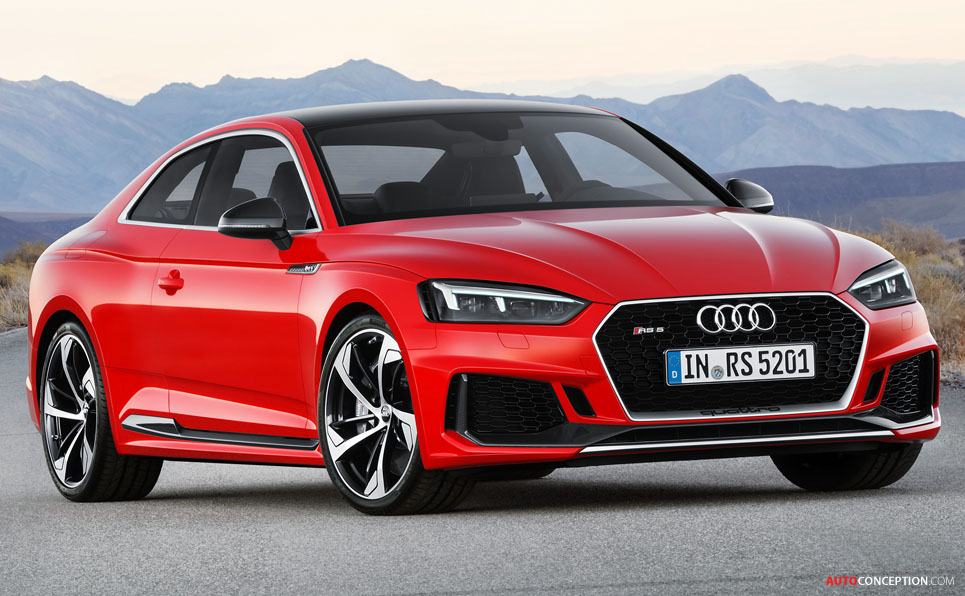 Unlike standard A5 models, which are offered in several trim levels, the 2018 Audi RS 5 is all-encompassing -- there is just one premium trim, which is very well configured. The extensive list of standard equipment includes perforated leather upholstery with diamond stitching, smartphone integration, RS sport suspension, 19-inch wheels with performance tires, 3-zone automatic climate control, panoramic sunroof, and Audi pre sense basic, which is a suite of safety-related driver-assistance systems.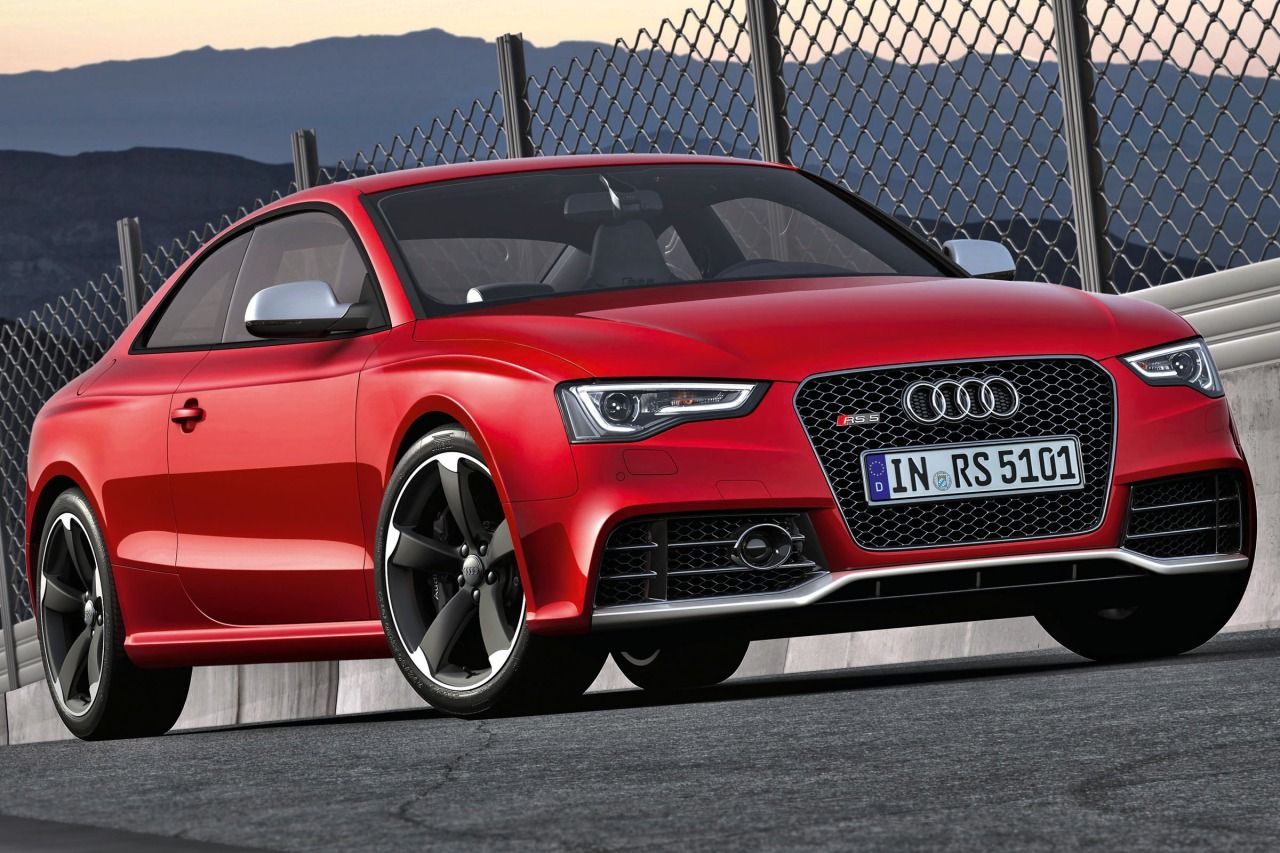 Like many premium automakers, Audi offers RS 5 buyers a rainbow of choices in terms of an exterior color -- far beyond the standard palette -- with its Audi Exclusive program. Vivid exterior colors may be matched with carbon-fiber cabin inlays, and optional wheels. Enthusiasts will want the Dynamic Package, with red-painted brake calipers, upgraded suspension, and sport exhaust, while those seeking the ultimate in cabin appointments will want the Fine Nappa leather package with contrasting stitching, LED interior lighting, and leather on the center console and armrests.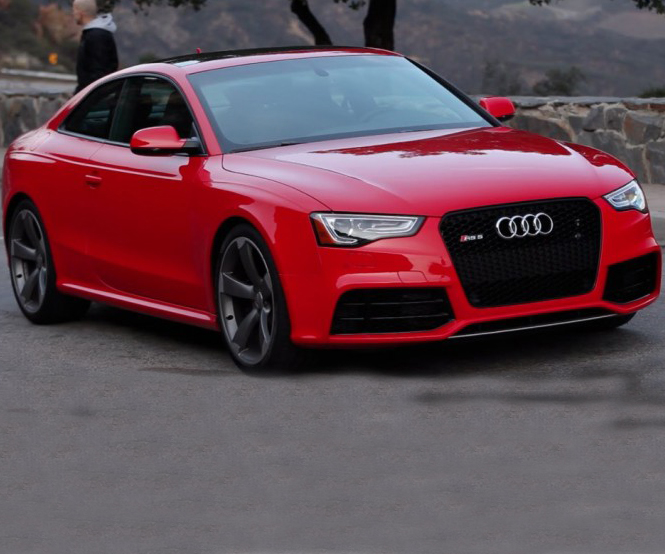 Nobody with a pulse will miss the outgoing V8 powerplant, and the new biturbo V6 is bullish regardless of where it's spinning on the tachometer. Tons of torque down low, combined with Audi's impressive Quattro all-wheel drive, an 8-speed automatic transmission, and launch control, delivers dizzying acceleration off the line. Mash the throttle on the highway and the RS 5 passes slower traffic in a mere blink -- yes, it's honestly that quick.2.9-liter twin-turbocharged V6 (RS 5)444 horsepower @ 5,700-6,700 rpm443 lb-ft of torque @ 1,900-5,000 rpmEPA city/highway fuel economy: 18/26 mpg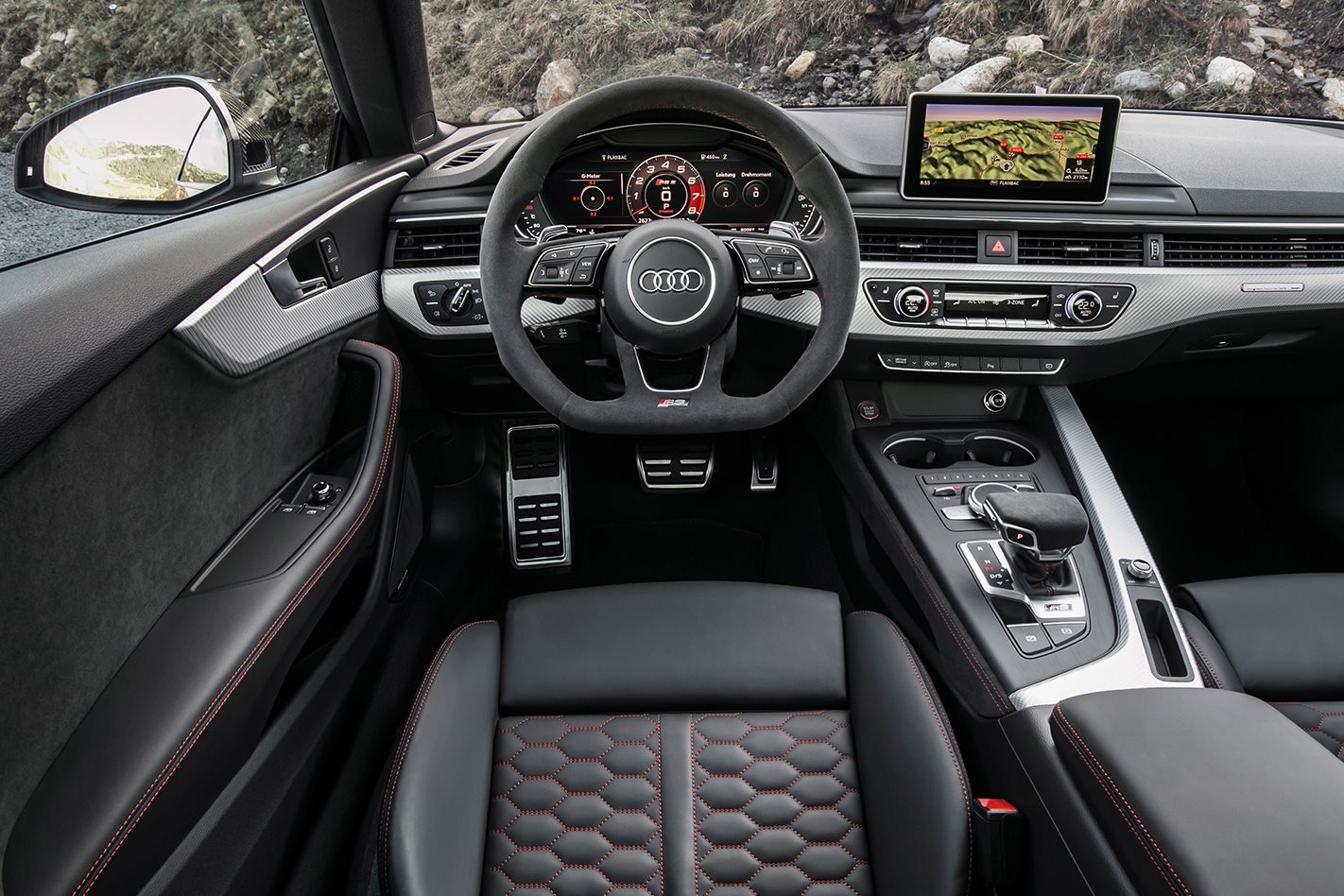 Base price of the 2018 Audi RS 5 is $ 70,875 (which includes a $ 975 destination fee). As expected, the price aligns well with the $ 69,695 (includes a $ 995 destination fee) base price of the BMW M4, and the $ 68,495 (includes a $ 995 destination fee) base price of the Mercedes-AMG C 63 Coupe. Nearly all buyers in this premium segment will add about $ 10,000 (or more) in options, raising the average purchase price to about $ 80,000. Keep in mind that most shoppers aren't seeking the least expensive in this segment -- this is an emotional purchase, based on visual impact, perceived cachet, luxury, and even the sound of the exhaust note.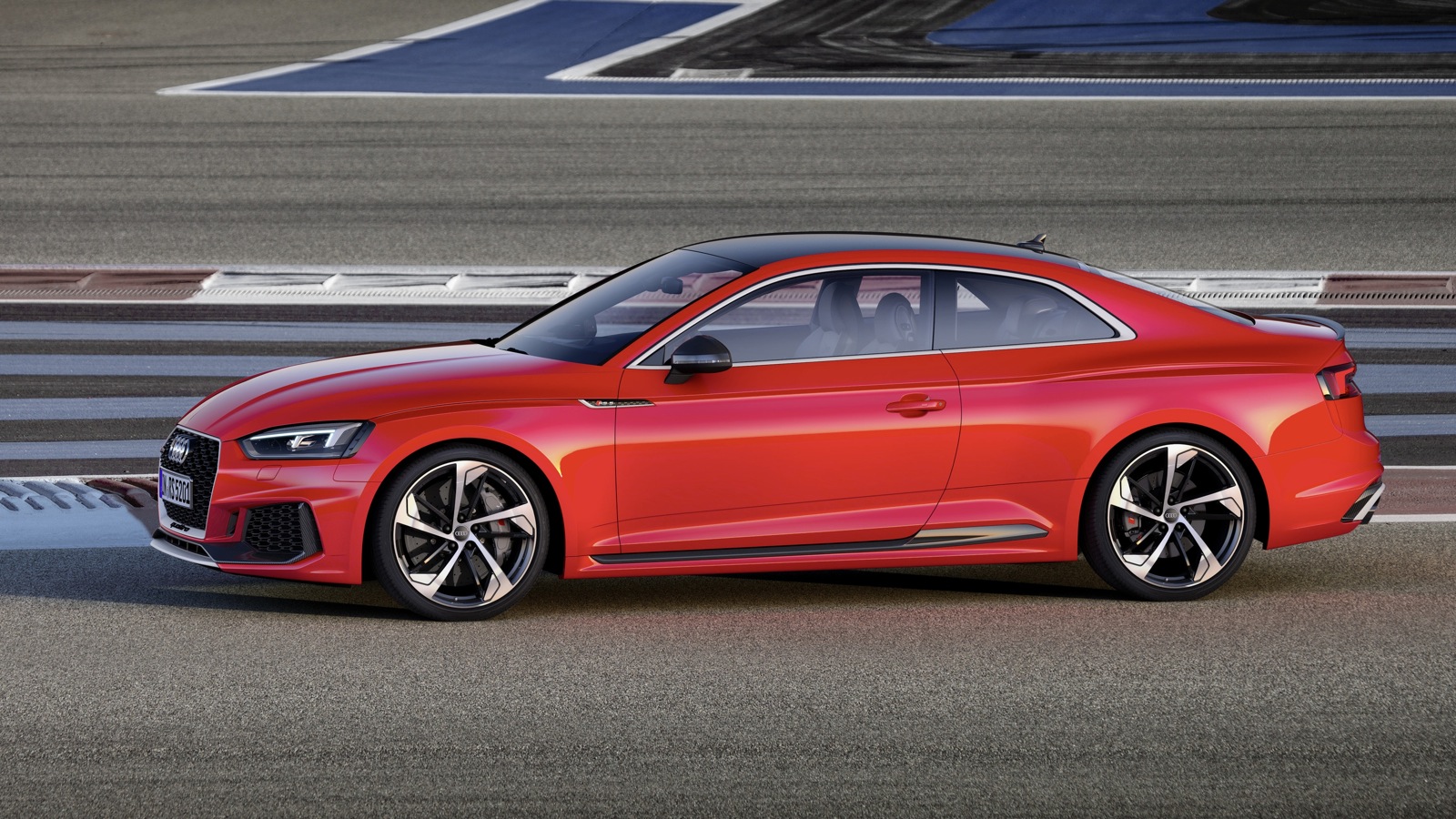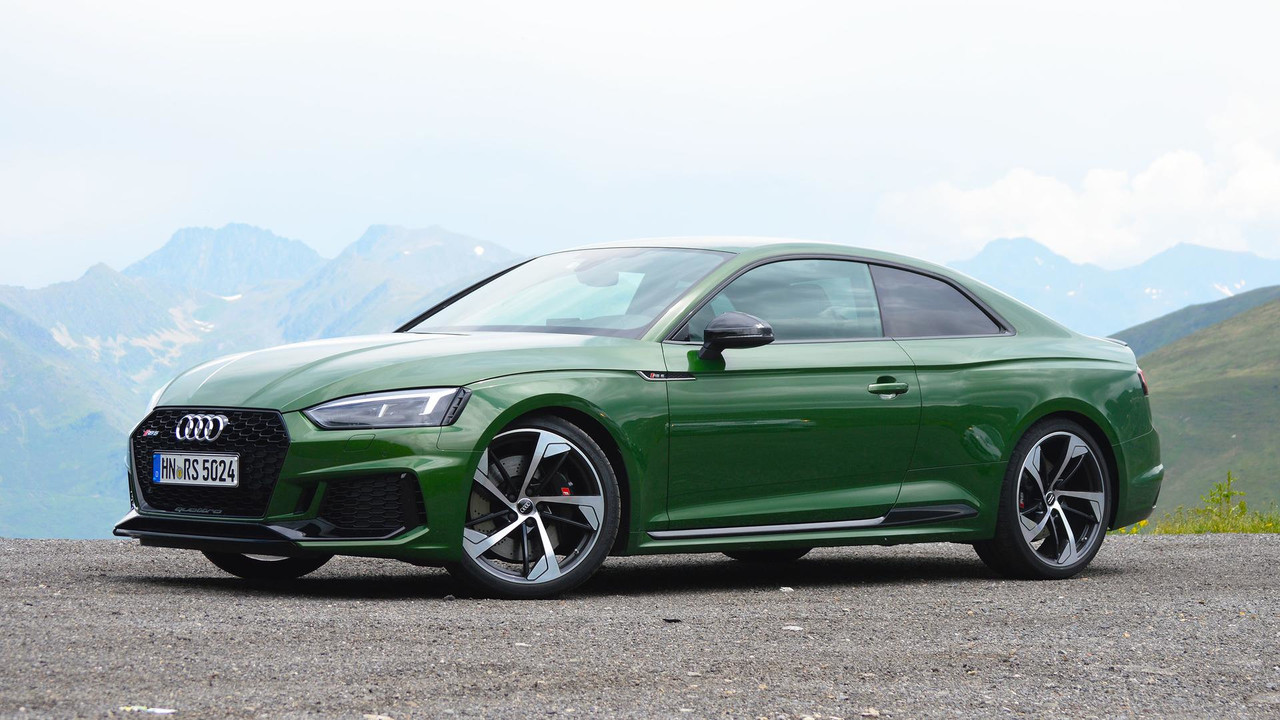 Shower gels and generally beauty-product brands have a way of appealing to customers by thrusting desire through sensorial-related names and presentation of their offers. Olfactory sense-stroking balms and soothing cashmere-touch night cream-approaches are basically the most commonly used methods of conveying beauty and easy customer-access to deeply-rooted sensorial pampering, unless beauty is forged out of steel and thousands of accurately engineered parts.

Automobiles undoubtedly fall into the latter category, and what better way of striking at least one of the remaining three senses if not building an image of a mighty engine roar or purr of a loyal cylinder sextet cradled under the bonnet of an Audi car? Audi translates as 'listen' from latin and besides expressing an unanimously accepted passion of the motorist, that of listening to the engine as if it were a never before heard dissertation on mechanics blended with boisterous 'deux ex machina' comments and demonstrations, it also marks the birth of Audi following Horch's demise, the previous name of the company that can be traced back to 1899.

Its founder, August Horch was forced out of his own company in 1909 due to trademark infringements, 8 years after the first automobile had rolled out the gates of the plant in Zwickau, Germany. After having been dispensed of, Horch started his own company under the same name which led to a fair share of trouble that came to an end as soon as Horch called for a meeting at the apartment of Franz Fikentscher to discuss the matter and come up with a new name for the company. Franz's son who was studying latin at the time was the true deliverer of the name that would later became synonymous with luxury and quality. As 'Horch' means listen in Old German, the boy simply made a switched the name with its latin corespondent, 'audi', sparking enthusiasm into the 'audience' that quickly adopted the name.

Audi's start o the German market was high lighted by the appearance of 2.6 liter engine powered vehicles followed by a series of more powerful ones, such as 4.7 L and the gas-gulping 5.7 L. Having gotten to see his company grow wings, Horch left in in 1920, four years before Audi's first 6 cylinder model was built. In 19128, Audi was acquired By Jorgen Rasmussen, owner of rival company DKW.

A few years later, a merger between Audi, DKW, Horch and Wanderer occurred and thus, the Auto Union was formed in 1932. Those times called for a new badge and the four interlocked rings were born as a sign of unity and identity of the newly formed auto-conglomerate. Technological improvement became a top priority that first took shape during the Second World War when an armored car was produced for the German Army.

However, all the progress would soon be severely slowed down and even halted at times due to heavy bombings. Moreover, as as soon as the conflict had come to an end, Zwickau had been caught in the soviet occupation zone that would become The German Democratic Republic in 1949. Not only that the company's activity was in jeopardy but the Auto Union had also broken up and the Union had to be restarted n new grounds, in Ingolstadt, Bavaria.

Though sluggish at first, the newly Ingolstadt based factory would attract many of the former workers and the construction of two-stroke engines would be resumed in a way similar to that of Zwickau. By 1958, Daimler-Benz had already acquired a whopping 87% of the Auto Union but its investment quickly became property of Volkswagen, the company having bought the factory and  and the brands in 1964.

Soon after the change of ownership, two-stroke engines would be eliminated in favor of the more popular and more customer appealing four-stroke ones. DKW, the leading brand of the Union at the time failed as a brand despite of the changes  it had made and Volkswagen decided to resurrect Audi. The former DKW built model was rebranded as an Audi one and was the springboard for the make of later models such as the 60, 75 and 80.

After a second merger with the Stuttgart based car-producer NSU by 1970, Audi established itself as a reliable growing brand that would later break the German boundaries and expand to new markets, including the North American one where it encountered difficulties following the release of a biased report that portrayed the car as suffering form 'unintended acceleration'. This was caused by the close placement of the brake and acceleration pedals, right next to each other. Shortly after the report was released , an abrupt decline in sales was registered that was countered only years later with the 1996 release of the A4 model.

Joining a row of successful car-producers, Audi has also garnered acclaim on the racing track with several World Record holdings, including one for Top Speed Endurance. Audi is currently enjoying a privileged position and large market share and is predicted to reach the production threshold of 1 million units by the end of this year.