Audi says it committed to making a pure sports car for this 3rd-generation TT, even going so far as to call it a "baby brother" to the vaunted Audi R8 exotic. That, to be honest, is a stretch, but there's no doubt that the 2018 Audi TT and 2018 TTS have the performance and handling chops to take on its rivals from Porsche and BMW. The way the Audi quattro all-wheel-drive system sends the 220 horsepower from the 2.0-liter 4-cylinder engine to the ground is like adding gravity, keeping the car pinned in hairpin turns and high-speed sweepers. There's no lack of power; the TT coupe gets to 60 mph in about 5.3 seconds, and the TTS gets there in s 4.6. Yet, despite all this sports-car talk, the TT and TTS remain surprisingly livable in quiet and relaxed driving. The new, super performance TT RS, however, does bring Audi's coupe closer in spirit to the R8. Its unique turbocharged 5-cylinder is like nothing else out there, in both performance and even the sounds it makes. In a word, it's intoxicating. This is a serious performance machine, obliterating the 60 mph barrier in just 3.6 seconds on its way up to 174 mph if you opt for the Dynamics plus power. As is the story with the TT in general, the RS' straight-line performance merely complements its talent in the cornering department.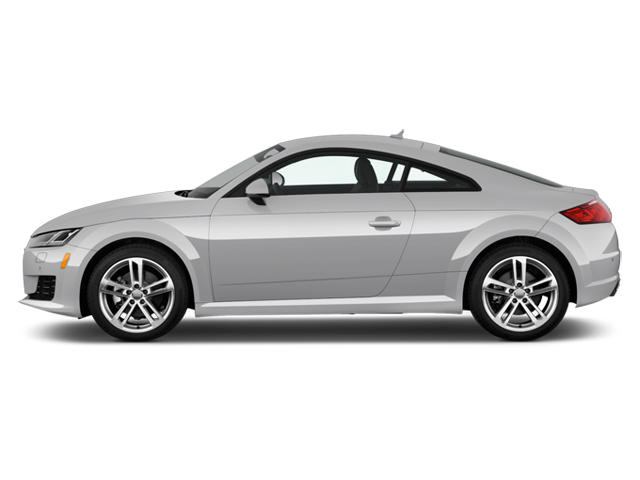 VIRTUAL COCKPITThis is a must-have feature on a new Audi. It replaces the physical gauges with a 12.3-inch digital display running at 60 frames per second, powered by an NVIDIA quad-core computer processor. The upshot is that you get a flicker-free experience, with multiple levels of information available right in front of you.QUATTROAudi didn't invent all-wheel drive, but its quattro system is so intrinsic to the brand's DNA that you could be forgiven for thinking it had. Proven on rally cars around the world, the system not only improves grip on slick roads, but on dry roads as well.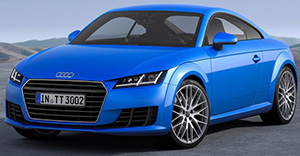 The air vents in the 2018 Audi TT cabin don't just aim the air. The elegant design incorporates the controls as well, showing the climate readout in the vent dial, and using the housing to control adjust temperature, seat heat and more. That kind of simplicity and elegance permeates the TT's cabin, whether it's the vents, the Virtual Cockpit, or the excellent ergonomics and comfortable front seats. It's an excellent experience for the driver and front passenger, but the coupe's rear seats aren't really fit for people. Better to fold and forget them. We wish the TT's sun visors offered more adjustments.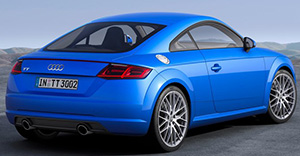 The 1st-generation TT boasted an "upside-down bathtub" shape, most of which is gone on the newest version, with the rounded wheel arches and central exhaust the only vestiges of that iconic styling. However, the TT coupe and convertible are still distinctive cars. The hatch on the coupe models blends neatly into the tail, while the roadster's fabric roof opens and closes in 10 seconds, at speeds up to 31 mph. The squat and muscular shape of its immediate predecessor remains, but with taut lines, a trapezoidal grille, and full LED headlights adding distinctive touches. TTS models can be distinguished by their quad tailpipe outlets, while the new TT RS replaces those with a pair of large oval finishers. The TT RS also distinguishes itself with a fixed rear wing spoiler and available OLED (organic light-emitting diode) rear taillights, a first for a production-series car.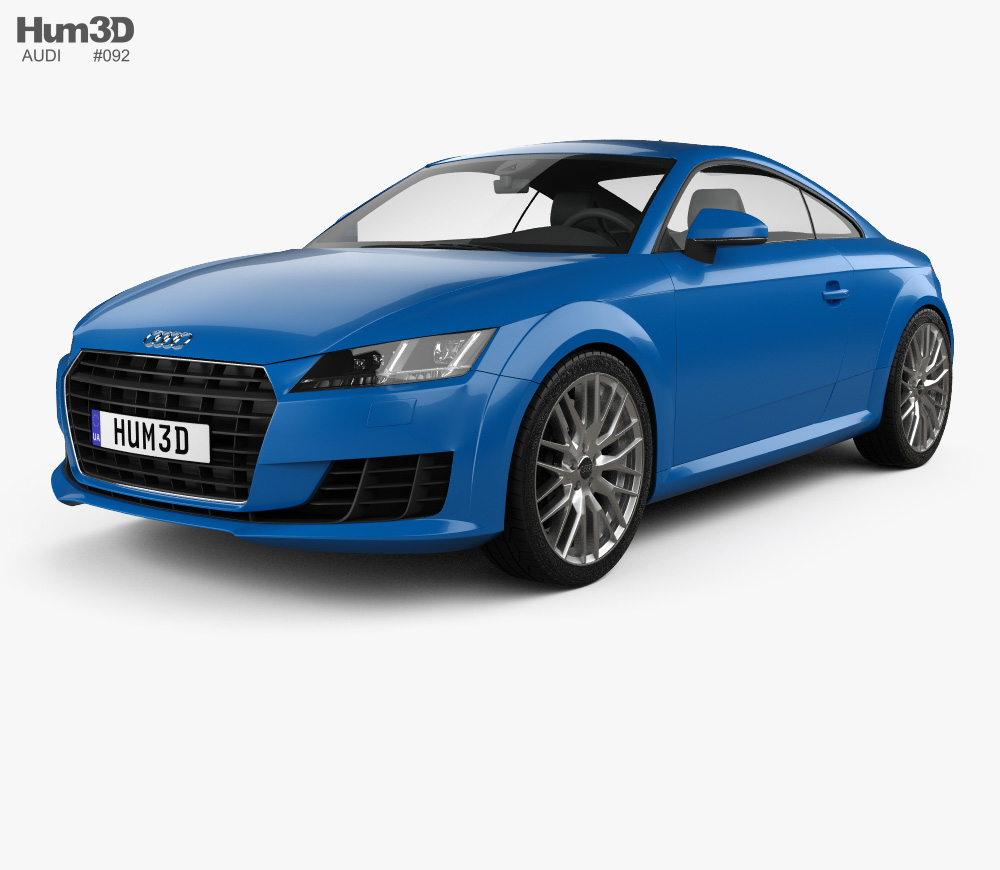 Newly standard on the 2018 TT and TTS are parking sensors, which combine with the standard rearview camera to make backing up a snap. Also standard are power-folding and automatically dimming heated exterior mirrors, the Virtual Cockpit, MMI touch-based infotainment system, and a 9-speaker/155-watt AM/FM/CD/HD Radio with two USB inputs and Bluetooth connectivity. There's automatic climate control and full LED headlights. Leather upholstery comes standard, as do the 12-way power-adjustable heated front seats. Roadsters come with an electric wind blocker along with its power-operated top, while the higher-performing 2018 Audi TTS comes with adjustable suspension, larger wheels and tires, and TTS-specific styling. In addition to its high-performance engine and other hardware, the Audi TT RS features magnetic ride control, Nappa leather seats, 19-inch wheels, and RS-specific interior and exterior aesthetics.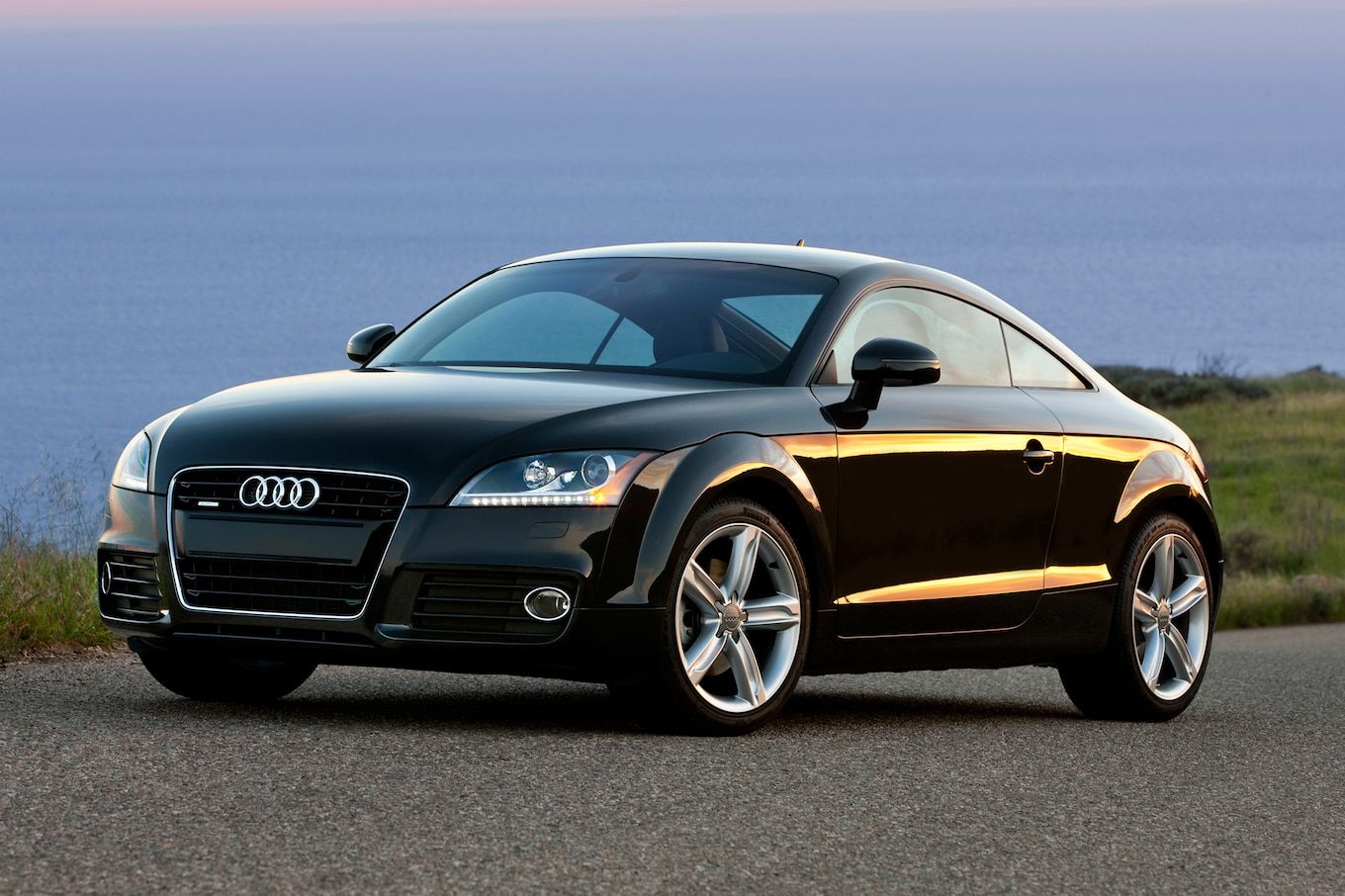 Along with Apple CarPlay and Android Auto, a 12-speaker 680-watt Bang & Olufsen audio system is available for the 2018 Audi TT and TTS. It's all part of the Technology package, which also adds navigation, Audi Connect 4G LTE service with Wi-Fi, and a side-assist blind-spot monitoring system. An S-line competition package adds glossy interior accents, aluminum doorsills and inlays, red brake calipers, suspension upgrades, and unique seats and leather. The TTS Coupe offers Nappa leather-trimmed seats with contrast diamond stitching and three color options, including an eye-catching Calendula Yellow. One way to get even more performance out of the new 2018 Audi TT RS is to opt for the front carbon-ceramic brakes, which are 8 pounds lighter than the standard rotors and better at resisting fade in track use.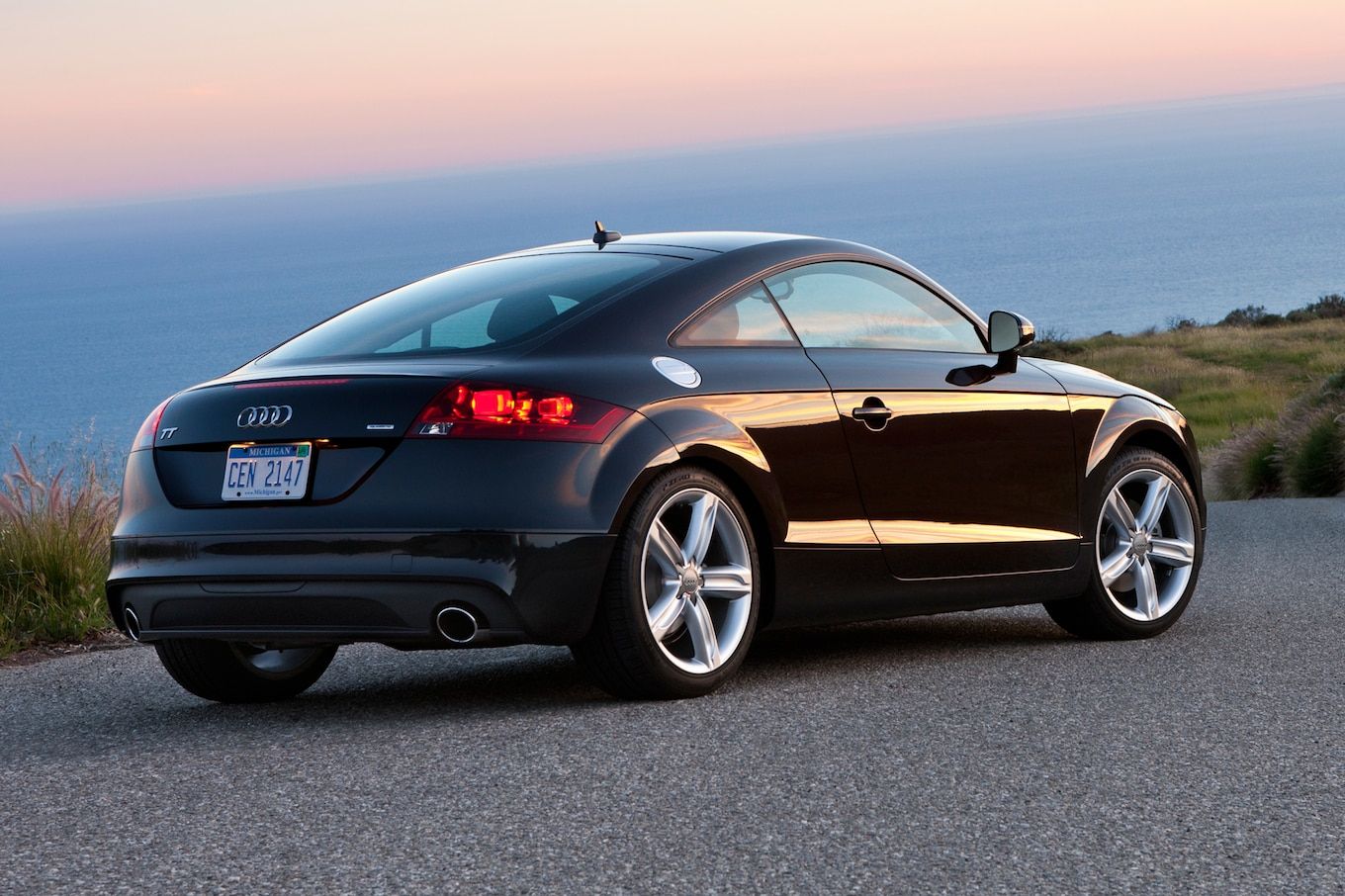 The 2018 Audi TT and TTS come with different versions of the same 2.0-liter turbocharged 4-cylinder engine. In the TT it puts out 220 horsepower and 258 lb-ft of torque, rushing the TT Coupe from a standstill to 60 mph in only 5.3 seconds, with plenty in reserve. The Audi TTS uses a high-output version of that engine that puts out 292 horsepower and 280 lb-ft of torque, enough to blast the TTS from 0-60 in just 4.6 seconds. The new TT RS coupe is even more extreme. It produces an even 400 horsepower from Audi's unique 5-cylinder engine, and can do 0-60 mph in just 3.6 seconds. Regardless of model, the TT comes standard with quattro all-wheel drive and Audi drive select for different drive modes ranging from relaxed to sporty. The Audi TT and TTS use an excellent 6-speed dual-clutch automatic transmission, while the TT RS has a 7-speed dual-clutch. Fuel economy is also decent, with the TT getting an EPA-estimated 30 mpg.2.0-liter turbocharged inline-4 (TT coupe & roadster)220 horsepower @ 4,500 rpm258 lb-ft of torque @ 1,600 rpmEPA city/highway fuel economy: 23/30 mpg2.0-liter turbocharged inline-4 (TTS coupe)292 horsepower @ 4,500 rpm280 lb-ft of torque @ 1,600 rpmEPA city/highway fuel economy: 23/27 mpg2.5-liter turbocharged inline-5 (TT RS coupe)400 horsepower @ 5,850-7,000 rpm354 lb-ft of torque @ 1,700-5,850 rpmEPA city/highway fuel economy: 19/29 mpg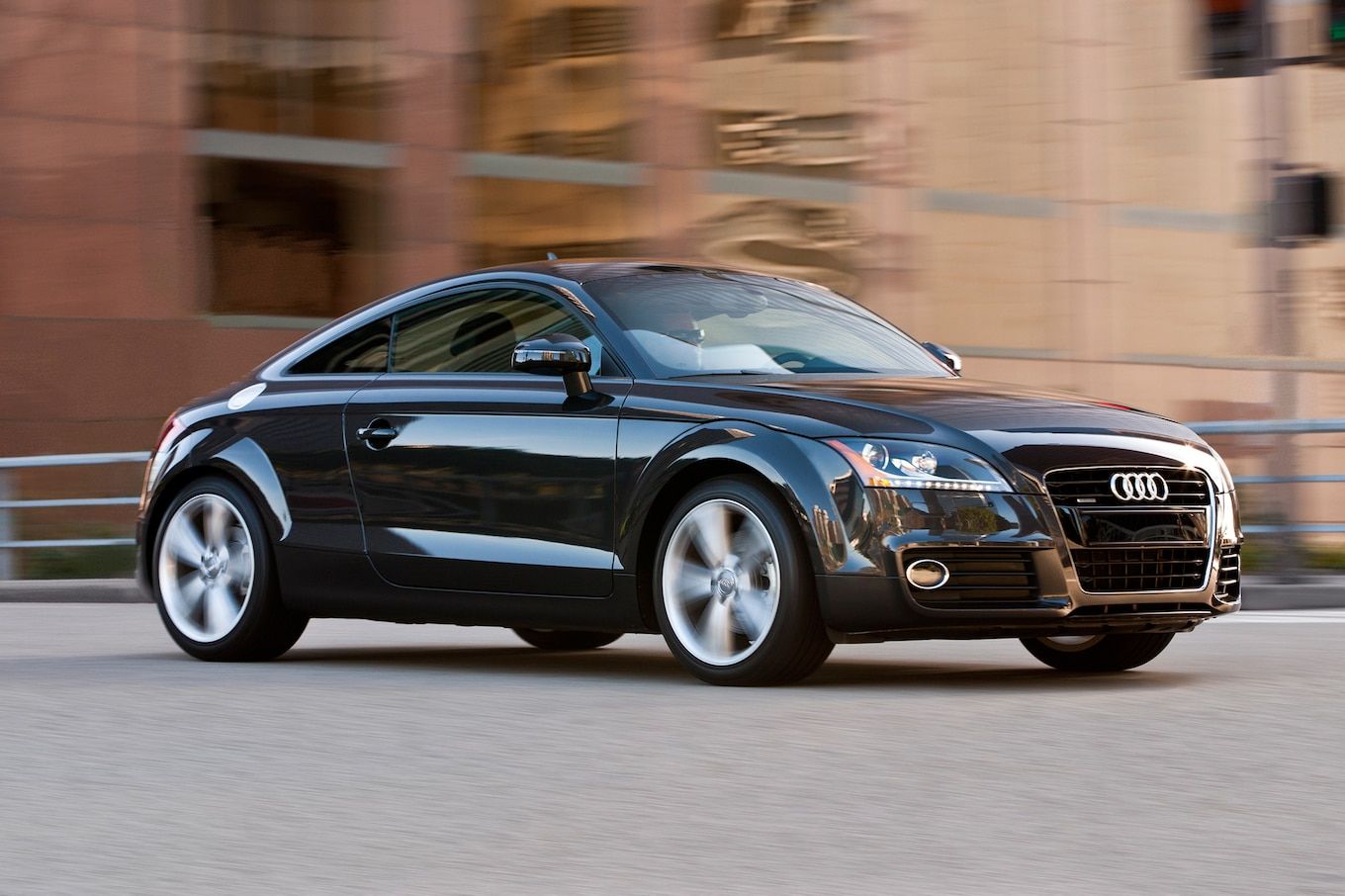 With a Manufacturer's Suggested Retail Price (MSRP) of just under $ 45,000 when you include the $ 975 destination charge, we're tempted to call the standard 2018 Audi TT coupe a bargain. Even the drop-top Roadster isn't bad, coming in at about the $ 48,500 mark. The high-performance TTS coupe starts at a little under $ 54,000, which is still a decent price for a high-performance luxury-sports coupe. The new, high-performance TT RS is also the priciest of the bunch, starting just under $ 66,000. With options a standard TT coupe will come in at about $ 50,000, give or take, easily undercutting the likes of the Porsche Cayman and Boxster, and the BMW Z4. Those prices are more in line with the Lexus RC 350, Infiniti Q60, BMW 4 Series, and Mercedes-Benz SLK roadster. Before buying, check the Fair Purchase Price to see what others in your area are paying. The Audi TT's resale value has traditionally held up very well over the years.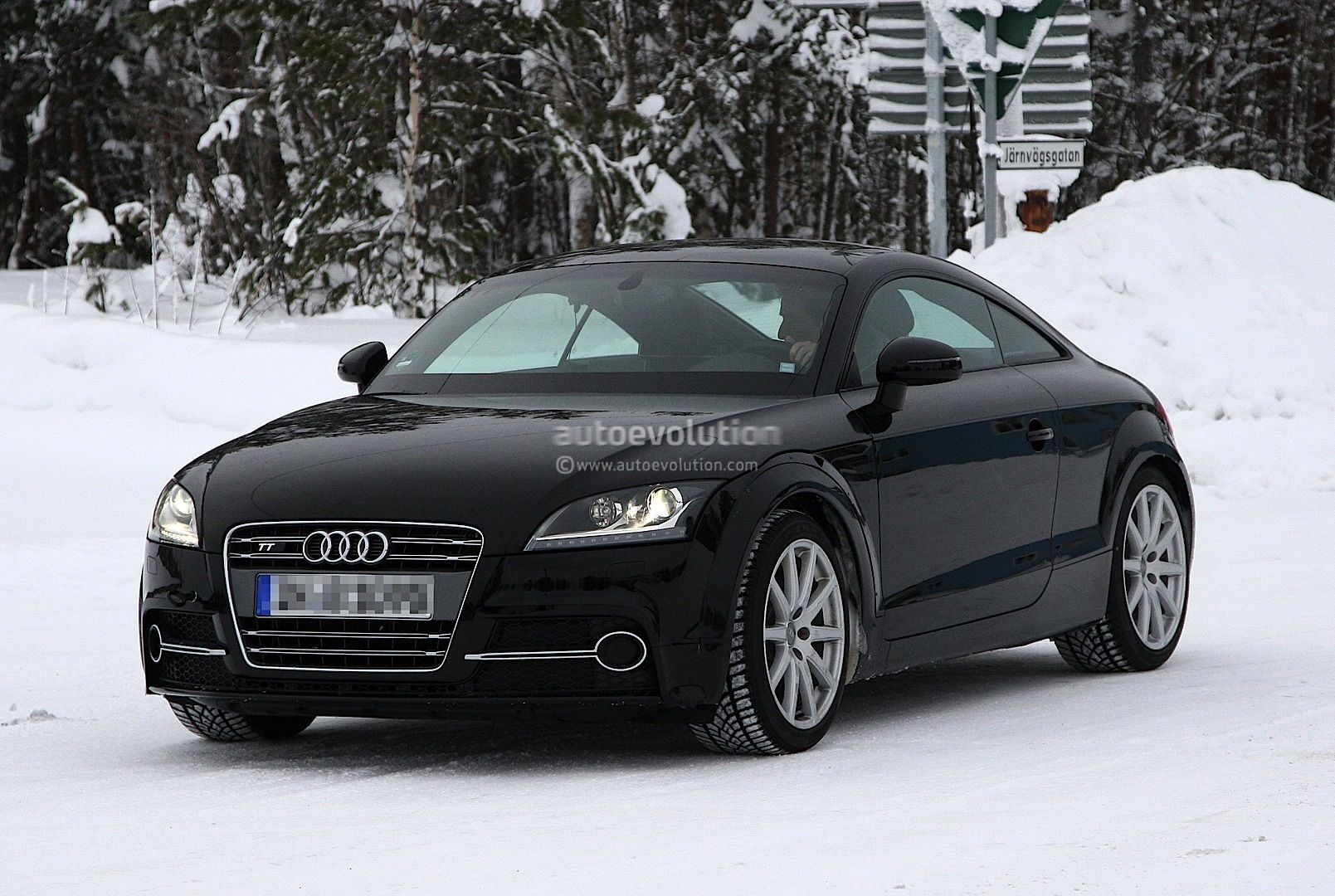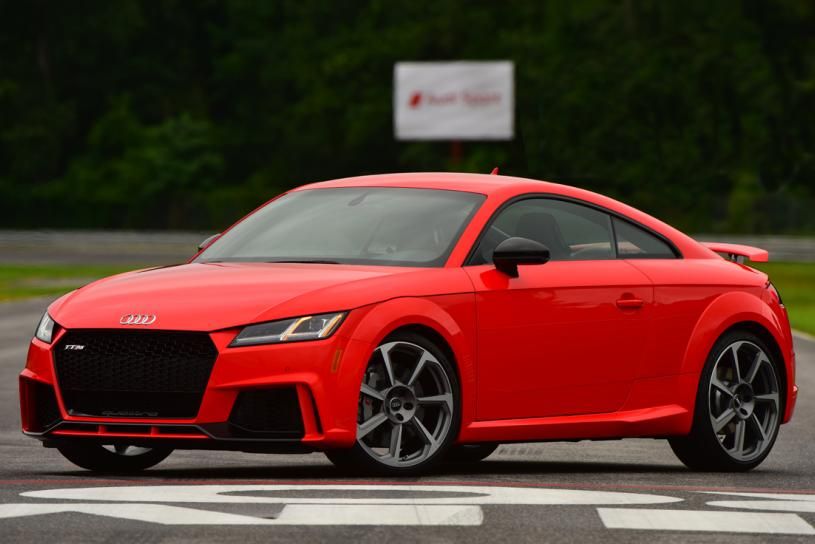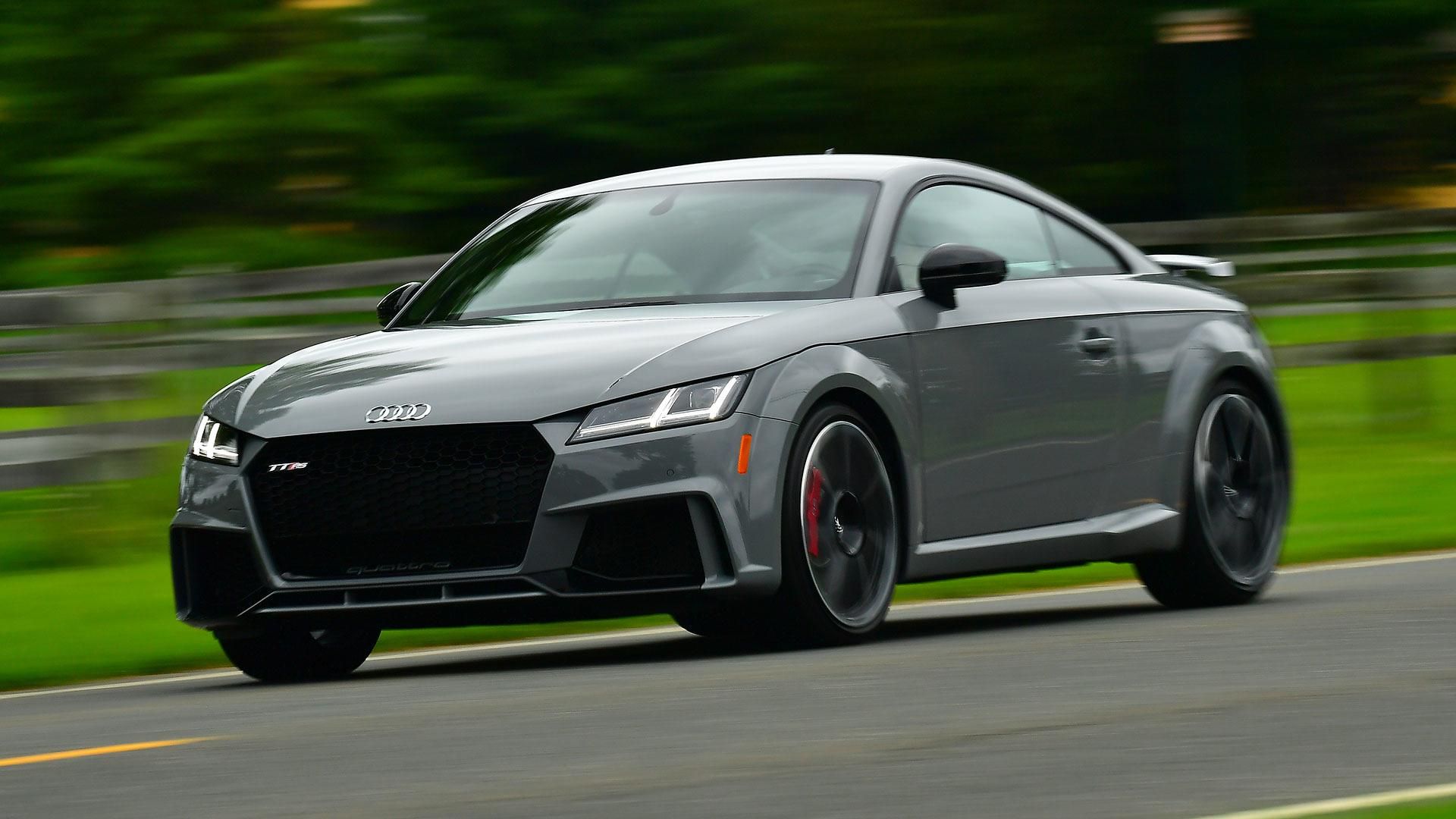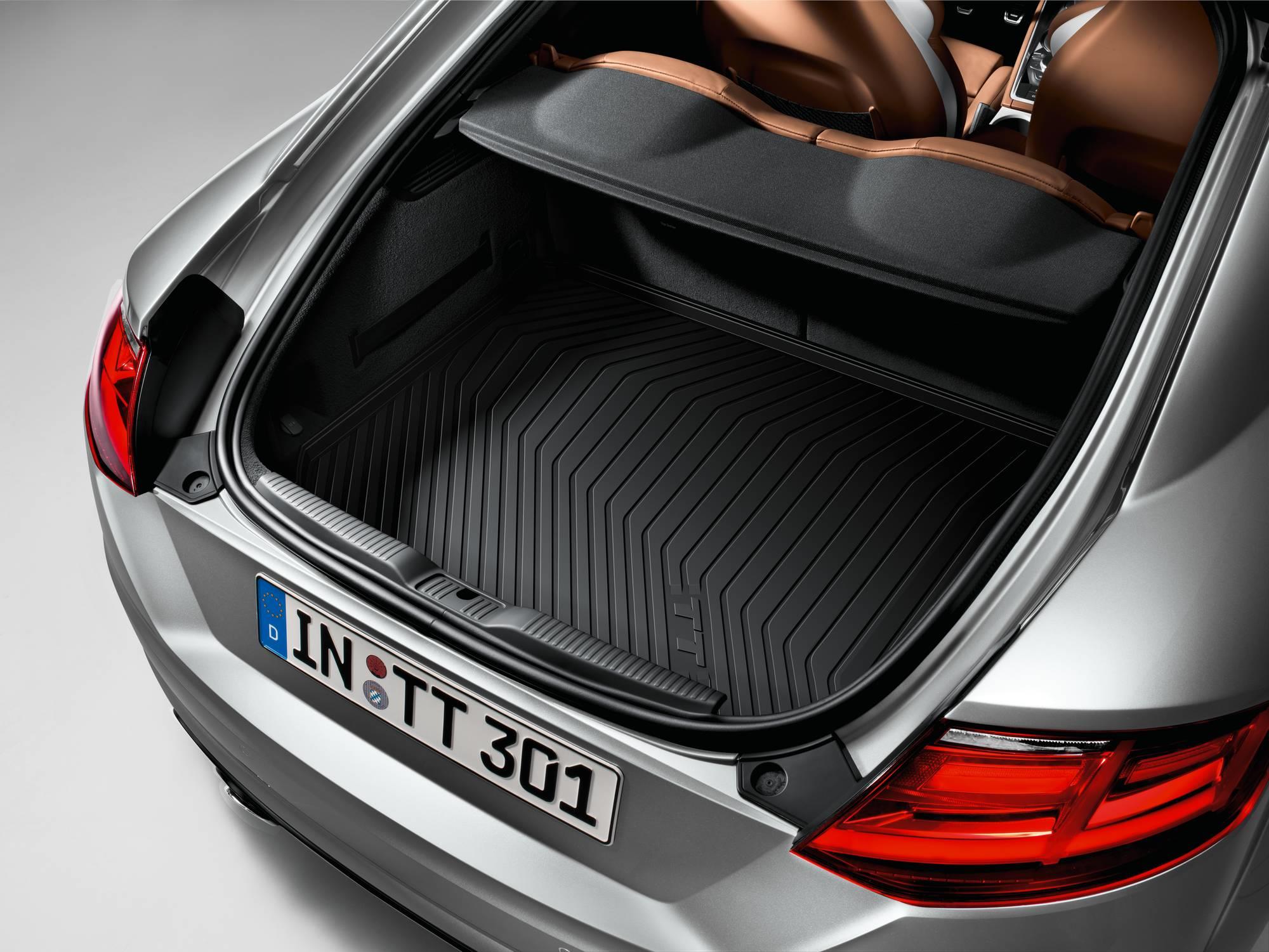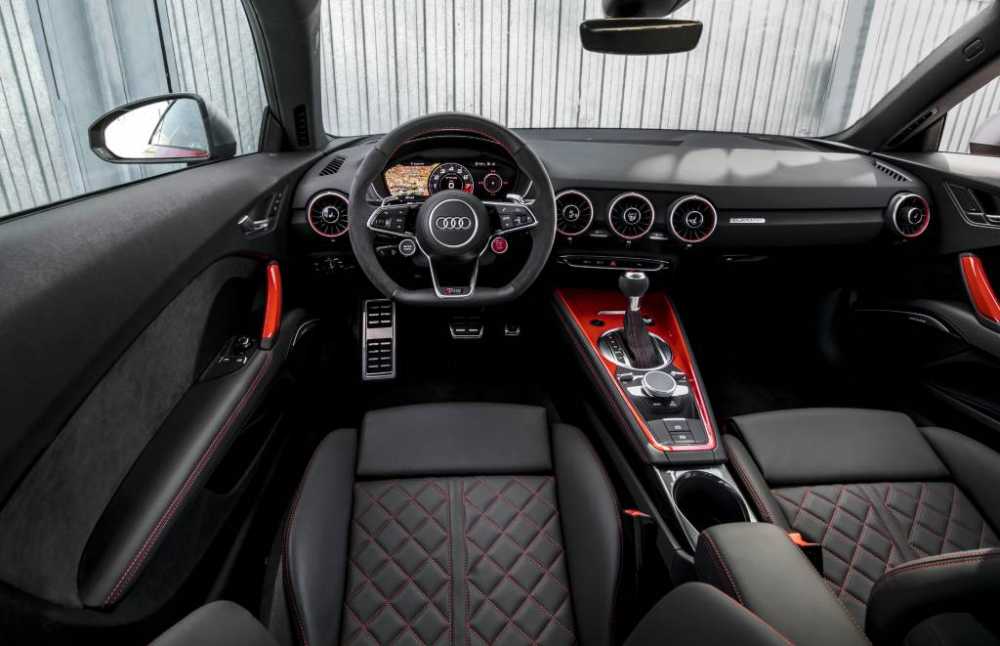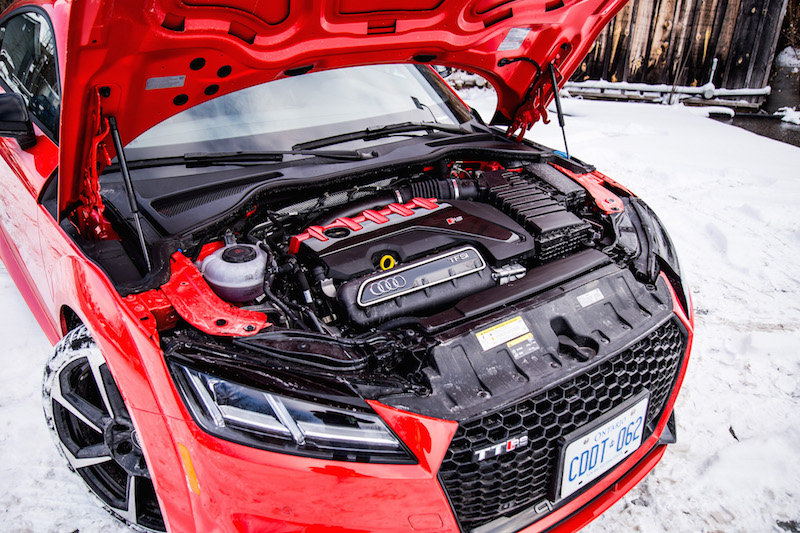 Shower gels and generally beauty-product brands have a way of appealing to customers by thrusting desire through sensorial-related names and presentation of their offers. Olfactory sense-stroking balms and soothing cashmere-touch night cream-approaches are basically the most commonly used methods of conveying beauty and easy customer-access to deeply-rooted sensorial pampering, unless beauty is forged out of steel and thousands of accurately engineered parts.

Automobiles undoubtedly fall into the latter category, and what better way of striking at least one of the remaining three senses if not building an image of a mighty engine roar or purr of a loyal cylinder sextet cradled under the bonnet of an Audi car? Audi translates as 'listen' from latin and besides expressing an unanimously accepted passion of the motorist, that of listening to the engine as if it were a never before heard dissertation on mechanics blended with boisterous 'deux ex machina' comments and demonstrations, it also marks the birth of Audi following Horch's demise, the previous name of the company that can be traced back to 1899.

Its founder, August Horch was forced out of his own company in 1909 due to trademark infringements, 8 years after the first automobile had rolled out the gates of the plant in Zwickau, Germany. After having been dispensed of, Horch started his own company under the same name which led to a fair share of trouble that came to an end as soon as Horch called for a meeting at the apartment of Franz Fikentscher to discuss the matter and come up with a new name for the company. Franz's son who was studying latin at the time was the true deliverer of the name that would later became synonymous with luxury and quality. As 'Horch' means listen in Old German, the boy simply made a switched the name with its latin corespondent, 'audi', sparking enthusiasm into the 'audience' that quickly adopted the name.

Audi's start o the German market was high lighted by the appearance of 2.6 liter engine powered vehicles followed by a series of more powerful ones, such as 4.7 L and the gas-gulping 5.7 L. Having gotten to see his company grow wings, Horch left in in 1920, four years before Audi's first 6 cylinder model was built. In 19128, Audi was acquired By Jorgen Rasmussen, owner of rival company DKW.

A few years later, a merger between Audi, DKW, Horch and Wanderer occurred and thus, the Auto Union was formed in 1932. Those times called for a new badge and the four interlocked rings were born as a sign of unity and identity of the newly formed auto-conglomerate. Technological improvement became a top priority that first took shape during the Second World War when an armored car was produced for the German Army.

However, all the progress would soon be severely slowed down and even halted at times due to heavy bombings. Moreover, as as soon as the conflict had come to an end, Zwickau had been caught in the soviet occupation zone that would become The German Democratic Republic in 1949. Not only that the company's activity was in jeopardy but the Auto Union had also broken up and the Union had to be restarted n new grounds, in Ingolstadt, Bavaria.

Though sluggish at first, the newly Ingolstadt based factory would attract many of the former workers and the construction of two-stroke engines would be resumed in a way similar to that of Zwickau. By 1958, Daimler-Benz had already acquired a whopping 87% of the Auto Union but its investment quickly became property of Volkswagen, the company having bought the factory and  and the brands in 1964.

Soon after the change of ownership, two-stroke engines would be eliminated in favor of the more popular and more customer appealing four-stroke ones. DKW, the leading brand of the Union at the time failed as a brand despite of the changes  it had made and Volkswagen decided to resurrect Audi. The former DKW built model was rebranded as an Audi one and was the springboard for the make of later models such as the 60, 75 and 80.

After a second merger with the Stuttgart based car-producer NSU by 1970, Audi established itself as a reliable growing brand that would later break the German boundaries and expand to new markets, including the North American one where it encountered difficulties following the release of a biased report that portrayed the car as suffering form 'unintended acceleration'. This was caused by the close placement of the brake and acceleration pedals, right next to each other. Shortly after the report was released , an abrupt decline in sales was registered that was countered only years later with the 1996 release of the A4 model.

Joining a row of successful car-producers, Audi has also garnered acclaim on the racing track with several World Record holdings, including one for Top Speed Endurance. Audi is currently enjoying a privileged position and large market share and is predicted to reach the production threshold of 1 million units by the end of this year.
2018 Audi TT Consumer Reviews
pugsleyimprudent, 04/27/2019
"Excellent AWD sports car"
My Mythos Black Metallic TTS has the Black Optic Package, red interior and all available options. Love the appearance of the car and have had several strangers comment on how good the car looks or give me a thumbs-up. Once I set-up the Bang & Olufsen sound system to my preferences it sounded great. Materials and build quality are excellent. Ride is firm, but not uncomfortable. Car has great handling response and I like the steering feel which I keep in the Dynamic setting. First time I ran the car on the drag strip using launch mode it recorded a 12.8 second quarter mile. Gets around 24-26 MPG in mixed daily driving.
crumpetenclose, 12/23/2017
"Sporty, great interior and exterior design and fun"
Blessed to also own a mid-size SUV, and found the TTS while considering the Audi S5 and realized a back seat wasnt even close to my top considerations...and fell in love with the interior layout, virtual cockpit, clean center console and overall leg and headroom for this 6 2 driver. Its my daily driver and the trunk space is plenty adequate for short trips and can hold larger golf bags for two when I lay the rear seats down. The overall performance, acceleration, braking and driving dynamics are awesome and plenty, I suspect, except possibly for the racing crowd. While seeing reviews say rear visibility is limited...well, so are most cars these days and I find this one very good and the side assist gives an added level of comfort for approaching vehicles. The MMI Navigation and Infotainment Center is pretty intuitive and with a little practice I find it so much more friendly and with an array of options other vehicles should aspire to. Frankly, its gorgeous and so driver friendly. The ride is a bit bouncy in dynamic (sport) mode...but it should be. The comfort set up is just that on longer trips and freeway driving. If youre looking for cushy, this isnt your car...but the balance between overall luxury, sport, great looks, thoughtful design and just plain fun is what makes me look forward to getting in it each day.Read less
addiebecome, 11/15/2017
"Head-turner!"
The Audi TT 2016 is a super handsome car. People take notice when I drive by them. Compare to gen1 and gen2 of TTs this is one is defiantly more sporty and wayyy faster. It handles so well that sometimes I feel it boosts my confidence way beyond my actual abilities as a driver (lol). My TT accelerates smoothly so passing other cars and changing lanes is a breeze. The interior is pretty and sporty without a lot of busy buttons and the virtual cockpit is easy to use once you get used to it. It took me a couple months to adjust looking at the steering wheel instead of looking in the middle of the dash for the navigation and entertainment (cd/radio/phone) info. The seats are comfortable and the materials used look expensive. Visibility is good but limited at the back due to the curvy design (especially at the back corners). I recommend keeping the Audi connect because Google maps allows you to see the terrain in great detail when you zoom in and because you can use many more voice commands with Audi connect than without one. Overall I love my TT , I love everything about it and I have zero issues so far.Read less